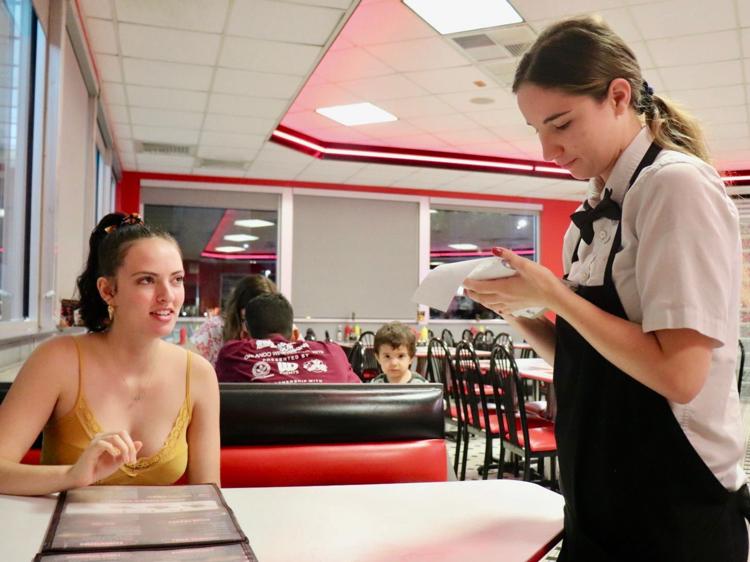 Cassidy Brooks stared at the cupboard in front of her as her left eye dripped blood.
All she did was reach into the second shelf of her glass stereo cabinet to grab her belongings when the corner of the already opened glass door punctured her cornea. Instantly, Brooks began to lose her vision. 
"There were fluids coming out of my eye, I couldn't see and it wouldn't go away. It felt like someone was pouring hot lava into my eye," Brooks said. "I fell to the ground and started screaming."
Brooks predicted her eyesight would come back after a few seconds, but when it didn't she feared for the worst. After an hour's drive to a trauma hospital and an emergency surgery, Brooks' left eye was covered with 14 stitches. 
It's been four years since the incident occurred. Now, the 21-year-old junior criminal justice major lives with the effects of the injury and seeks to prove that her setbacks have made her stronger. 
"When it first happened I was really depressed, I basically lost one of my senses," Brooks said. "I think I've accepted it, so it doesn't affect me anymore in a negative way. I've just kind of taken it positively."
Due to her injury, Brooks suffers from light sensitivity. Her left eye is forming a cataract, a medical condition in which the lens of the eye clouds up, and she is in need of a corneal transplant and cataract surgery. 
She now struggles to drive at night and in the rain, due to her compensated depth perception. She said if she sits too close to the board during class her eye hurts, but if she sits too far she is unable to read the board. As a result, Brooks must travel with sunglasses at all times. 
"In the beginning with her appearance, she was very insecure about it," said Vaneeza Mukhtar, Brooks' friend and UCF alumna. "But now she doesn't care anymore. She explains it almost as if it's funny and just smiles about it. People say the weirdest things but she doesn't let it get to her."
Though Brooks, herself, has not looked into receiving any accommodations for her injury, UCF's Student Accessibility Services offers audio recording devices and in-class note-takers for students who request such assistance.
To avoid falling behind, Brooks spends her days out of class studying at the library, volunteering and taking part in the Lambda Alpha Epsilon Pre-professional Criminal Justice Fraternity.
Activities that she once had no problem sitting through are now a task. Brooks can no longer swim or watch movies without her eye being irritated. With Halloween around the corner, she must keep in mind that colored contacts will not be a part of her look, Brooks' friend Xababy Vega said.
"She's learned to not give up, no matter what differences are presented," said Vega, senior human communication major. "With school, it's also difficult because she had to grow up really fast. It made her responsible in regards with getting everything done and graduating on time."
Originally Brooks' dream was to be in the FBI, which is why she chose to study criminal justice. However, without receiving a corneal transplant and cataract surgery the odds of that occurring are unknown, Brooks said.
"I've been in criminal justice for so long that I can't really switch now and fall behind. Just the surgery alone with insurance is like $20,000 an eye," she said. "Which good thing I only lost one [eye]."
The longer Brooks waits to have the procedure, the costlier it gets. In hopes of aiding in the success of her future, Brooks made a GoFundMe page and describes the funds as a "fresh start."
"I don't ask for anything, I don't ask for extra time, I don't take advantage of the fact that I have an eye problem," Brooks said. "I do everything that normal students do. I'm just like everybody else."