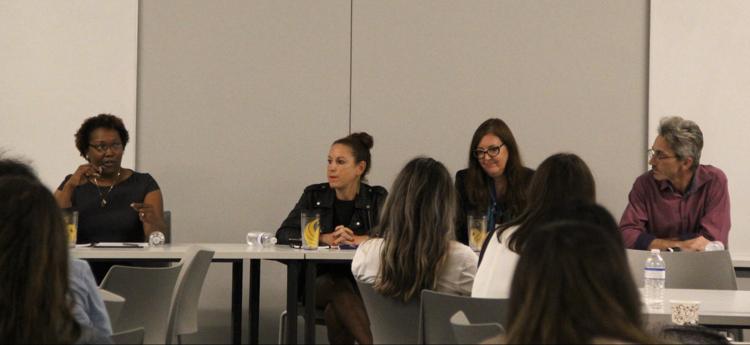 With over $75,000 in awards for its contribution, the Florida Prison Education Project is a UCF initiative that aims to offer higher education to people who are incarcerated in Central Florida.
A panel was held on Oct. 24 at the UCF downtown campus to discuss undergraduate education for incarcerated people. Each of the panelists shared their point of view of the topic and gave the audience a glimpse of what the FPEP is.
"Education is a way to change lives and it should be open to everyone, including incarcerated people," said FPEP Director Keri Watson, one of the four panelists and UCF assistant professor in the School of Visual Arts and Design.
The other panelists included Jason Fronczek, emerging media major and FPEP instructor; LaShanna Tyson, UCF student and founder of Empowering Kids With Incarcerated Parents; and Baz Dreisinger, author of "Incarceration Nations: A Journey to Justice in Prisons Around the World" and academic director of John Jay College's prison-to-college pipeline program.
FPEP was founded in 2017 and has served over 75 incarcerated students. They currently have three classes taking place at the Central Florida Reception Center which include physics, memoir writing and art.
Under the leadership of Watson, the project has evolved in several aspects. Since the project started, it has collected over 7,000 books for Books Behind Bars, a project that receives book donation to help the learning process of incarcerated people.
During the event, the panelists screened the first part of the four-part documentary "College Behind Bars" which follows incarcerated people through rigorous college programs.
One of the panelists, Tyson, spent 13 years in prison and with tears in her eyes, shared her thoughts on people who are incarcerated.
"I am speaking for the people, including my sisters, who are still inside of the prison," she said. "I met some of the brightest, some of the smartest, some of the strongest, some of the most loving people inside of prison, and I can tell you that all they ever wanted was a second chance." 
She also emphasized the difficulties that former inmates face while being reintegrated in society. She mentioned how hard it was coming back to society after more than a decade in prison. She also said that if she had access to education while incarcerated, things would have been easier.
"After I was released from prison, I could not get a job. Nobody would hire me. McDonald's and Burger King would not even consider me," she said. "I had to fight to have a little something. It was barrier after barrier, layer after layer. That is why I think that incarcerated people should have access to information and education while in prison. It would make things so much easier."
FPEP was founded to give people the opportunity that Tyson didn't have while she was incarcerated.
In 2016, Tyson graduated from Seminole State College of Florida with a degree in legal studies. Currently, Tyson is working on getting a bachelor of science in non-profit management at UCF and plans on graduating in 2020.
The project is growing rapidly and in 2020 FPEP will be hosting a gallery exhibit on UCF campus, teaching up to four classes in the spring and working towards more grant funding to expand their reach in the future.
Next month they will be leading an academic discussion at the National Conference for Higher Education in Prison in St. Louis, Missouri, in efforts to highlight their project and share their research findings.
Ariel Collier, coordinator of FPEP, said that their goal is to offer online courses to incarcerated students as soon as possible.
"We are growing rapidly with the leadership of Keri and our directors. One of our goals is to offer incarcerated students credit bearing courses online as soon as possible," she said. "This requires significant changes in Florida policy and the hearts of our community which we are working towards everyday."