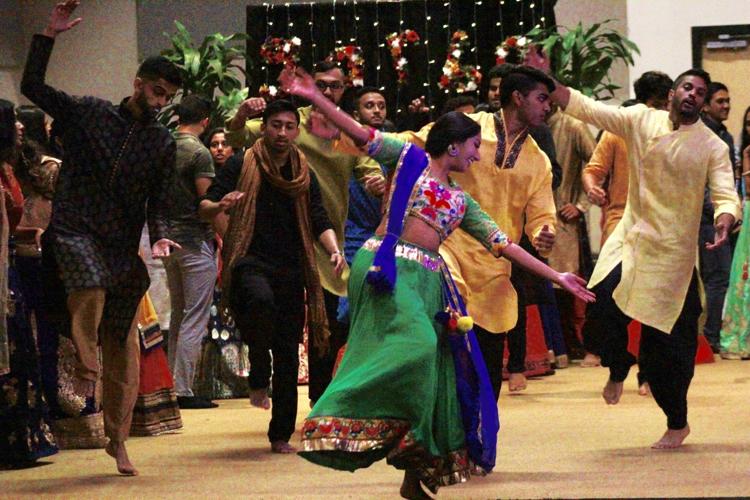 The Cape Florida Ballroom was filled with music and dancing as Garba Knight was in full swing Sunday.
The UCF Indian Student Association hosted around 200 students to spend the evening feasting on traditional Hindu food such as samosa and vegetarian egg rolls, and participating in a garba dance as the Navratri holiday comes to an end.
Navratri, meaning nine nights in the ancient Sanskirt language, is a Hindu festival that honors the goddess Durga. The festival is celebrated each year and is set based off the lunar calendar. For this year, the dates run from Sept. 29 to Oct. 7.
Niha Boyanapalli, sophomore emerging media major and the Indian Student Association cultural chair, noted why it is so important for students at UCF to continue celebrating religious holidays. 
"Being in the United States, there aren't many opportunities for us to be immersed with our culture, so this is a great event for the students," Boyanapalli said. "It really helps us feel like we are back at home celebrating with our families."
The tale of Navratri began with a battle between the goddess Durga and the demon Mahishasur. Over the nine-night battle different powerful forms, or avatars of Durga were revealed. On the tenth day, Durga defeated the demon Mahishasur.
Although the meaning and interpretations of Navratri change throughout India's regions, there does seem to be a common ground behind the purpose for celebrating the holiday.
"The holiday of Navratri is celebrated to symbolize the victory of good over evil," said Anusha Ketepalle, junior computer science major and Indian Student Association president. "Durga is the goddess of purity, and during Navratri we are here to celebrate her victory over demons and evil tendencies."
On the last night of Navratri, a traditional Hindu dance called garba is performed. The high-energy dance requires two dancers to clash wooden rods together as they circle around each other. 
Serin Karakunnel, junior information technology major and practicing catholic, describes why she decided to take part in Garba Knight.
"Here at UCF we like to include everyone, so we decided to do a version of Navratri where you don't have to be Hindu to attend," Boyanapalli said. "At this event we weren't just praying, but we were also dancing so anyone and everyone is allowed to join in." 
During the garba dance, cultural objects and relics such as a statue of Durga and padma, a sacred lotus plant, are placed in the middle of the dance circle to remind everyone that Durga is the center of power.
"Typically, a statue of Durga is placed in the middle of the garba dance so when you are moving around the floor it shows Durga that you are here for her," Karakunnel said.
It is traditional during the garba dance for women to wear chaniya choli dresses. These dresses consist of a lower skirt garment, a head veil and a chest band.
"Our dresses have many different colors," Boyanapalli said. "These colors enhance the beauty and power of women."
During Navratri, it is customary that followers also participate in a nine day fast. It is throughout these days that Hindu followers, especially women, are expected to abstain from meat and alcohol.
Boyanapalli shared her personal ideas on fasting and why it makes Navratri so distinctive compared to other Hindu holidays.
"One thing that a lot of ladies will do in my culture is they will go on a fast," Boyanapalli said. "On the last night of Navratri after the garba, the ladies will have to look at the moon and that is how they will break the fast."
To finish the night, the events coordinator reminded students that even though the Navratri holiday is over, there are still ways to continue their religions.
"At this event we aren't just praying, we are also singing and dancing," Karakunnel said. "I want to remember to spread that joy around school."