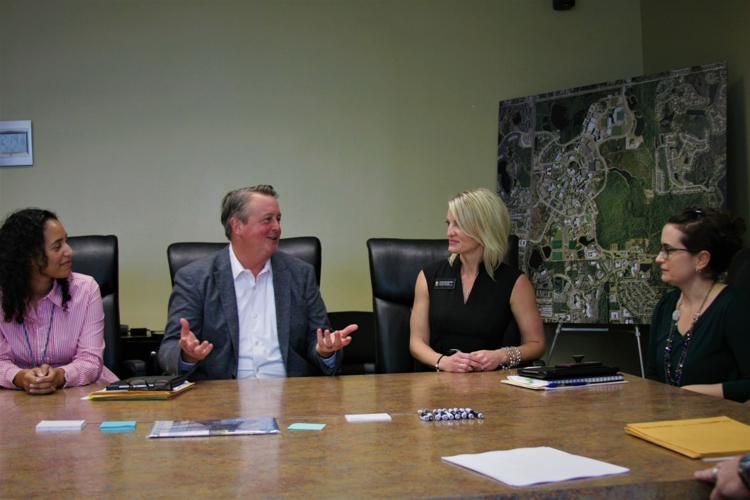 In 2018, UCF Housing and Residence Life conducted a study to determine how much more on-campus housing to build for students. The study, led by former Housing and Residence Life Executive Director Christi Hartzler, considered where to add additional residencies, as well as which demographic of students to build them for.
However, results for the study have yet to be released. 
While the study brought expectations for new housing developments by the end of summer 2018, no plans for new on-campus housing have been approved, and no new plans have been announced by university administrators, said current UCF Housing and Residence Life Executive Director April Hicks Konvalinka.
Hicks Konvalinka was appointed as the executive director nearly one year ago, and as a new leader within Housing and Residence Life, she said she is eager to lead a new study that more effectively analyzes UCF's housing needs than the one conducted last year.
"[The past study] wasn't as fleshed out as it needed to be, and we want to dig deeper so we know exactly how to support our retention goals on campus," Hicks Konvalinka said.
With limited housing at UCF, Housing and Residence Life is working toward a new initiative to help with the ever-growing demand for on-campus living space.
"We are in the works to conduct what we call a 'housing master plan' in order to make sure the data speaks to our assumptions about the housing here on campus," Hicks Konvalinka said.
Hicks Konvalinka described this housing master plan as "an exploratory experience for the demands of the institution" which will delve into the university's specific needs regarding additional housing for students based on priority. She said the plans for more on-campus housing depend heavily on this master plan and the results that are obtained from it.
Hicks Konvalinka said she is confident a new study will help pinpoint which demographic of students — freshman, sophomores or juniors — needs additional on-campus housing the most. 
Currently, UCF has seven housing communities available to students on its main campus: Apollo, Libra, Neptune, Hercules, Nike, Lake Claire and the Towers at Knight's Plaza.
Peter Mitchell, Housing and Residence Life director of business services and CFO, said the staff is aware of the high demand for housing on campus.
"These things take time to develop, but we want to really perfect the plan that we put forth so that it is efficient and beneficial to students," Mitchell said. "This new plan is more intentional and precise compared to past studies done."
Hicks Konvalinka said land on campus for additional buildings was identified by UCF Facilities Planning and Construction about five years ago, but construction has not yet begun, and no plans to build are currently in the works. Once the housing master plan is completed, Hicks Konvalinka said Facilities Planning and Construction will have to reevaluate what land will be used for any additional housing.
"There are so many spaces on campus where we could build more housing — it just depends on which location would be most beneficial to the students and the institution alike," Hicks Konvalinka said. "Every decision really relies on the results of the master plan and what knowledge we gain from it. It's a large campus with a lot of space, so we have a lot of options."
Housing and Residence Life did not respond to requests for comment about an estimated date the master plan will be completed.
In addition to relieving stress about limited on-campus living options, Housing and Residence Life is also looking to further support UCF's retention rates with its new master plan, Hicks Konvalinka said.
The retention rate at UCF — the percentage of first-time-in-college students who continue at UCF for a second year — is now one of the highest in the nation, and it is expected to increase even more as enrollment rates grow, Hicks Konvalinka said. 
UCF students who lived on-campus during their first and second years had significantly higher four-year and six-year graduation rates than students who lived off campus, according to a brief released by Student Development and Enrollment Services during the 2014-2015 academic year.
According to a 2018 university press release, UCF reached a breakthrough last year after the FTIC student retention rate rose to 90.3% — a jump from the 88.8% retention rate the university held in 2015.
Since October 2018, UCF's retention rate has again increased to 90.4% in recent months, according to the Institutional Knowledge Management database.
By 2020, SDES' Retention Team hopes to have a retention rate as high as 92%, according to the press release.
To try and ease the process of obtaining on-campus housing, UCF implemented a housing lottery in 2018. Every semester, students who are seeking on-campus housing must apply online to input their name into a pool of other hopeful students. Less than half of these students will be granted on-campus housing, said Meredith Varner, associate director of assignments for Housing and Residence Life.
"Over 2,700 students applied for the housing lottery this semester, and there are only 1,230 spaces available, which means there is about a 46% chance that you'll get a space," Varner said.
Additionally, first-year students and returning second-year students are given priority when it comes to housing space, followed closely by special groups like National Merit Scholars, Florida Prepaid College Plan recipients and students with disabilities, Varner said.
With growing enrollment rates, the frustration and backlash from students who feel stranded by the lottery is expected to grow.
Freshman undeclared major Kelly Thal said she recently signed a lease for an apartment off campus to avoid the lottery altogether.
"My roommate and I didn't even want to try with the lottery as returning students because we know our odds aren't great, and it's so much of a hassle I would rather just not deal with it," Thal said.
With no official end date in sight for Housing and Residence Life's master plan, UCF may not be seeing any additional housing on main campus for another few years. For students like Thal, the lack of options remains concerning and may cause financial troubles down the road.
"I'm worried as I get further in my academic career that I might not be able to find either on-campus or off-campus housing that I can afford — especially because it's getting more expensive," she said. "I hope they build more housing before I finish school here so that I have more options."