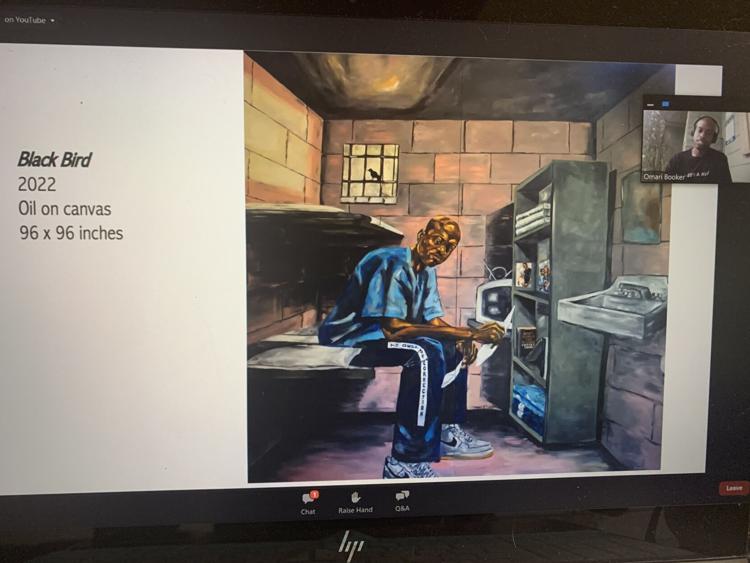 UCF hosted an artist for a town hall discussion on justice and representation through art on Wednesday afternoon. 
"I fly away with my little black friend. My mind on its back behind its wings, though I only see a few bars. We meet at the screen. It brings me hope. It feeds my dream," artist and poet Omari Booker said in the recital of his poem.
The town hall panelists, comprised of faculty and open to the public, discussed injustice and art activism. The event was the second town hall in a four-part series exploring race and diversity hosted by UCF and Winter Park's Cornell Fine Arts Museum.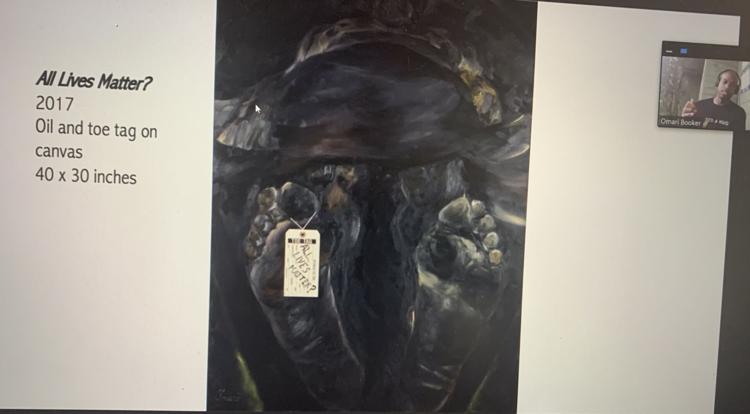 "Because of everything happening this year, we fine-tuned the town hall's four principles which are awakening, justice, listening and healing," said Gisela Carbonell, Cornell Fine Arts Museum curator.
Booker said the influence his jail-time had on his artwork was motivational.
"I was incarcerated in 2009 with a 15-year prison sentence, which I'm finishing on parole," Booker said. "My artwork organically moved into the social justice and activism realm because my experience pushed me to look at those issues more seriously."
Booker said one of his paintings depicts a black child painted in several tones to show youthful vibrancy while the child's incarcerated father is depicted in depressed grey and dark colors.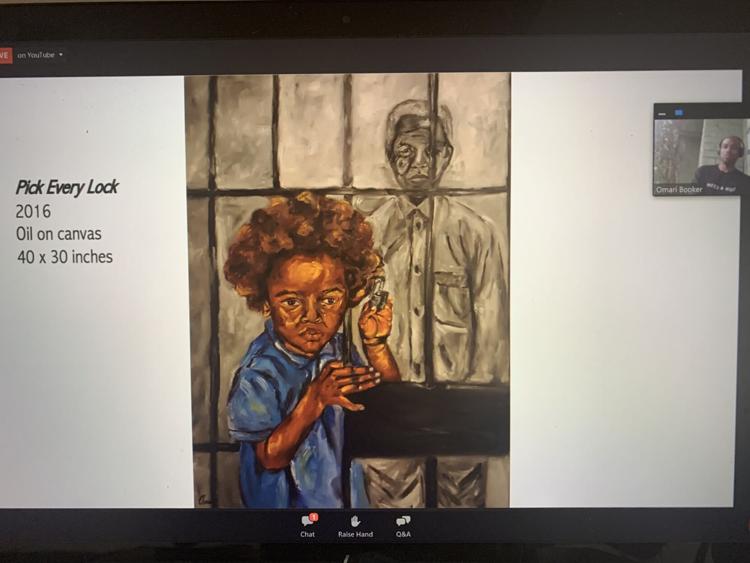 "The child can be vibrant and live a life every generation hopes for, which is peace," Booker said.
Booker said how working on a self-portrait depicting a scene he knew well affected him. He said it was important for him to get into that dark place of being incarcerated, despite it being difficult.
"I reconstructed myself in an 8-by-8 foot self-portrait," Booker said. "I went to that space. I was sitting on the bottom bunk with a letter in my hand, which was challenging but cathartic."
Florida Prison Education Project Executive Director Keri Watson spoke about the importance of representation and storytelling for both the artist and the audience.
"It's important who makes the work exhibited and if it's representative or not," Watson said. 
In reference to a past internship conversation, Watson said she spoke with a supervisor about audience demographics to an art gallery, which left a lasting impression. 
"Are we going to look at how many women, men and people of color," Watson said she then asked, "and she replied no, it's a meritocracy; it's blind."
Watson said she felt extremely angered with the lack of knowledge of the demographic breakdown.
"You're not acknowledging the current systems of power," Watson said. "It was crucial to include work made by people who are, or have been, incarcerated and are making space to tell their story."
Booker said this form of expression, like art, is healing. 
"I talk about the gratitude I have for art," Booker said. "I get into it and emotionally cleanse that pain."