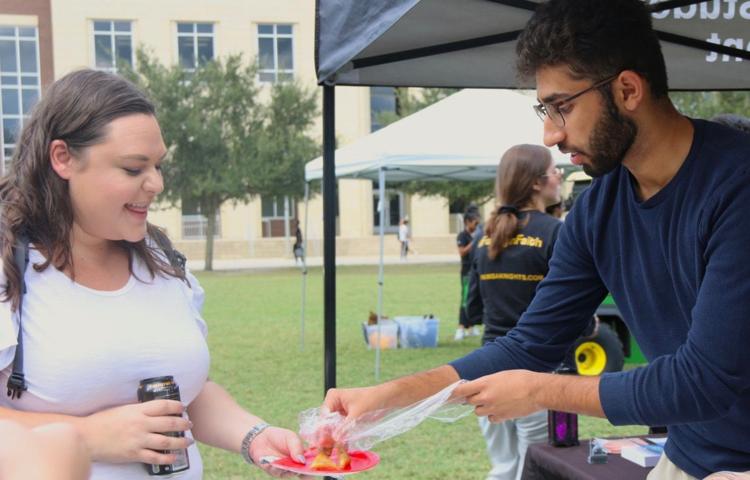 UCF's religious organizations came together for the first Festival of Religious and Cultural Unity at Memory Mall Wednesday.
The Interfaith Council of Central Florida and Knights Hunger Coalition co-hosted the event. With over 13 organizations in attendance, each table provided students with food and information on their specific religion or culture. 
"This festival is a representation of creating a more informed student population to combat hate," said Knights Hunger Coalition President Jason Young.
Religious groups such as the Muslim Student Association, Catholic Knights and more came to represent their religions. 
Not only were there religious organizations, but there was also representation for other cultures and causes such as the Asian Pacific American Coalition, Saudi Student Association and Cardiovascular Alliance.
Students interacted with each organization while tasting foods and learning about their religions and cultures. 
In addition to food, there were also religious drinks such as a Pakistani juice referred to as Sattu. 
"Sharing all of these items is a great way to communicate and inform without speaking," Young said.
Many students, such as freshman psychology major Gwen Lyons, appreciated being exposed to new ideas and diverse cultures. 
"This festival is amazing," Lyons said. "I look around and see a sense of beauty within all the different people here. It as if we are all divided but united in a sense."
Student Government also helped with organizing the festival as a way to provide even more support for the festival's cause.
"We set a standard at UCF to focus on inclusion," SG president Kyler Gray said. "Part of the academic and collegiate experience is about learning. I am not of the Muslim faith, but we have a lot to learn from one another."
With this festival being the first ever at UCF, many students expressed what this festival means to not only them, but to the student body.
"Tabling is a good way to show a simple act of love and kindness to the student body," said Tim Duncan, with missionary for Catholic Knights. "I love it and it resonates with every organization here."
With more than 100 people in attendance, the festival offered many ways for students' interests about religion to be sparked.
"The festival had a large turnout and shows that the student body here at UCF is diverse," MSA Vice President Saarah Sherifi said. "There is an organization for any students' interest to work together to achieve the goal of equality, unity and peace."
The Interfaith Council will be hosting another festival Nov. 11 in the same location to continue the efforts of creating unity at UCF.
"The plan was to do it all under the largest American flag on campus," Young said. "Why? Because we are all one nation together."