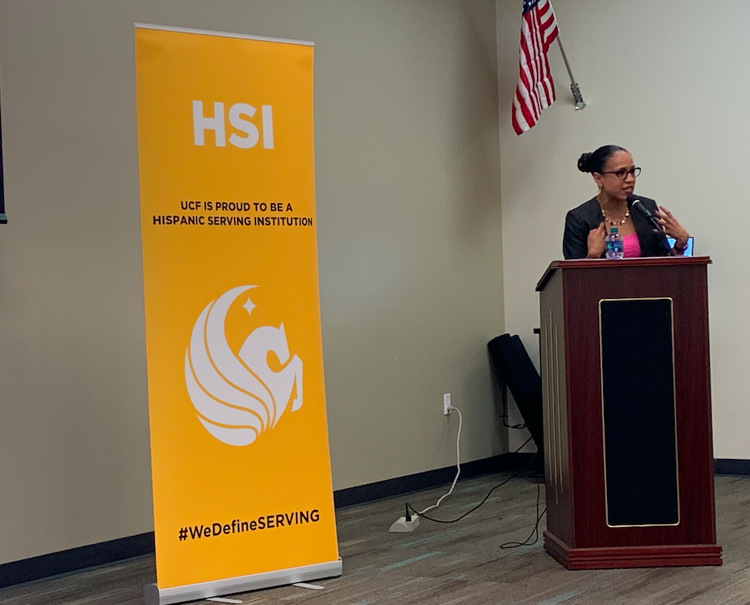 UCF's population of around 17,000 Hispanic and Latinx students allows the university to self-identify as a Hispanic Serving Institution.
In federal terms, declaring as an HSI allows for universities with 25% or more undergraduate Hispanic students to be eligible for grants to better serve the Hispanic community on campus. For UCF, identifying as an HSI expands beyond federal funding.
"We know who our students are. So designation or not, although we are very proud of the designation and excited about the funding that comes attached to it, for us it's really intentionally serving our diverse populations the way that they deserve to be served," said Cyndia Muñiz, director of HSI culture and partnerships.
Muñiz said the funding opportunities will help UCF Latinx students by keeping track of funding opportunities and encouraging faculty members to pursue those grant competitions and submit proposals.
UCF identifying as an HSI also means it qualifies as a Minority Serving Institution. MSIs concentrate on serving minority students who have been historically underrepresented in higher education.
This month, UCF will celebrate Latinx heritage by honoring and celebrating the Latin community on campus. Director of UCF Puerto Rican Research Hub Fernando Rivera discussed the rapidly growing Hispanic community at UCF.
"You can sense it; you can feel it in a way," Rivera said. "The smell is around campus. The languages, the different type of opportunities that we have and the different student groups."
Rivera hopes to continue to guide Latinx students on campus by advising the Puerto Rican student association.
Yolimar Garayalde, president of the Puerto Rican student association, migrated to Central Florida from Puerto Rico after Hurricane Maria devastated the island.
"When I discovered all the amazing Hispanics that work on campus, all the mentors that were able to speak to this amazing Hispanic community, it opened the doors to me and I was just filled with love since day one," he said.
The university will host events all month long to honor Latinx Heritage Month. The Hispanic population at UCF grew by 23% since declaring as an HSI. The initiative to incorporate the Latinx heritage throughout campus should continue beyond just one month of celebration.