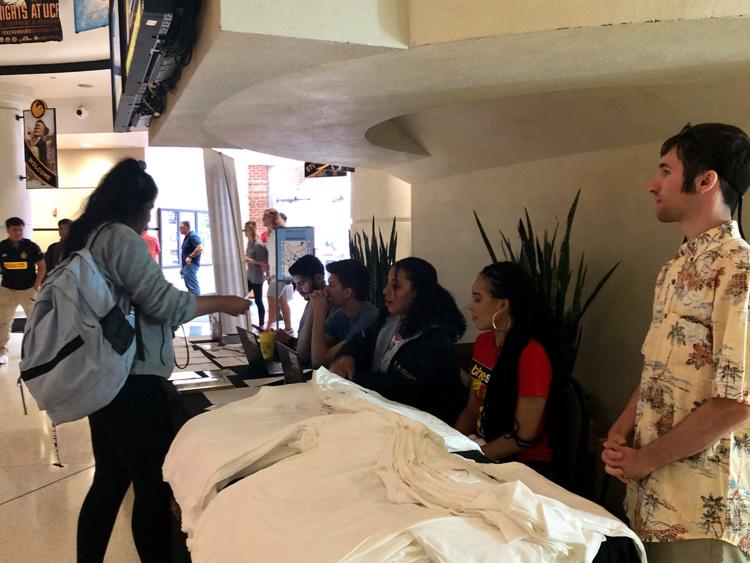 First generation students were celebrated from Nov. 4 to Nov. 8 through a series of events as UCF Multicultural Academic and Support Services kicked off UCF's inaugural First Generation Awareness Week.
The events ranged from a First Generation Student Resource Expo on Nov. 4 — to highlight the experiences of first generation students — to a career expo on Nov. 5 headed by first generation UCF alumni.
According to MASS, 24.1% of UCF undergraduates are first generation students. 
As a first generation student, sophomore undecided major Neha Ilyas has faced her fair share of challenges. With her parents originally hailing from Pakistan, they struggled with helping their daughter navigate the American college enrollment process.
"It's kind of hard because your parents don't know a lot of stuff," Ilyas said. "Applying for college in general was hard and so was the FAFSA because you have to do most of it on your own."
Due to the difficulty of making friends in college, Ilyas expressed gratitude over the new social opportunities she learned about thanks to First Generation Awareness Week.
"It's hard to get in touch [with others] before college because that's before you get in and it's a challenge," Ilyas said. "But there's a lot of support here."
Josh Velasquez, industrial/organizational psychology graduate student, found that First Generation Awareness Week helped him meet other first generation students and even make friends.
"It's been cool because you can find your own kind of group," Velasquez said. "So that definitely helps with the transition."
Velasquez initially went to Seminole State College after high school, then transferred to UCF. 
"For me the biggest challenge was definitely housing," Velasquez said. "Finding somewhere in the area after moving from a small campus to a big campus was difficult."
To Shaika Surprise, sport and exercise science major and MASS peer mentor, the primary purpose of First Generation Week is to raise awareness of what "first generation" means, who first generation students are and what resources are available on campus for first generation students. 
"We're a one stop shop for first generation students," Surprise said. "We provide workshops on things such as financial literacy, academic excellence, preparing for graduate school, things like that. We are connected on campus, so we work with financial aid, housing, career services, just to make sure our students are well-equipped for success and have all the support they need."
MASS' purpose is to honor multiculturalism and inclusivity, and to acknowledge the intersection between multicultural identity, financial need and being a first generation student.
Surprise said she has found that first generation students are typically multicultural and come from low socio-economic backgrounds.
As a result, MASS offers need-based scholarships to students of all multicultural backgrounds as well as scholarships designed solely for first generation students, such as the Unmet Need Scholarship.
Alongside financial resources, MASS graduate assistant Emily Winchester said there are many struggles first generation students frequently deal with. 
"[First generation students] are a lot less likely than traditional students to finish within the four-year timeline or to get a mentor," Winchester said. "By having this week-long celebration, we're hoping to connect students with each other and on-campus resources."
Separate from the financial resources mentioned by Surprise, Winchester drew upon the significance of student organizations in making first generation students feel welcomed. 
"There are several organizations that are meant just for first generation students," Winchester said. "Building a community and knowing that you aren't the only one going through this is really important and helps students realize that there are others struggling with the exact same things." 
First Generation Knights, for example, is a student organization dedicated to aiding the transition of first generation students into college in partnership with MASS.
Despite the hardships faced by first generation students, MASS' First Generation Awareness Week made students such as Ilyas feel more comfortable and included. 
"It's good to have a lot of support, especially for people who have no idea about college," Ilyas said. "I just think it's great that UCF gives so much support for anything you need help with."