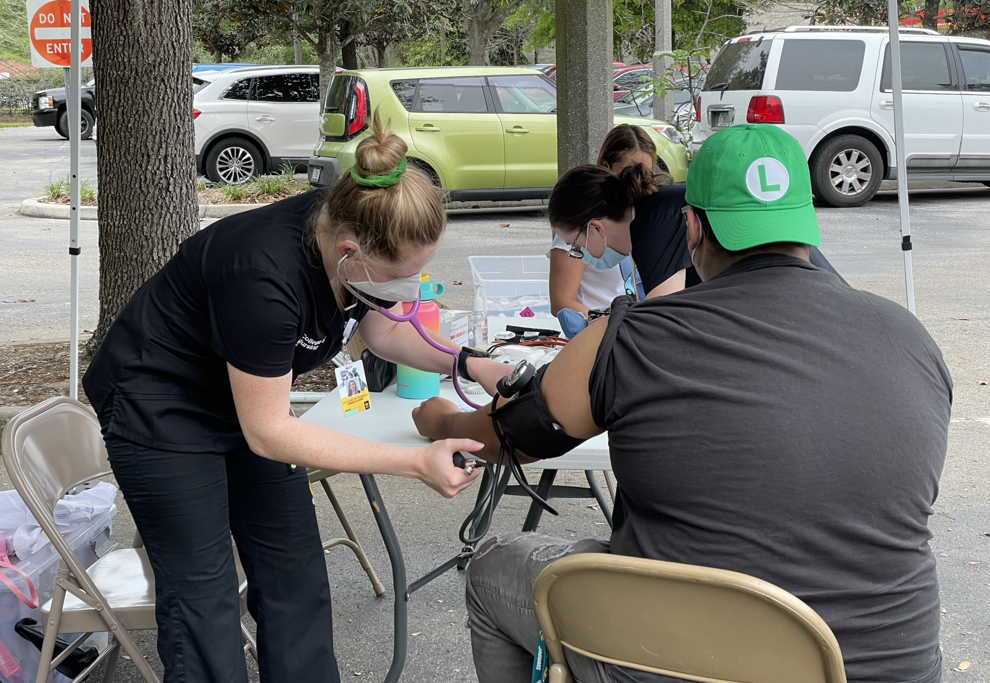 Sitting at a wooden desk full of paperwork and little space left for his computer, Bryce Hagedorn tried to reach someone on the phone. Next to him, a door bears the sign "social work" in both English and Spanish.
As the director of the counselor education program at UCF, Hagedorn led the behavioral component of the Apopka Farmworkers Clinic on March 31.
The quarterly event, which had not been held in person in two years due to the COVID-19 pandemic, brought UCF students to Apopka to offer health care to uninsured laborers at the Farmworker Association of Florida.
"I see it as social justice issue," Hagedorn said. "We're being able to serve those who most need our help but oftentimes can't afford."
The clinic trains students from UCF's College of Medicine, College of Health Professions and Sciences, College of Nursing and College of Community Innovation and Education as it provides physical exams, follow-up consultations, prescriptions refills and psychological guidance.
Hagedorn said behavioral concerns are among the most common at the clinic. He said many farmworkers showcase signs of trauma from entering the United States and being exposed to dire conditions.
"One of the most frustrating things is we see the anxiety, depression, panic, PTSD, but we can only assess it and help them look at some coping skills," Hagedorn said.
Although the clinic does not offer full-scope treatment for behavioral issues, Hagedorn said UCF students and faculty redirect patients to free resources, such as local support groups and church. 
The mental health station at the clinic relied on students to communicate with patients and overcome language barriers. The overwhelming majority of patients only spoke Spanish while a smaller group spoke Creole, according to the organizers.
Senior nursing student Jeanette Macias, who currently works at a psychiatric facility, said her understanding of Spanish and psychological conditions helped her be a translator of both language and emotions.
"While there's probably a disconnect between the patient being able to speak directly to the provider, I think I could be able to provide close to the same therapeutic effect," Macias said.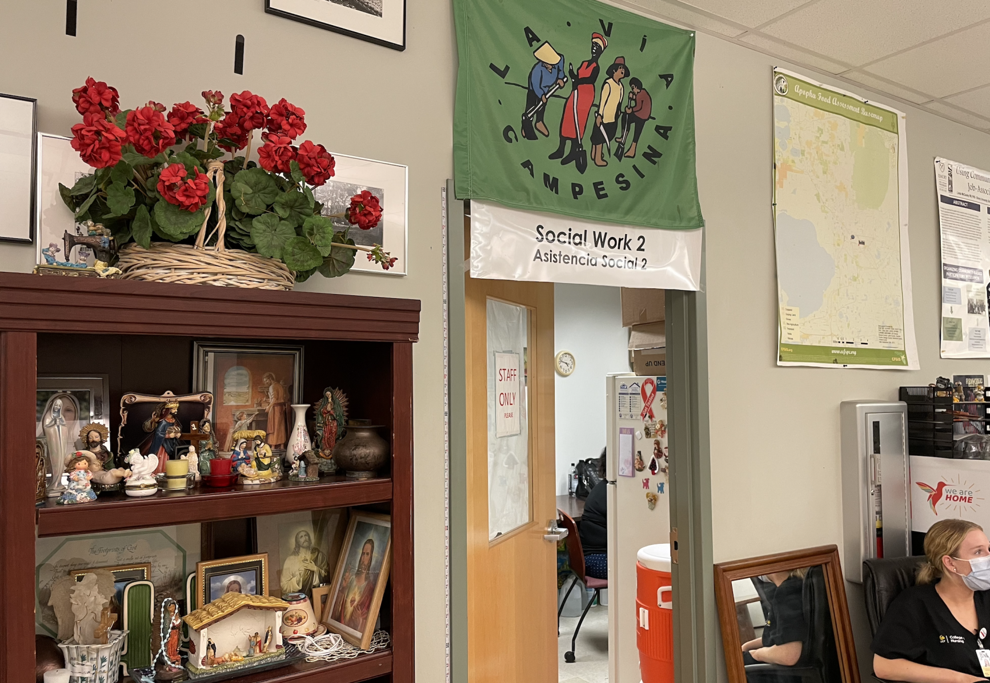 Since its start in 2016, the clinic has become a reliable and safe place for farmworkers who seek treatment for chronic illnesses and other grievances. 
Dr. Heather Peralta, adjunct instructor at the UCF College of Nursing, said the clinic started as an alternative for students looking for experience in community health.
"We knew that the farmworkers were needing health care. We didn't know how much they needed health care," Peralta said. "So, we threw together a quick clinic, and in one night, we saw 83 patients the very first time."
Peralta said the clinic moved to an online modality in 2020, giving patients an opportunity to refill their prescriptions and have follow-up consultations virtually. But this time, in-person care allowed them to research patients better and give out pulse oximeters to monitor oxygen levels in the case of COVID-19 infection.
The in-person modality also increased the number of attendees. Forty patients showed up at the clinic on March 31, compared to around 20 who would show up to the tele-health service in the past year, one of the organizers said. 
Carolynn Rapp, 22-year-old medical student who has served as coordinator of the clinic for the past two years, said the value of the clinic is to make health care available to local communities. 
"There are a lot of patients with chronic illnesses that don't have a primary care physician," Rapp said. "A lot of them are scared to go, or their work hours don't work well with normal primary care clinics."
Rapp said running a virtual clinic in 2021 was overwhelming and that it made it difficult to identify patients' needs properly.
"It takes away a lot of the interpersonal connection that you can make. Just body language and people's facial expressions, you really can't see it as well," Rapp said.
Inside the building, Hagedorn played his part in the clinic that he said reminds students of the urgency of medicine and serving others.
"I think it gives the students also a nice taste of what people really need and where they need it rather than waiting for them to come to their offices," Hagedorn said.