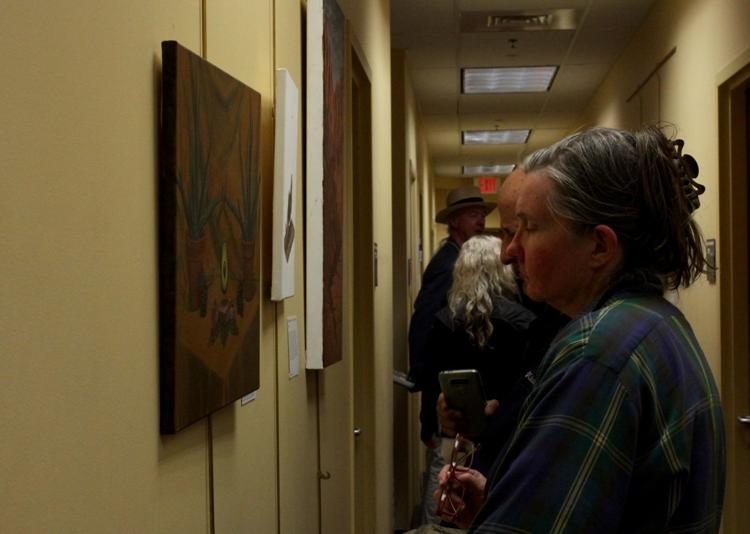 UCF community artists showcased how they thrive through struggles with trauma and mental illness during the Healing Arts Exhibit in the Counseling and Psychological Services at UCF on Feb. 13.
Meredith Malkin, licensed UCF mental health counselor and expressive art therapist, said she wanted the event to engage the UCF community in a creative way to learn to deal with stress and "[create] a dialogue where no words are needed."
The exhibit started a conversation about the concept of mental illness, which sometimes cannot be put into words. Events like this one that allow creative expression can trigger the neurotransmitter dopamine and contribute to the artists' overall happiness and concentration for the artists, Malkin said.
"Dopamine rises in the pleasure center of the brain, where creativity is born," Malkin said.
With this year's theme, "Thriving: Ongoing Evolution and Growth," Malkin said she wanted to remind the artists about their own resiliency while they face stressful situations and thrive at their own pace.
Kayleigh Fine, junior studio art major, said she has struggled with anxiety and post-traumatic stress disorder since losing her home in a fire in February 2018. She said her counselor at the Counseling and Psychological Services at UCF encouraged her to participate in the Healing Arts Exhibit, which she used as an opportunity to create a healing piece. 
After losing her home, Fine said she resorted to drawing to deal with her depression. She often drew plants and sunshine which eventually led to the creation of her humanoid character "Basil." 
Though Fine usually draws Basil as smiling, the character was gloomy in the piece "Slowly Healing" that she presented at the exhibit. The piece depicted him kneeling next to a tree stump, which represented the loss of her childhood home. Basil is holding a tree sapling, which represents how Fine will get through this difficult time of her life and thrive.
Fine said it wasn't presenting her art that made her nervous, but rather the statement she wrote along with it, which she said "felt like [she] was putting [her] heart out there."
This piece not only helped Fine cope with the loss of her home, but also won her Best in Show at the exhibit.
Lessie Nieves, studio art major, said she has struggled with depression from a young age and described how mental illness has affected her art. Her family commonly critiqued her for drawing her self-portraits with "sad eyes."
"It's hard to hide that part of you from your art," Nieves said.
Nieves wanted to create something that was relatable to other people. Her piece "The Cloud of Inspiration" represents a young woman's face — the head swallowed in different colors to represent all of the human emotions.
The whole UCF community was encouraged to participate in the exhibit. Christopher Saclolo, a book conservator at the Special Collections and University Archives in the UCF library, showcased his art. He said while he does not struggle with a form of mental illness, he is always looking for opportunities to showcase his artwork.
Saclolo said his inspiration came from the theme of the exhibit as well as his Filipino-American culture. His personal art includes mostly Filipino faces because as he grew up, he wanted some sort of representation as a person of color.
He said he sees the value of art in a therapeutic way, and participating in this event challenged him as an artist to come up with a original piece to reflect the theme.
Nieves said in the pursuit of tackling the topic of mental illness, she viewed the event as a "small step to have a conversation about the stigma."
"Art can help build compassion," Malkin said. "You are really able to transform what you are going through."