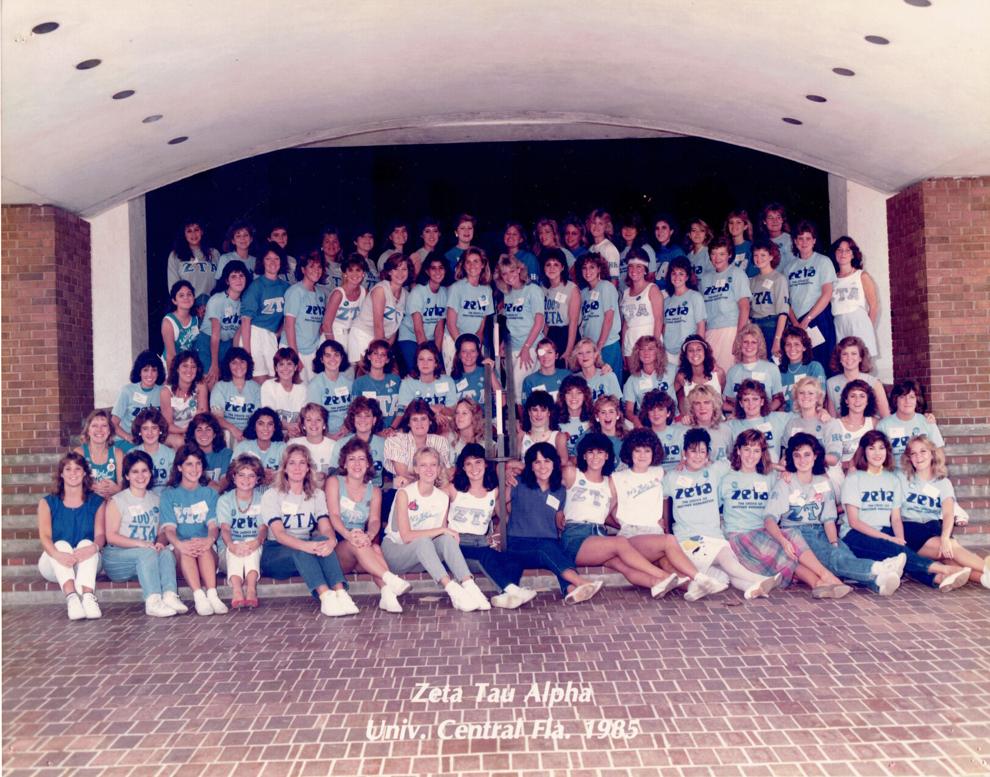 As Greek life membership decreases, the class of 1980s Zeta Tau Alpha reflects on the lifelong friendships Greek life has brought them.
According to the National Panhellenic Conference's annual report, fewer students are applying for Greek life recruitment every year. The number of new members in 2016-2017 was over 155 thousand and has since dropped to 113,095.
Sylvia Nelson, a former Zeta Tau Alpha member at UCF in the 1980s, said the friendships formed in her days within Greek life run deep. She said she enjoys staying in contact with about 10 of her sorority sisters and gets together with them at least once a month for dinner or weekend getaways.
"They know my stories, they are like family," Nelson said. "I would definitely recommend Greek life, it has made a tremendous impact on my life. I have the fondest memories, lots of adventures and definitely lots of true friendships."
Another former Zeta Tau Alpha from the 1980s, Christy Cheney said she sees a sorority sister at least once a week and is a part of a book club with another. Both Nelson and Cheney had at least two sorority sisters in their weddings.
Nelson said that in the 1980s she had been commuting to UCF, and she originally joined the sorority as a means to make friends. Nelson created close friendships with the men in UCF fraternities. She said these men and their wives make up her circle of friends.
"I would say, I am closest with them like sisters," Nelson said. "We do vacations together, football tailgating together, birthdays, weddings you name it, and we are always together."
Members of Greek life are able to pursue leadership opportunities within their societies. Cheney said these opportunities can often inspire different purposes in life. Former Zeta Tau Alpha member in the 1980s, Missy Mandato, took on the role of pledge trainer during her time at UCF. She helped teach aspiring members the history, values, and rules of their Chapter.
"Becoming a pledge trainer helped me realize that I loved teaching, and because of that position I became a high school teacher and cheer coach," Mandato said.
When the pandemic hit, Mandato said her daughter had been working as a nurse at Arnold Palmer Hospital and it became evident that she and the other nurses needed more masks. Mandato and a fellow Zeta Tau Alpha sister, Kelly Kissenberth, decided to produce the masks themselves.
"We have done life together," Mandato said. "Had babies at the same time, and eventually we built our current homes in the same neighborhood, practically living next door to one another."
She said they would work 10 hours a day for months producing thousands of masks for the nurses at the Arnold Palmer Hospital in Orlando. Mandato said that at one point they had a fabric shortage and were requesting donations, to which other Zeta Tau Alpha sisters responded by sending fabric and supplies.
"It was quite empowering and satisfying to be helping the cause while we got reconnected as well," Mandato said.
Cheney said that while moving into adulthood, Greek life helped form friendships where they could rely on one another to get through the highs and the lows of being a young adult.
"We didn't always get it right but we had each other to figure it out, and I think that's part of why we have such strong bonds," Cheney said.
Cheney said that being involved in Greek life may help students meet people that share common interests and values, as well as try new things that could have an impact on their purpose in life. 
"The lifelong friendships have been priceless, and true friendships can't be bought," Cheney said.