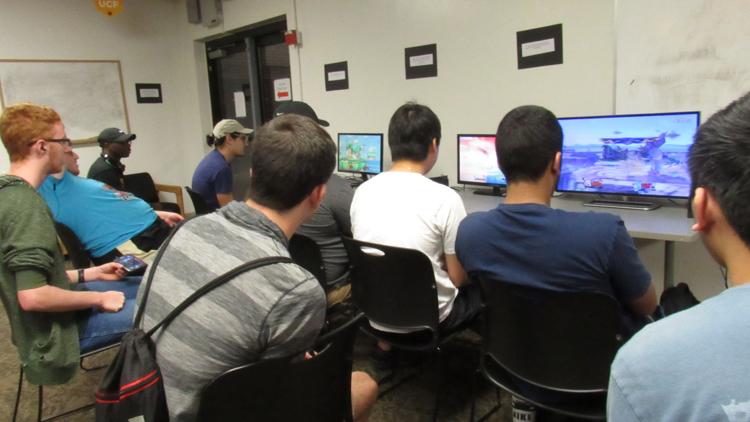 Video games have been a popular pastime for children, teens and adults for decades, dating back to the "Pac-Man" and "Donkey Kong" quarter-consuming arcade machines to the multimillion-dollar modern multiplayer titles of "Fortnite" and "Overwatch."
In recent years, competitive video gaming has exploded in popularity. According to Statista, esports events in 2018 garnered a viewer total of 173 million. While businesses and sponsors helped boost the popularity of esports, universities reached out to game companies and esports organizations to form cooperative programs and leagues.
According to game developing community website GameDesigning.org, there are over 60 institutions involved, including Boise State University, Georgia State University and, recently, UCF.
UCF first recognized esports as an official part of the college sports program in 2018. Before they were recognized in the sports program, gaming communities on campus were growing through small niches that later became clubs. These communities bring together students who share a passion for gaming, whether it be a hobby or an essential part of their lives.
"Gaming has brought me many friends and has been a great social outlet for me," said Lake Spangler, president of the UCF Smash Knights club. "I have been able to improve my confidence as well as leadership skills through founding and running Smash Knights."
Gaming Knights is the most heavily involved club in esports at UCF. As listed on the Gaming Knights website, the club formed in 2013 as a merger of two other video game clubs on campus. Gaming Knights hosts a variety of local area network gaming parties, board game nights and other social events.
Gaming Knights boasts the largest membership of any Registered Student Organization at UCF with 175 due-paying members, according to its website. It is also the first and only school-sponsored esports club within the state of Florida.
Gaming Knights Vice President Audrey Luce said Gaming Knights officers underwent the process of trying to become a sport club at UCF last year. They were successful in being voted in as UCF's 42nd official sport club under the supervision of Andrea Snead, sports club coordinator, and officially started the academic year as one in fall 2018.
"Gaming Knights is recognized at UCF under recreational sports, and they are very supportive of us trying to bring awareness to gaming and esports," Luce said.
Gaming Knights' most recent accomplishment is having its team for the video game "Rocket League" represent UCF with a regional championship at the Collegiate Rocket League National Championship. The victory helped the team advance to the Final Four National Championships for the spring 2019 season in Minneapolis, Minnesota from April 5 to April 8. The team came in second place, losing to the University of Akron.
"I am very proud of how hard the UCF team works and how much effort and dedication they put into their game and tournaments or leagues," Luce said. "The 'Rocket League' team is amazing and are hard-working players that deserve to be in the Final Four."
Gaming Knights does charity work on top of social gatherings. They created the #SmashTheRecord charity event. For the event, players on the "Super Smash Bros." competitive scene come together annually in Florida to host a charity livestream where proceeds and donations go to the St. Jude Children's Hospital. According to former Gaming Knights adviser Alexander Chiricosta, the event has raised over $150,000 over the past five years.
The "Super Smash Bros." franchise's influence on UCF extends beyond just the Gaming Knights. The Smash Knights club hosts local tournaments for the game "Super Smash Bros. Ultimate." Spangler said the club grew steadily after the title's release in December 2018.
Spangler said in 2016, during the lifespan of the previous title, "Super Smash Bros. for Wii U," student players hosted small tournaments in the UCF Tech Commons area. Spangler said he and several other players decided to relocate to the Libra Community Center as their player counts grew, and the Smash Knights club was registered soon after.
"UCF has given us a platform that allows us to grow our club," Spangler said. "The resources they give us make sure we can provide fun events for students at UCF."
Smash Knights received a substantial increase in popularity and attention from UCF students following the release of "Super Smash Bros. Ultimate." Spangler said that the club's tournament player counts have doubled from player counts during the run of "Super Smash Bros. for Wii U."
The club's Twitch channel streams its tournaments to the video game streaming platform's website. The channel recently reached "Affiliate" status, enabling the club to earn money from advertisements and user subscriptions.
The growth of Smash Knights attracted attention from the greater "Super Smash Bros." competitive community.
In February, the club partnered with the official esports group Collegiate Starleague to host a qualifying tournament for its competitive collegiate circuit. As seen on Collegeiate Starleague's website, Smash Knights organized the tournament at UCF. The winning teams got invited to the divisional championships August 9 with a grand prize pool of $15,000.
"I believe that UCF has a great opportunity to create a strong gaming community," Spangler said. "With there being so many students at UCF, it allows us a greater sample size of gamers that are likely to be strong players and players who have the energy to improve in the game."
UCF continues to grow gaming communities on campus even outside of competitive gaming. The PokéKnights club, formed in February, covers not only the popular app "Pokémon GO," but also "Pokémon" video games, trading cards, TV shows and movies.
"I was encouraged to start a 'Pokémon'-centered club about two years ago when I started UCF as a freshmen due to my love of 'Pokémon' and lack of a true 'Pokémon' community on campus," said Jemon Golfin, president of PokéKnights.
Golfin said that the PokéKnights club was inspired by other video game clubs and the lack of "Pokémon"-themed gaming in such clubs made him want to have the PokéKnights club established as soon as possible.
The cultivation of new communities and friendships in clubs such as PokéKnights, Gaming Knights and Smash Knights appear to be thriving because of the dedication of students and the cooperation of their universities.
"I have definitely made a good return on investment with gaming on campus and have gained many friends and a lot of enjoyment," Spangler said. "I can say that I'm very happy with what I've been a part of."