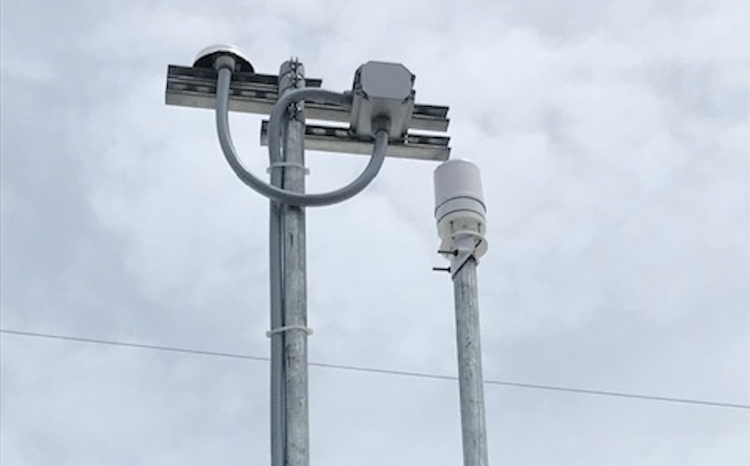 One UCF student is working as the head of the Engineering design team to create a weather prediction device for the Orlando Utilities Commission's solar initiative. 
OUC wanted the UCF engineering design team to produce a cost-effective camera device focusing on cloud-mapping, which tracks cloud movements, and predictive technologies that track weather patterns, said Mark Steiner, computer science professor and team advisor.
Timothy O'Brien, an engineering senior working as the head of the design team, took on the leadership role within the class to gain hands-on experience. 
"This experience makes me feel more confident going into my future career and makes me want to make a difference in the world with what I decide to do," O'Brien said. 
OUC project manager and UCF alumnus Rubin York said the technology enhances OUC's solar farms' efficiency. Solar farms are large land areas filled with solar panels that focus on harvesting the sun's energy and power.
The team comprises of a few computer science and mechanical engineering seniors learning collaboration and practical program skills. 
"I put together teams of students and work with them trying to understand what they want in the project," Steiner said. "I define it in such a way that our students can relate to it." 
These technologies are essential for solar energy because there is a distinct drop in energy when clouds cover over the sun, York said. 
The energy drop could result in losses of power to homes that rely on solar farms for energy, which is about 20,000 typical consumption single-family homes in the Central Florida area, York said. 
"The goal of the project is to be more proactive in seeing what kind of solar energy we expect to lose or gain," York said. 
By being able to track the cloud movements, OUC can try to prevent power losses to solar energy fueled homes, York said. 
York said the device would add to OUC by proving that other energy sources are credible.
"The major improvement is really increasing the reliability of solar, as we increase solar's reliability, we open ourselves up to a whole new world of potential resources," York said.
York said they tasked UCF students to create a device to help with these solar farms.
The final product, called a "skycam," sees eminent cloud paths and tracks them to provide OUC with an accurate solar output estimate. 
York said OUC needed a camera with computer vision to identify a cloud and regular sky. Using these cloud images, OUC could make predictions and react accordingly by dispatching other means of power, such as turbines. 
The OUC rolled out its first installment of the "skycam" in January 2019, but is continuing with a "2.0" version, York said. The 2.0 version includes a collection of more data or OUC, better refinement of the technology and the expansion of cameras. 
The skycams are installed on the perimeters of the two OUC solar farms in the Central Florida area. 
Steiner said predictive weather technologies evolved significantly recently because of technological advancements, though it's still a complex subject that requires further work. 
O'Brien said this project has a global impact and he believes the system will help OUC in reaching its goal of net-zero carbon emissions.
"This project brings a spotlight onto UCF's engineering and computer science programs as we work with the OUC on combating climate change," O'Brien said.