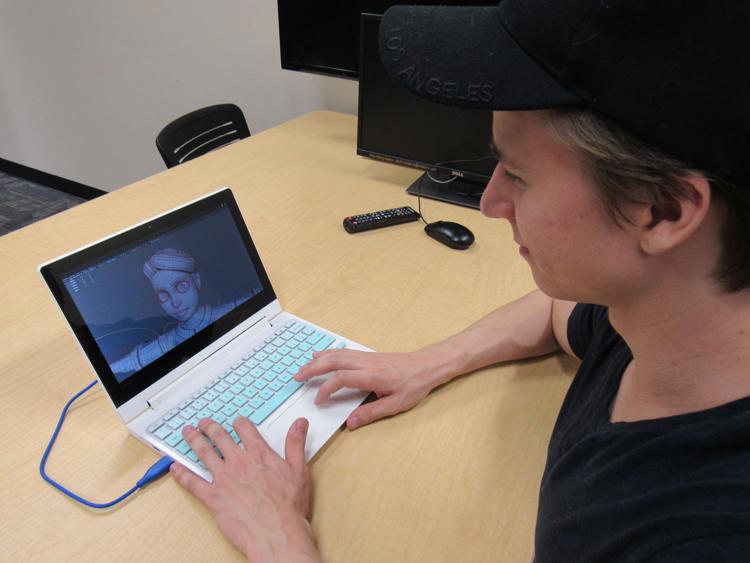 A fierce female fighter stood posed to attack. Her dark hair was sectioned off into two wrangled braids, while her piercing green eyes stared back from the computer screen. Her apparel was that of an ancient warrior, and her feet controlled the earth by will.
The character, Stone Summoner, is just one of the personal creations made by UCF student Austin Royall, senior emerging media major with a focus in character animation.
Royall, 24, is part of a selective group of students accepted into the university's limited access animation program.
Royall said he began computer programming at age 11 through self-teaching methods in Lua, an embeddable scripting language. After figuring out the basics, he said it wasn't long before he began coding his own "dinky" games online and programming animations into his online characters.
"A hobby quickly turned into an obsession," Royall said.
With a burgeoning passion for the arts, Royall said he began learning to accept he would be the only person in his family to pursue a career outside of medicine. Although his father was a pediatric pulmonologist and his mother a pediatric nurse, he said his parents were always very accepting of his passion for animation.
"My family has always supported me and encouraged me to think outside the box, in both my life and in my work," Royall said.
Royall said he started out using Blender, a 3D modeling software for rigging, animation, simulation, rendering, video editing and game creation. As he grew older, he focused more on the art side of digital animation than the coding aspect.
"Because I was young, I didn't know animation was something that I could do for my life as a career," Royall said. "At age 17, I went back and forth on whether I wanted to do video games or animated film, and I finally decided my passions lay with animations."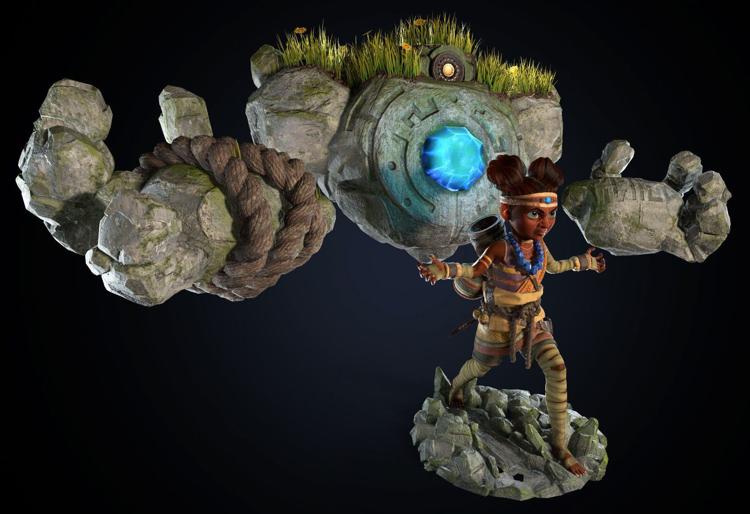 Royall said one of his biggest struggles as an animator is getting people to look past the character on the screen to see all the hard work that goes into creating it. Depending on the specific project, it can take about a month for even a skilled full-time character editor to create a model, he said.
"Sure, it's cute and fun when you view it," Royall said. "In reality, that one tiny character took months [to create]."
Royall said his process for creating a character is complex and goes through multiple edits and platforms. He said he usually begins with using a computer animation software called Maya to make base shapes with proportions and human anatomy before using software like ZBrush and 3DCoat to perfect sculpting, detail and texture.
"Patience has definitely been one of my weaknesses throughout this journey," he said. "Patience and discipline, then some more patience and discipline."
Despite the significant role animation plays in entertainment and media, Royall said many people he meets outside the School of Visual Arts and Design have no idea what character animation even is.
"Usually when people ask me what character animation is, I just say Pixar or Disney," Royall said. "It's just easier for people to understand."
Cheryl Briggs, UCF associate professor in animation, said the character animation track within the emerging media major is highly selective. Admission to the program, which is located downtown at UCF's Center for Emerging Media, is based on an application process that evaluates grade point average, an original written story and an artistic portfolio.
Briggs said Royall's passion and skill set made him one of few students to meet the criteria.
Acceptance for the upcoming fall semester is limited to 30 students. During Royall's application semester, there were 72 applicants with a 40% acceptance rate, while this semester, there were 119 applicants with a 25% acceptance rate, Briggs said.
"[Royall] has a love for traditional and digital sculpting and has worked diligently to ensure proper topology for all assets," Briggs said.
Senior emerging media major Lauren Gisewhite, who is also on the character animation track, said she met Royall on the first day of an interactive design class when they bonded over user interface. Royall asked if he could sit next to her each day of class, and the two have been close friends since.
"He has a very outgoing and strong personality, as well as a fierce loyalty," Gisewhite said. "He is extremely dedicated to his work and spends a majority of his time perfecting his craft and working on extra projects, so he doesn't have a lot of free time."
Within the character animation program, students are split up and assigned to one of two different animated short film ideas to work on. Each spring semester, the seniors premiere their short films before an audience and submit them to festivals for selection.
Royall serves as modeling lead for this semester's short film "Tiffany." The film depicts the loving relationship between a character named Pauline and her deceased grandmother. Through the years, the two share and manifest their love through the creation of stained-glass pieces. One creation, named Tiffany, comes to life.
Royall said his love for traditional and digital sculpture motivated him in his work on the film, which premieres April 22.
"'Tiffany' allows me to not only focus on the type of traditional sculpting that I love, but also forces me to step out of my comfort zone with more recent sculpting formats," he said.
Savannah Berry, art director of "Tiffany," named Royall as one of the greatest assets to the film's animation team.
"[Royall's] 3D models showcase a knack for research, dedication to intricacy and efficient turnaround time," Berry said. 
Gisewhite said being the production manager for "Tiffany" was extremely challenging and that Royall helped the team by instructing proper modeling methods such as topology, the study of geometric properties and spacial relations.
"He was very patient in helping teammates who weren't as well-versed in modeling and gave us a beautiful character and environment model," Gisewhite said. 
After graduating this semester, Royall said he hopes to go into character design for video games. Although he said he doesn't have one particular company he'd like to work for, video game developer "Naughty Dog" is a company that he aspires to eventually reach in terms of level of quality. 
Royall said that one issue he wants to help address in the video industry is LGBTQ representation. He said although he feels like the portrayal of LGBTQ characters is improving, it is still not nearly where it should be. 
"I want to bring more diversity to the video game industry," Royall said. "Raising awareness for LGBTQ characters in the professional industry is something that I aspire toward."
Royall stressed the significance of character animation as a way to "create a visually comfortable way to express complex emotions and ideas." He said throughout his career, he hopes to continue the art of storytelling through creative narratives.
"Every animation tells a story," Royall said. "I hope that I am able to create stories to share with the whole world that inspire others to see just how powerful the arts are."