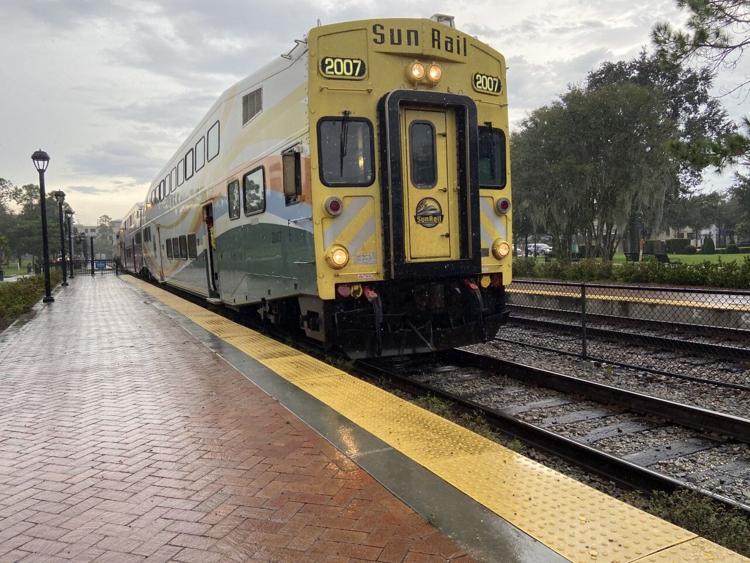 UCF Downtown students expressed praise and concerns about commuting via SunRail to and from campus in a pandemic.
SunRail is a commuter rail system that moves people through Volusia, Seminole, Orange and Osceola counties. SunRail is one of the forms of transportation that UCF Downtown offers to its students. One of SunRail's stations is at the LYNX Central Station right by Downtown UCF and it is within walking distance of UCF Downtown. 
Maria Vigil, senior public administration major, said she uses the SunRail to commute to her job as a receptionist at UnionWest on Downtown UCF's campus. Vigil uses the SunRail Monday through Thursday, and she highly recommends the SunRail to any co-workers or new students, even during a pandemic.
"Using the SunRail doesn't make me nervous because everyone is respectful of your space," Vigil said. "No one is ever invading your personal space."
Vigil said she witnessed the health and safety regulations that SunRail follows firsthand.
"I always see people sanitizing the handrails, and all the workers have masks on," Vigil said. "There are also the arrows on the floor so people flow in and flow out safely."
SunRail takes numerous other precautions and standards that have been implemented for added safety, according to an email from Jessica Ottaviano, public relations director at the Florida Department of Transportation.
Some of the precautions include reducing face-to-face interaction, arrows on the floor, implementing cleaning crews, protective film over ticketing machines and sanitizing frequently touched areas, Ottaviano said.
"The safety of SunRail's passengers and staff is top priority," Ottaviano said.
Alana Brunson, a senior game design major, said she is uncertain about the safety of the SunRail. Brunson said that she would have to consider the safety regulations that SunRail was implementing before using it.
"I was in the process of getting a SunCard but then coronavirus hit, so I decided not to do it," Brunson said.
Brunson said she felt uncomfortable leaving her house during the pandemic, whereas Vigil only had one critique.
Vigil said the one thing she would want to change about SunRail's regulations is that some people do not wear masks.
"I love UCF's policy that masks are required," Vigil said. "At my job, we keep extra masks at the desk in case students need them, so maybe the free masks would influence people using the SunRail to wear them."
SunRail recommends that passengers wear a mask and social distance, according to their website. 
"When people don't wear masks, I want to tell them that it's not just about them," Vigil said. "It's for everyone."
All necessary precautions are being taken by SunRail employees and contractors, Ottaviano's said. 
"SunRail reminds all riders to adhere to social distancing as much as possible, while onboard and on-platform, to respect others' personal space, and encourage the use of masks while traveling on SunRail," Ottaviano said.