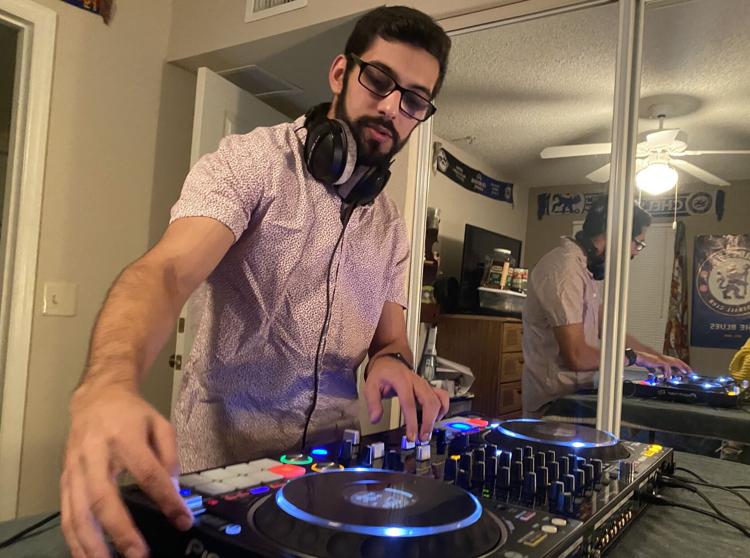 Before going live, UCF senior Shayan Imani logs into Twitch, checks his personal computer and conducts several sound checks. The poster-covered walls of his bedroom offer a more remote experience than he is used to.
"Livestreaming is very different because you don't have anyone in front of you," said Imani, biology and business management double major. "A big part of DJing is interacting with the crowd and playing off the energy of the crowd." 
With countless in-person events canceled as a result of the pandemic, Imani is one of many UCF DJs and producers who have had to adjust. Instead of working in crowded clubs, members of Knights of the Turntables have turned to livestreaming their Spinning Sessions event on Twitch.
One semester ago, Imani, whose stage name is DJ Simani, joined KoT despite having over five years of experience working as a DJ. He said he is mainly into playing the house genre and often incorporates disco tracks. 
"I love the social part of DJing," Imani said. "That's been hard because of the coronavirus. I love music, dancing and feeling the vibe. Music has played such a big part of my life."
Imani said he is fortunate to have had opportunities to safely DJ gigs without being at risk of COVID-19. However, he said larger and international DJs have been more severely impacted by the pandemic due to tour cancellations and travel restrictions.
"Bigger DJs are at a very big disadvantage right now and they don't know where to turn," Imani said. "It's been rough for them."
Imani is currently finishing his last song release of the year named "Call Me When It's Over," which he plans to release in December.
Nathan Fraze, senior integrated business major, became a member of KoT two years ago. Although he had prior experience working as a DJ in high school, he said he was too nervous to pursue it as a career until he joined the club.
"When I learned about the community, that was my push to make my dreams of being a songwriter and a DJ a reality," Fraze said. "We are a family from all different backgrounds."
At first, Fraze said the pandemic was emotionally difficult for him and remote learning affected his motivation. However, he said he began to see it as an opportunity to focus on writing more music.
On Friday, Fraze released his third official song titled "Bassline Bounce" with Maximo Der Boghossian, senior electrical engineering major and local artist known as SVVEATS.
"While the community has been struggling to book in person gigs, we have been able to switch to virtual events and focus efforts to streaming on Twitch," Fraze said. "With all the hardships that come with the pandemic, I am still feeling hopeful."
Senior nursing major Grant Polk started in the club's shadow program during his sophomore year before getting hired as a DJ in the spring. Polk, whose stage name is Left, said he plans to release his first EP in December.
"Nothing beats having a crowd, especially if you get to play your own music," Polk said. "Feeling the stage shake beneath your feet, that's just so nice."
UCF's Knights of the Turntables hosts its virtual Spinning Sessions on Twitch every Wednesday and Friday night starting at 6 p.m.