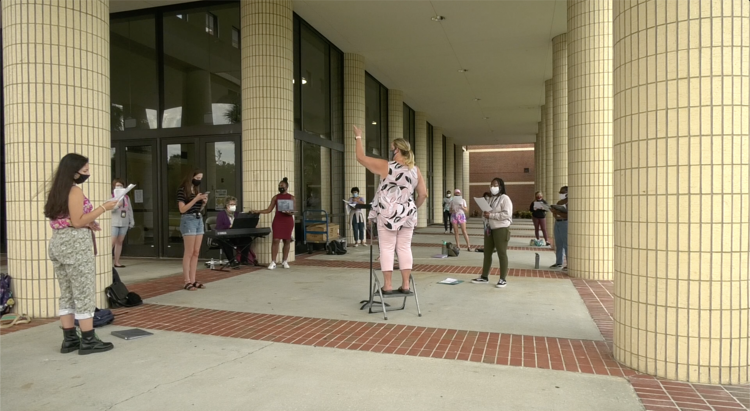 UCF music education coordinator Kelly Miller is defying stereotypes in the choral setting.
Miller said the choirs are now using names based on voice association rather than gender association.
Voice association, or voice type, is defined as a singing voice identified as having certain qualities or characteristics of vocal range, typically categorized as soprano, alto, tenor and bass. 
"It is still officially women's chorus and men's chorus, but I am calling it SOAL and TEBA, because we are working on identifying the choirs by their voice part, not by gender," Miller said. 
Miller said SOAL stands for soprano-alto, for singers who sing the soprano-alto part, and TEBA stands for tenor-bass, for singers who sing the tenor-bass part.
Miller said the first choir she started working with was the women's chorus, and then the men's chorus was added.
"I started looking at it, and I did not feel comfortable with the gender-identification associated with that," Miller said. "It is important to me that we are not associating with gender, but that it is all about the voice."
Miller said while the names are currently SOAL and TEBA on the syllabus, she is allowing the students to officially pick the names before they are updated in the curriculum. 
"I am going to let them help choose it," Miller said. "And once the students have had input on what we want to call the choirs, I will go through the curriculum and assessment committee to formally change the names in the catalog."
Sarah Abel, junior music performance major and member of the SOAL choir, said the name change opens the group up in a new way.
"To be the SOAL choir, instead of just the women's choir, it allows more opportunity for males — or really anyone — to join the group and still be a part of music," Abel said. "And that is what it comes down to — making music." 
Hannah White, a junior music education major who is also a member of the SOAL choir, said she never really thought about the name change because the choir was always presented as SOAL. 
"It was never that they were just thinking about changing the names," White said. "It was always this is what it is, take it as it is."
Miller said the other change in the syllabus is the dress option.
"There is now a dress and a tuxedo option," Miller said, "and you choose what you like."
Miller said a lot of choir programs, both in university and public school settings, are looking at changing the uniforms and some programs are offering unisex outfits.
"By offering both options, I feel like we have met the needs of the students," Miller said. 
This is Miller's ninth year at UCF. Prior to working at the university, she worked in the public school system. 
"We started changing pretty much not long after I came," Miller said. "The changes are staying current to where education is today."
Miller said UCF is looking for ways for students to have a place to belong. 
"One of the most important things a teacher can do is to listen to your students," Miller said. "So this has come out of my years of public school teaching and wanting everyone to be heard."
Artistic director of the LGBTA One Voice Mixed Choirs and GALA Choruses, Jane Ramseyer Miller, said she has seen changes like the ones happening at UCF at other universities and hopes for further change.
"Universities are changing the gender-focused names of the choirs," she said. "But I would also hope they do a better job of referring to sections rather than gender, and also start to think about gender in the repertoire selection."
Jane Miller has lived her life as an activist in the LGBTQ community, and has helped to advocate for these changes with other conductors. She has also created a section on the GALA choruses website specifically for teachers to use as reference.  
"I think part of what makes a difference for people is when they learn to know individuals," she said. "Suddenly it is not an abstract issue anymore."
For SOAL choir member Abel, UCF's music education coordinator Miller is a big asset to the university. 
"Dr. Miller knows how to communicate with everyone and is very good at bringing people together," Abel said. "She is the basis as to why everyone feels accepted."
Miller said she is thankful her students feel comfortable talking with her, no matter their gender identity or sexuality. 
"For me, it is making sure that everyone feels welcome and safe, so that they can sing to their maximum potential and in the healthiest way," Miller said. "Because they feel like they are in an environment where they can trust and know that they are enough."