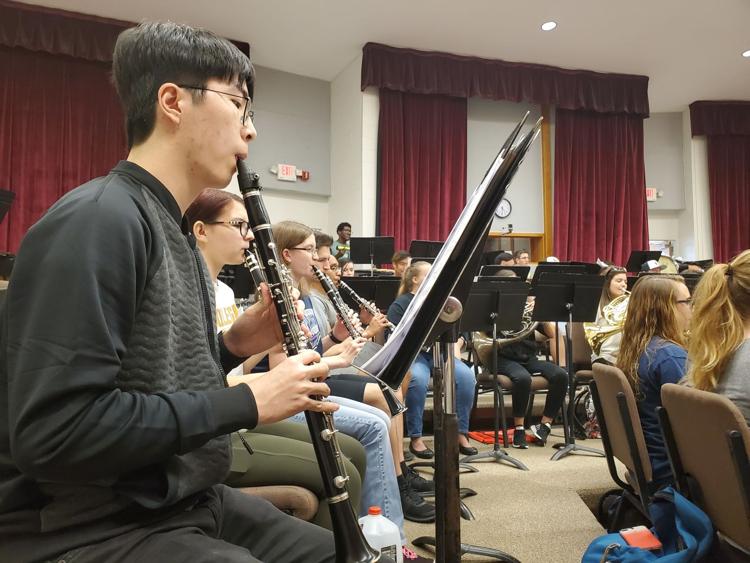 Among the distinct sound of brass and wood instruments, a subtle dripping  adds to the dynamic, followed by a shrill scratch of a violin bow on metal.
The UCF concert and university bands will be performing their last musical performance of the semester, titled "UCF Concert and University Bands Concert," Sunday from 7 p.m. to 8:30 p.m. in the UCF School of Visual Arts and Design's auditorium.
The UCF Concert Band distinguishes itself from the UCF University Band by including jazz or popular music into its performances. Both the concert and university bands consist primarily of non-music majors who meet with their class twice a week for one hour and twenty minutes. They put on two concerts during their respective semester.
The second half of the concert, allocated to the concert band, will feature a first-time performance of the composition "Suite for the Heroes Among Us" written by American composer Robert W. Smith, who is the event's special guest.
Smith has produced over 600 musical publications, according to his website. He will be guest conducting a piece he wrote titled "Promising Skies," a composition about rebuilding and growing post-Hurricane Katrina.
UCF Concert Band Faculty Conductor Dave Schreier said his students' performance will be broken up into three compositions. "Suite for the Heroes Among Us" is at the center of the performance.
"This piece is conveying appreciation for our first responders, and I hope we can do that through this music," Schreier said.
For some in Schreier's band, this performance is more than playing music to an audience.
Sebastian Sanchez, senior biomedical sciences major and concert band student, works as an emergency medical technician, or EMT. Sanchez said music is a positive outlet of expression for him.
"A lot of the things we [EMTs] do are emotional — like the cases we run," Sanchez said. "It is really nice to be able to express that through music."
The concert is free and open to the public.
The concert band's performance includes a few non-traditional elements as well. Water sloshing, body percussion and violin bows being scraped against music stands make up a medley of effects to add a sense of place to the concert's compositions.
These sounds are here to replicate things heard following Hurricane Katrina in New Orleans, Schreier said.  
"I have high expectations for my students, whether they're music majors or not," Schreier said. "The level of music may be a little different, but the talent in the class is high."