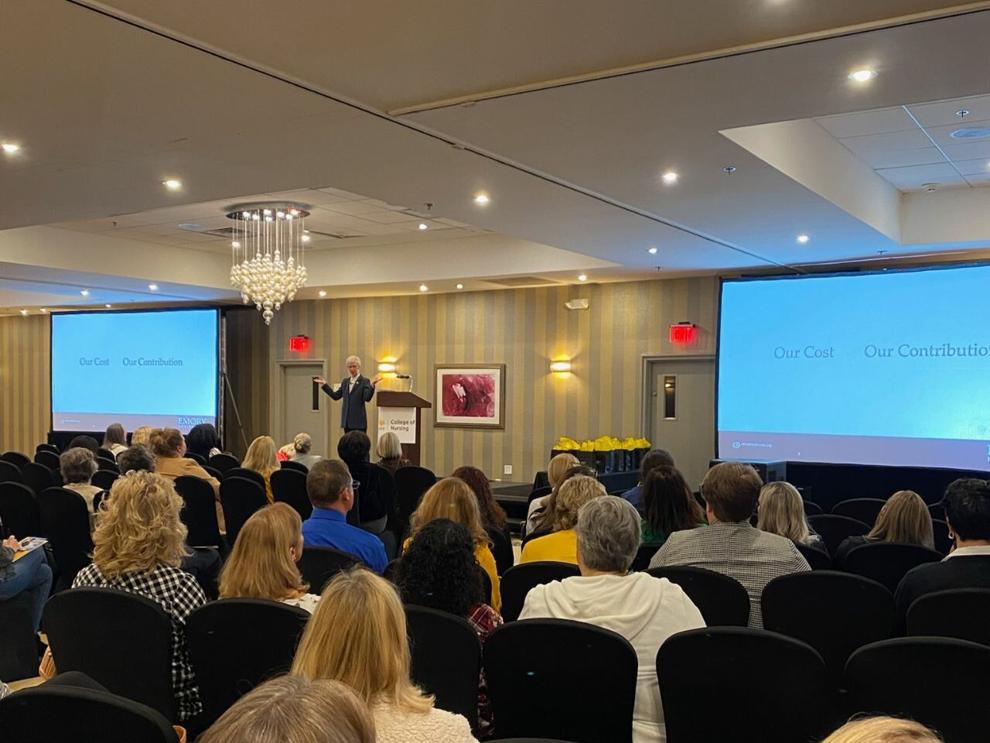 The DoubleTree ballroom was filled with enthusiasm by the UCF nursing community at Wednesday's 12th Annual Orlando Health Lecture.
The lecture conducted by Mary Lou Sole focused on evaluating the state of the acute care nurse practitioner program, which cares for adult and gerontology patients with illnesses, after being closed and working online since the pandemic began. She focused on highlighting the importance of leadership and trust when working as a nurse.
"It's just exciting to see people coming in, that there are people from various different healthcare organizations and students," Sole, dean of UCF College of Nursing, said. "As you know, the program started in 1979. And so, for over 40 years, we've been educating Knight nurses, and we've been finding excellence in education."
Lou Sole showed proud for the nursing faculty, staff and students who continue to charge on by the ranking awarded by the U.S. News & World Report, obtaining No. 51 in the 2023 Best Colleges rankings, which is the highest ranking in university history, according to the UCF College of Nursing page.
"We have an alumni community of almost 13,000 unique people and have awarded over 15,000 degrees across all their programs for over 40 years, as well as an alumni community of almost 2,800 students," Sole said. "Our students make valuable contributions to the health community through more than 30,000 hours of service learning."
The school has added the mentioned achievements and data on its official website. More information can be found here: Why UCF Nursing - UCF College of Nursing
The nursing facility's work has awarded them being nationally recognized as the best in the nation. Graduate students continue to surpass national averages on the NCLEX and nurse practitioner board certification exams, setting the bar higher.
The event counted on a partnership with Orlando Health, a not-for-profit healthcare organization with $8 billion of assets under management with the purpose of serving the southeastern area of the United States, according to Orlando Health's website.

"We've been fortunate to have partners with Orlando Health for many years to support an annual event where you can really bring in a nationally and internationally known speaker to provide messages of enthusiasm, support, wisdom and guidance to help guide the nursing profession," Sole said. "Our relationship with Orlando Health and UCF, just one of many examples of impacting the community improving patient care through research and evidence-based practice."
Sole said that having the funds, to an extent, has been an exceptional experience for the strengthening it brings into the profession.
"It's just really valuable to both school, to our students, to the faculty and to the community. It brings us all together," Sole said.
As part of her lecture, Dr. Sharon Pappas, chief nurse executive who has had a career of 47 years, addressed the current state of nursing and what should be done in the future, having courage and change as principles.
"If our world is changing, then we too have to adapt. I think that's just the nature of leadership and it's also the nature of healthcare," Pappas said. "As leaders, you want your people to adapt and go along with you."
Since the COVID-19 pandemic spread around the world, nurses have had to implement long distance classes, mask mandates and sanitization in public spaces.
Pappas said organizations need to provide the needed equipment and proper training in order to be safe at work.
"COVID won't be the last virus we have to deal with — maybe in my career, it will be — but I think there will be other pathogens that come in, and we just have to get involved and build your own confidence," Pappas said.
The event not only gave an insight into what changes have happened in the nursing industry and what must be done to improve nurses' experience, but also how this event will improve Knight nurses' experiences as they continue to grow as professionals.
"The Orlando Health Nursing Lecture offers an opportunity for the nursing community, our faculty and graduate or doctoral students who are already registered nurses to receive two free contact hours and great professional development," Meghan Truhett, director of Marketing and Communications, said.
Carla McCabe, event manager for the College of Nursing, said these kinds of events are instrumental for the college's partnership with Orlando Health because it helps to provide continuing education courses for nurses in the field and give them the possibility of then going back to their alma mater.
"It's a great opportunity to hear from people out in the industry; great opportunity to learn new things and new experiences," McCabe said. "Having the reception afterwards to be able to network with your peers that are out in the industry as well and learn best practices or share best practices and ideas is instrumental for their careers in their profession. So, I would say definitely go for it."