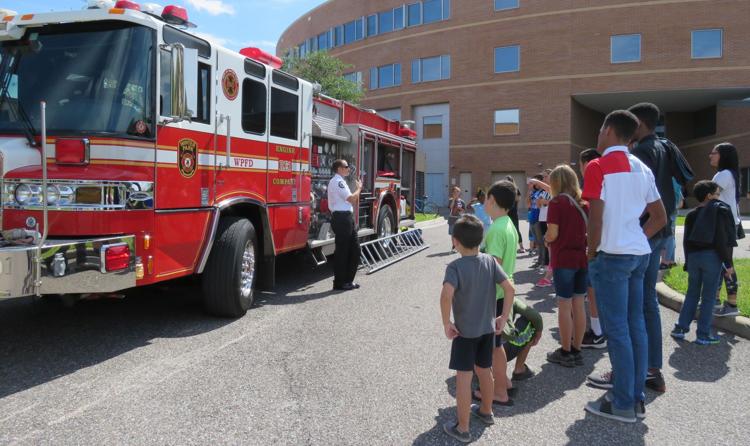 There was a sense of excitement and eagerness when students filed outside of UCF's Teaching Academy and toward a firetruck in the parking lot.
These weren't college students, though — most of them weren't even high school students. These were, for the most part, elementary and middle schoolers who came to UCF to learn about safety for kids who have autism spectrum disorder.
On Saturday at 9 a.m., Providing Autism Links & Supports and its supporting organization, the UCF Center for Autism and Related Disabilities, held its biggest-ever autism safety event for students and children registered with CARD, said Judee Samuels, event organizer and CARD community relations and conference coordinator.
CARD provides assistance and support to individuals with ASD and seeks to promote awareness in the community. PALS, a nonprofit supporting organization for CARD, creates opportunities for individuals with ASD to help them feel included as members of the community.
"It's a matter of life or death," said Judee Samuels, event organizer and CARD community relations and conference coordinator. "We have to remember that most kids that are not on the spectrum learn [basic life skills] through other friends or naturally. An individual on the spectrum doesn't really learn it naturally the way a typical child does, so we have to teach it."
Around 60 students with ASD attended the event with their families, Samuels said. Activities included interactions with police and firefighters as well as online safety tips.
"My favorite safety tip was to not be scared [since firefighters and police] are there to help you," said Kateryna McElhinney, sophomore at Hagerty High School who has ASD. "But I didn't really get to talk to them because a lot of people were asking questions."
Samuels said this was the first time parents and students were invited to attend together, rather than be separated into individual sessions.
Harlan Nelson is a freshman at Pace Brantley School with ASD. Nelson said he learned safety tips from the event that made him feel more comfortable and trusting of police officers and firefighters in cases of emergency.
"But if the firefighters and police officers aren't available or are far away, I would call the 'Avengers,'" Harlan said.
The event also allowed for students to see police officers and firefighters in a more positive light, said Amy Fritz-Ocock, event organizer and CARD coordinator of education and training programs.
"The firefighters were especially good at talking about, 'You're going to see me with this equipment on and my voice is going to sound different because I'm talking through an oxygen mask,'" Fritz-Ocock said. "And that's really important for our kids because they tend to be hyper-literal. They see what they see, and that's all they see."
Although the event was for students to learn about safety tips, it also promoted ASD visibility and welcomed siblings, friends and parents of students to help them understand the spectrum more.
"It's important to our community as a whole," said Jason Klazon, CARD autism disorder specialist and event organizer. "If you have a neighbor that lives five houses down from you that you notice has different behaviors going on or quirkiness, maybe you may instantly think, 'Well, wait a minute, I just went to a PALS event and they talked about these things and they talked about autism. Now I know a little more about it and I can try to connect with this family more.'"