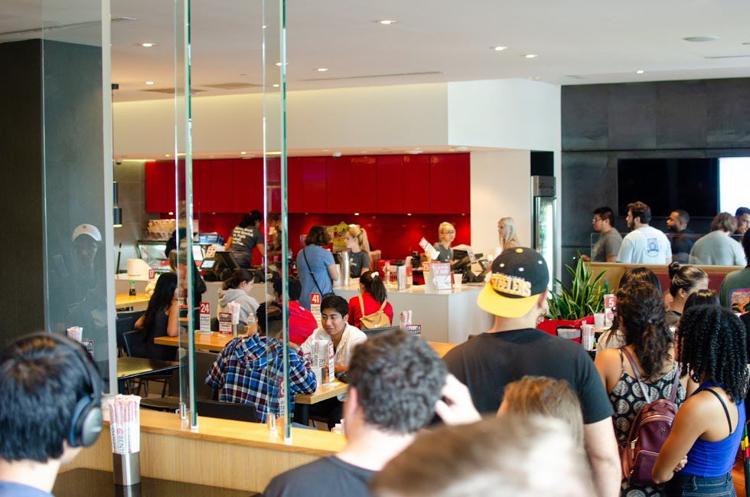 Restaurants located directly across from UCF, including BENTO Asian Kitchen + Sushi Grill, have experienced serious business modifications since the outbreak of COVID-19. 
"People are scared to move around, people are scared to take the bus or Uber because of the coronavirus," BENTO Sushi Chef Carlo Lambo said.
Lambo said his operations as head sushi chef were directly affected by the shortage of staff members, specifically UCF students. The reason for younger employees leaving had to do with UCF students who lived on-campus being directed to go back home, fear of transportation and voluntary leave for the safety of the restaurant, he said.
When COVID-19 safety precautions became more drastic, Lambo said he made a choice to remain as head sushi chef at BENTO. He said this was not just a choice for himself, but a choice for his family.
As a 34-year-old Filipino, he said he's part of the Asian community that is being attacked because of the COVID-19 outbreak. Although Lambo has not received any personal racial threats, he said his parents are in fear of leaving their house because of "verbal attacks from President Trump" spread on the news towards the Asian community.
"My parents won't leave the house," Lambo said. "They're also scared based on the news they watch, so they stay inside."
Lambo's friends who run similar Asian restaurants and grocery stores have also faced major backlash in their businesses, he said.
"It's normal for Asians to see that, but now we're put in the spotlight," Lambo said, referring to discrimination against Asians amid the COVID-19 outbreak.
On the contrary, Lambo said he is grateful and fortunate to still be working at BENTO.
Store Manager Grant Townsend said the BENTO team near UCF is very helpful towards one another, taking on different stations in efforts to assist all team members.
Townsend said his staff stepped up in helping out since the drastic staff cuts.
BENTO Director of Operations Tammy Laney said although other BENTO locations have experienced major sales declines, the location across from UCF remains operating effectively, even with all the new business modifications.
Laney said company-wide sales have gone down by 43%, while UCF's location is one of the stronger stores, only down by 21% in sales. 
"We were expecting to see a big hit to the business when the college campus was shut down and large companies in the area went remote," Laney said. "Luckily, we have taken less of a hit at this location than others."
To keep his business running smoothly, Townsend said he implemented "major safety precautions," including a sanitizing schedule and digital modifications to promote social distancing, like digital menus and six-feet-apart markers on the floor at pickup stations. 
Laney said that based on the direction of the government, BENTO should be back to normal operations once dine-in services are allowed after April.
"Some customers come in with a full bodysuit and some wear gloves and masks," Lambo said. "Whatever makes them feel safe is fine."