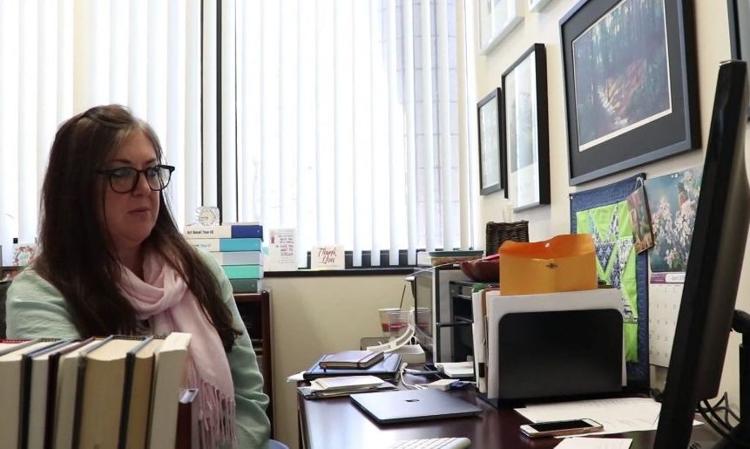 As director of the Florida Prison Education Project since 2017, UCF art history assistant professor Keri Watson has helped Florida prisoners receive college-level education and have a second chance at a better life.
Watson said she started the project with a few other faculty members and now leads a group consisting of dozens of professors, interns and student volunteers who all work to provide the incarcerated with opportunities for educational advancement that will prepare them for future employment.
Watson said her devotion to helping prisoners goes back to before she began working for UCF. She said her first experience working with convicted criminals came when she was offered the chance to teach art and art history for the Alabama Prison Arts + Education Project, or APAEP, at Auburn University from 2012 to 2013.
"As an art historian, I've always been interested in art and activism, so I decided to take the opportunity," Watson said. "After being there with the incarcerated students and working with them, I wanted to keep doing more to help them learn."
Following her work at Auburn University, Watson returned to her home state of Florida and joined UCF in 2014. 
Watson said that people who are incarcerated in Florida have struggled to find opportunities toward education for years.
"Florida historically has not offered higher-education programs for prisoners," Watson said. "Florida also has one of the highest numbers of incarcerated citizens in the United States. One hundred thousand people in Florida are behind bars, so I thought that we should introduce [FPEP] here."
Watson's job as director for FPEP includes looking over interested parties who submit proposals to become part of the project; providing information and statistics about the organization and Florida's criminal justice system through social media; and visiting inmates with other faculty members.
As of now, Watson and the FPEP staff teach six courses in the Central Florida Reception Center in Orlando.
"So far, we've offered courses like creative writing, art and rhetoric, and we're about to offer a physics course," Watson said.
Watson said she is working on expanding her project to benefit as many inmates as possible.
"Within five years, we want to start offering online courses for both women and men," Watson said. "UCF is also a great place to have this program because the school has a lot of connections and partnerships that we can work with."
Watson said another crucial part of her work with FPEP is getting the word out about the project. She and other program members frequently collect and donate books, art materials and other educational properties on campus at to raise awareness about the cause and assist prisoners. FPEP has donated over 1,000 books to Florida prison libraries since it started collecting donations, according to its website.
Meghan Hummer, senior art history major, is one of several student members of FPEP. Hummer said she had Watson as a professor and was later offered an internship position with FPEP in spring 2019.
"I've known [Watson] for about two years now," Hummer said."I was asked to join, and we've known each other ever since."
Hummer said she and Watson meet regularly and have discussions about the organization.
"[Watson] has experience working with this kind of program and is extremely passionate about bringing higher education into Florida prisons," Hummer said.
Hummer said she assists Watson in running FPEP's social media accounts for the group, which includes posting about dates and information for the group's upcoming events and group meetings. Watson also uses the accounts to discuss topics such as the role of racism in Florida's prison systems and landmark laws like the Fourth Amendment, which advocated to restore voting rights for Florida citizens who have been convicted of a felony in the past.
Voters ruled in favor of the amendment in the 2018 election, which Watson said she cites as a historic ruling for the state.
FPEP has gone from a small project with only a few staff members on-hand, to becoming a complete organization at UCF that has been awarded grants for some of their contributions. The project was awarded a $50,000 grant from the National Endowment for the Arts in March, as well as a $29,000 grant from NEA's Big Read program in 2018.
According to the NEA's website, the Big Read program shines a spotlight on community issues through reading, and it also offers grants.
Watson said she has two overall goals for FPEP: to do more to provide education for inmates and people with felony convictions and to advocate for criminal justice reform.
"The goal is to help those who need it and don't have the same opportunities that others do," Watson said. "We're here, and we want to provide higher education for everybody."