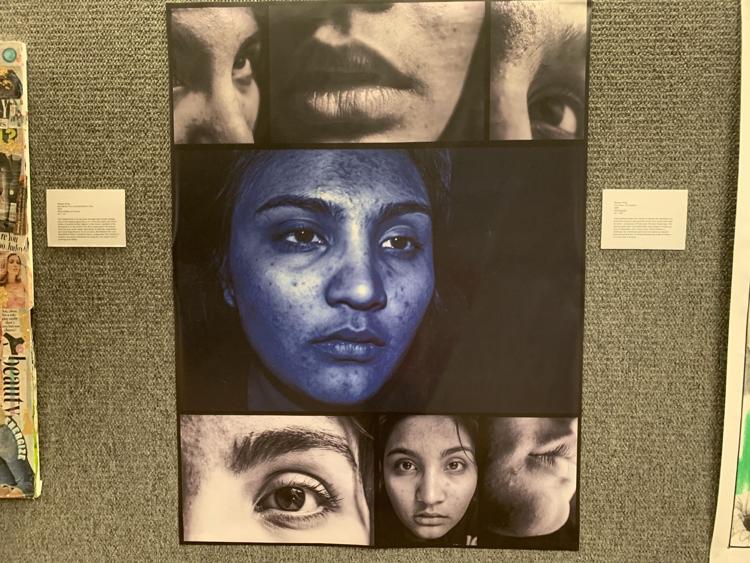 UCF art students submitted pieces inspired by personal stories of womanhood to honor the past, inform the present and inspire the future in an exhibit displayed in the John C. Hitt Library from March 6 to March 27.
The exhibit, "Portraits of Empowerment: Womanhood & Activism," includes about 13 pieces created by students from a visual arts administration class taught by Ilenia Colón Mendoza, associate professor of art history in the School of Visual Arts and Design.
Mendoza said her class was invited by the Office of Diversity and Inclusion to participate in making an exhibit for the month of March, which is Women's History Month.
Mendoza said the process of creating the exhibit, which included separating students into sections, coming up with titles for the artwork, meeting submission deadlines and gathering, installing and moving artwork, started at the beginning of January.
The exhibit itself focuses on topics of activism and creating social change through nonviolence. The artwork collection is made up of different forms of media including film, drawings, photography, paintings and more.
Zoraye Cyrus, senior studio art major with a focus on drawing and illustration, created "Green Eyes," the piece selected for the cover of this years' UCF Women's History Month flyer and one of the pieces on display in the exhibit.
"I focus on past stories and turmoil that plague our community, but also showcase celebration of triumph and self-actualization," Cyrus said.
Cyrus said her piece shows her personal experience of being a black woman who, after feeling self-conscious in her own skin, learned to love her body.
"This is an ode to [those] who've helped me find my own love by loving themselves unapologetically," Cyrus said. "We're in our own world. Let them do as they please."
Simona Wiig, sophomore studio art major, also tackled body image and identity with her art piece entitled "Too Close, No Comfort." Wiig described her artwork as a blown-up photograph of herself during her most vulnerable state of living with the hormonal disorder polycystic ovarian syndrome, or PCOS, which she said can cause acne, excessive facial hair growth, infertility, weight gain and depression.
Coming from an Indian background and culture, Wiig said appearance was a big part of her values. While she used to be very angry about how she looked and frustrated with an appearance that could be easily fixed by phone filters or makeup, she said she wanted her artwork to display something that was real and not modified.
"I was really frustrated with filters and how easy it is to just look in your phone ... and it can change the way you look right in front of your face," Wiig said. "I mean, it is actually frightening to see that."
Wiig said her artwork has helped her grow in freedom and hopes it will offer encouragement to others.
Brandy Cassandra, a 2015 graduate from UCF, submitted her artwork entitled "Caught" — a piece she said depicts hands to represent how others have treated her "verbally, emotionally and physically" in the past. Cassandra, as a former student of Mendoza's, was allowed the opportunity to enter her work for consideration in the exhibit.
Cassandra said her piece related to the unequal treatment of women in society.
"Though society and law have taken strides towards equality amongst men and women, there is still an underlying insinuation that women are weak and less capable," Cassandra said. "Heaven forbid we show any emotion, as it is perceived as a sign of weakness or that we are 'crazy.'"
UCF alumni Deliz Berrios, whose artwork "Rebels With A Cause" includes a series of four portraits, said her original piece sparked her interest in creating an ongoing series. Berrios said her piece was inspired by her feelings after the 2016 presidential election.
"I found myself wanting to create something that showed how frustrated I felt after the general election," Berrios said. "I felt voiceless. Being a minority never felt like a burden until this last political cycle. These portraits are a way for me to give my subjects a voice as well. Some are activists on their own right, but many aren't, yet they still hold very specific opinions about this country's social problems."
As installation team lead for Mendoza's class, junior art history major Francesca Felicella said her role placed her in charge of where each of the art pieces was placed in the library. Felicella was in charge of the entire team.
Felicella said the class formed different teams in an effort to organize all of the students' work and create the exhibit.
"It was a group project in the sense of installing the exhibit itself," Felicella said.
Felicella's submission for the exhibit, "Parallel Portraits," included a series of six photographs — three of which featured her recreating photos of her mother at her age.
"The portraits kind of are exploring the relationship between me and my mom, but also where I am in my life at the same age that was in hers," Felicella said.
Mendoza said it was a proud moment for her to watch and supervise her students as independent workers from an associate professor's standpoint.
"I was very proud of them," Mendoza said. "They did a great job and they dealt with it in such a professional way."