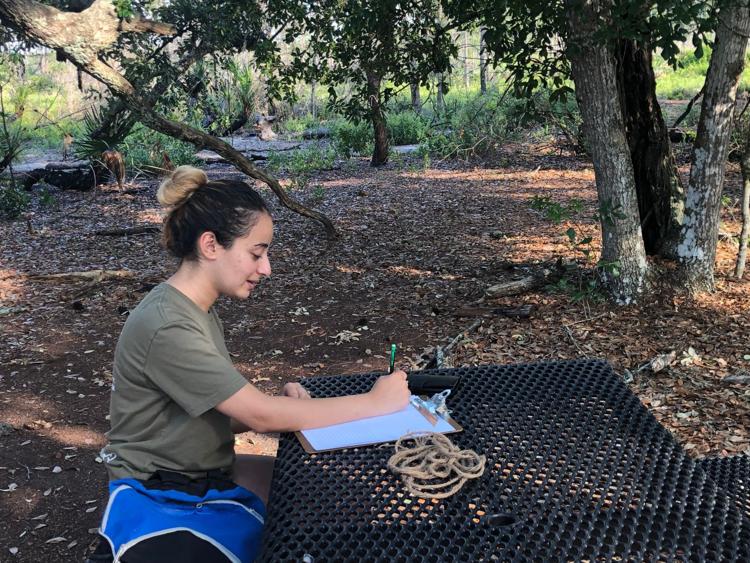 Monica Hanna, sophomore health sciences major, said she had never been to the UCF Arboretum before attending the Unseen Arboretum Workshop hosted at the UCF Nature Pavilion on April 25.
Hanna said she chose to attend the workshop because it was an opportunity to relax and "detox" before her finals started. The workshop gave her the opportunity to do something she said she normally does with friends for fun: draw in nature.
"I like to [draw in nature] for fun, but I didn't really take note about the species like the different flowers, so I thought that was really cool," Hanna said.
The Unseen Arboretum Workshop was one of the workshops put on by the Arboretum in collaboration with the John C. Hitt Library for Naturally UCF, a month-long celebration of nature.
The event was inspired by the book "The Forest Unseen" by biologist David G. Haskell about uncovering a hidden world in a single square meter space in the woods.
Workshop participants got the chance to explore the Arboretum and choose a 1-meter square space of land to observe and document by using photography, drawing a sketch or creating any other form of art.
Digital Learning and Engagement librarian Christina Wray said the purpose of the event was to encourage students to learn about the natural environment around them in celebration of Earth Month, celebrated in April, while de-stressing during finals week.
Although only nine participants attended the event, Arboretum and library staff members said they hope to host the event for the second time next year as a way for students to get hands-on experience with the different plant and wildlife around campus.
"It's really just a way for students to have an opportunity to become more familiar with the natural resources we have on campus and build a stronger connection with our surroundings," Wray said.
Wray, who refers to herself as a "hobbyist naturalist," said the Arboretum provides the opportunity for students to identify different species like gopher tortoises, blue racer and ring-necked snakes, cardinals, swallow-tailed kites and blue-gray gnatcatchers.
Students can find information about how the plant species around campus started growing there, as well as how they are affected by climate change and how they can be preserved, Wray said.
"You can't notice if something dies and goes missing if you didn't know it was there [to begin with]," she said. "By closely observing, you can get a good feel for what's here, and you may discover things you didn't know were here."
Hanna said she chose a bench camouflaged by greenery, slightly tucked away by large, slender trees to do her drawing. She said she chose to sketch two trees in front of the bench where the sunlight faintly peeked through wherever the leaves allowed, giving light to her notepad and her soft, tan features.
A New Jersey native, Hanna said she moved to Orlando during her senior year of high school and came to UCF to pursue a career in medicine. She said she wants to make her undergraduate studies as "chill" and diverse as possible because she knows medical school will be a lot of work and pressure.
"I wanted to get out and do stuff that was not just strictly science-related," she said. "I'm at the point in my major where all I'm doing is science, so I just don't need more science for fun."
Hanna said she also came to the workshop as part of a requirement for UCF's LEAD Scholars Academy, a program that provides academic leadership development training for first-time college students.
Seth Brockett, freshman computer science major, is also a member of LEAD Scholars Academy and attended the event as part of a requirement.
Brockett said while the event was his first time at the Arboretum, he appreciates nature and being outside. Sometimes, he bird-watches with his parents. 
"I'm just interested in seeing the Arboretum — I hadn't done it before," Brockett said. "I thought Lake Claire was nice, but I didn't realize how much land UCF had."
Hanna said the event gave her the opportunity to relax before taking her finals and leaving for a study abroad program called History of Anatomy in Italy.
"I'm so crammed, and I don't have time to pack, and I don't have time do a lot of things," Hanna said. "So I'm here to just calm down and draw a tree."