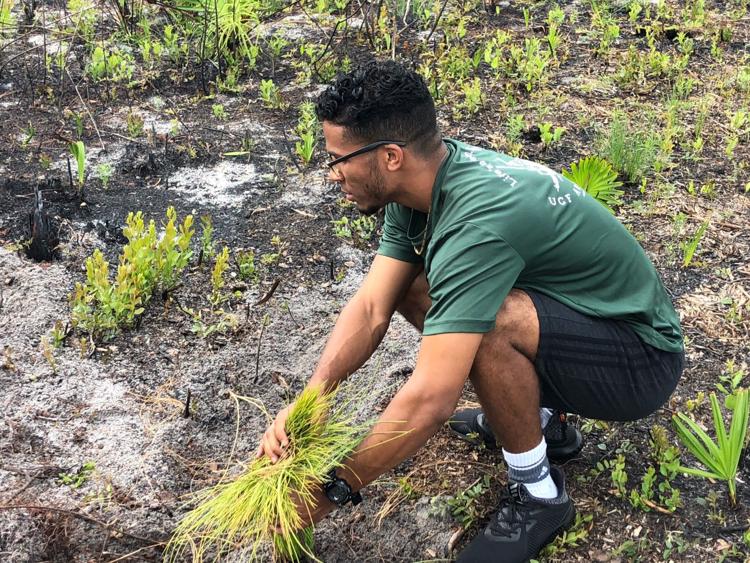 The UCF Arboretum celebrated Arbor Day on Wednesday by educating students about forest restoration and planting longleaf pines — an important tree species in Florida.
The Arboretum hosted an Arbor Day celebration where students had the opportunity to plant trees and go on a mile-long hike through the trails while learning about the benefits of prescribed fires.
John Guziejka, a biologist and urban forester with UCF's Department of Landscape and Natural Resources, led the hike and tour. He said controlled fires help reduce wildfires. Guziejka said other species depend on the longleaf pine. These pines need fire to grow and drop pine needles that help fire sweep across the forest.  
"Without these longleaf pines spreading their pines throughout the forest floor, some of the forest wouldn't reach the corners and edges it's supposed to," Guziejka said.
Although Florida recognizes Arbor Day in January, Guziejka said April is a better time for students to celebrate the holiday. About 30 students attended the Arbor Day celebration.
"We really want to engage with as many students as we possibly can, and it turns out that April is the perfect time for us to do that," Guziejka said.
Alexis Stanley, senior writing and rhetoric major, said she enjoyed connecting with nature at the event.
"I do really like interacting with the environment and helping to grow and restore and replant some of the things there," Stanley said. "It was just really nice to come out and hang out with a bunch of like-minded people and learn a little bit more about the environment."
Other students like Danielle Roberson, senior psychology and entertainment management double major, said while she had experiences planting regular plants before, she will remember planting her first tree at the event.
"I'm used to planting just regular plants such as tomatoes and cucumbers and peppers, so this is my first tree and that was very exciting for me," Roberson said.
Guziejka said UCF is registered through Tree Campus USA by the Florida Urban Forestry Council, meaning the university meets a list of standards for maintaining its wildlife and educating students about the environment. As part of the designation, the university is required to recognize Arbor Day.
Guziejka said these Arbor Day celebrations are a good way to educate UCF students about trees on campus. 
In November 2018, the National Climate Assessment, or NCA, released its fourth national climate assessment. The summary findings said climate change is creating new risks and exacerbating current environmental vulnerabilities.
One of UCF's sustainable initiatives includes being carbon neutral by 2050. Guziejka said planting trees is one way the the Arboretum is trying to mitigate the campus's carbon emissions.
"When we have any kind of developing going on campus or land clearing or building going on, we make sure either the construction companies or in-house construction is responsible for transplanting or planting trees to offset all the carbon costs that the building is going to cost," Guziejka said.
Stanley said she understands the severity of climate change and is doing her part by recycling, protesting and calling for legislation change.
Maggie Lytle, junior biology major and student in the urban ecological field study course, said she was happy to see the high interest in Arbor Day among students.
"I think it is really cool that people are interested in restoring ecosystems rather than developing them and overcrowding what we should be appreciating and reveling in," Lytle said.