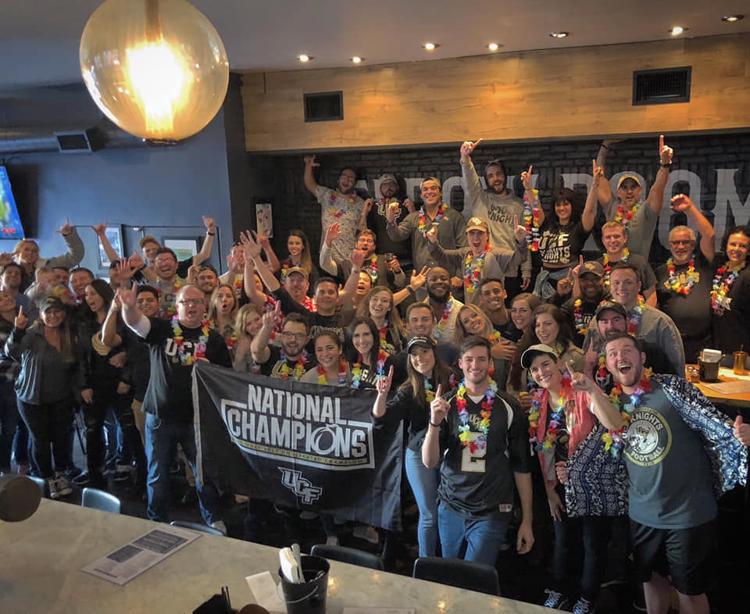 Members of the Los Angeles UCF Alumni Club said they were thrilled to come together in Los Angeles for their UCF verses FAMU watch party on Thursday night.
While rocking their UCF gear and eating smoked wings and drinks, the club met up at their spot, Elbow Room, in Los Angeles, to watch UCF's football team demolish Florida Agricultural and Mechanical University 62-0.
Kendra Hathaway, UCF class of 2013 graduate and president of the Los Angeles UCF Alumni Club, is in charge of organizing and planning events throughout the season.
"It's something that I've been passionate about since I moved here because it connected me to something that I love, you know, my college," said Hathaway, a studio production coordinator. 
From the first commencement of UCF, which was known as Florida Technical University, the university had 423 alumni and is now nearing 300,000 strong, according to UCF Alumni's website.
Hathaway has witnessed how much the Los Angeles club has grown in the last year with over 150 members and wants the club to continue to grow and continue the UCF legacy.
 "It was cool to come out here and be able to meet people that have similar interests and want to watch the games with me, and actually have memories of similar experiences like Spirit Splash even if we were [at UCF] ten years apart," Hathaway said. 
Hathaway said that she took over the club when there was nobody coming to events and led the club when UCF went from losing every single game to everyone wanting to watch the games amid being undefeated.
"It's crazy to see how our club blew up because we normally had like five people at events and now our watch parties average is like 50 [people]," Hathaway said.
William Cushing, UCF class of 1993 literature and writing graduate, has always been a supporter of UCF's football team and enjoys the interaction with fellow Knights as well as other alumni from various Florida colleges.
"One of the things that Kendra has done, which is great, is connecting with other Florida school alumni in the area [of California]. We do mixers with UF and UM people. That way we get to socialize without yelling and screaming at the TV. It's a fun way to spend a weekend," Cushing said.
Meghan Hidalgo, UCF class of 2006 graduate, said she fell in love when she walked on the UCF campus and decided that there was no other place to attend for college.
"I'm very envious, every time I watch a game where I think back I wish I didn't complete school so fast. It's the best school in the country and I miss it without a doubt," said Hidalgo, hospitality management cum laude alumna.
Hidalgo is one of the earliest UCF graduates among the alumni club. The club for her is an ability to connect with fellow Knights on the other side of the country.
"[The club has] been great. It's just an ability to connect with a network on the other side of the country. Being total newbies, moving out here to Los Angeles not knowing a single soul, it's been just amazing," Hidalgo said. "It's great to have that mutual connection back to something that is UCF."