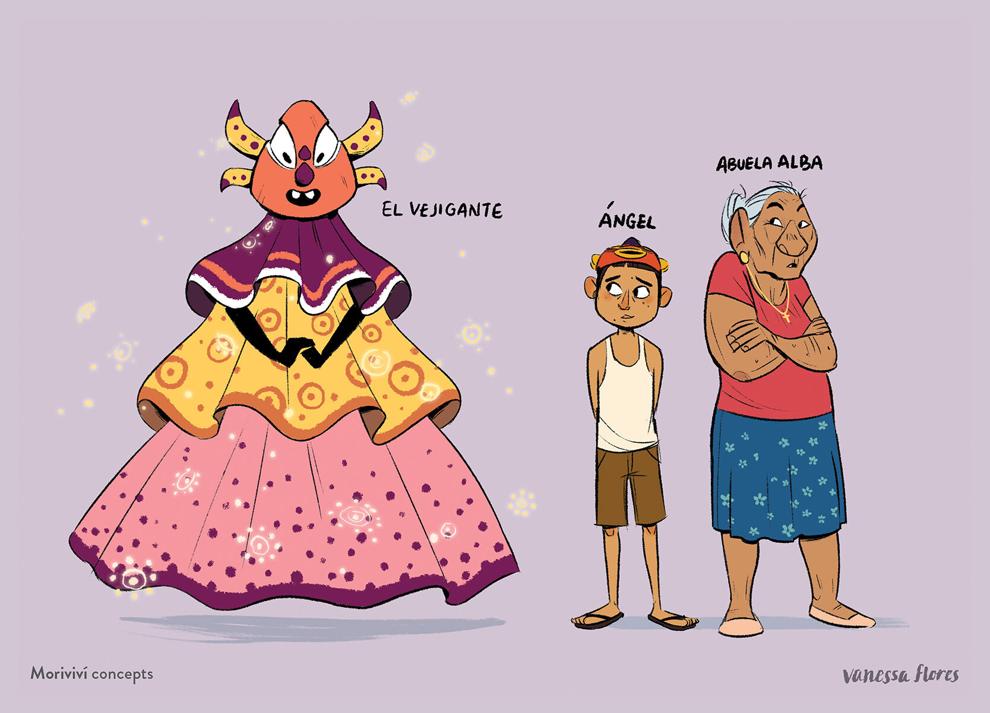 What started off as a simple sketch in a production meeting at an old job turned into a much bigger project for UCF Alumna Vanessa Flores.
Flores, who graduated with a BFA specializing in graphic design in 2011, has now turned her drawings into a short story.
"[Moriviví] grew into a short story I wrote for myself in 2018 about an abuela and her grandson surviving a hurricane and finding life after the destruction," Flores wrote in an email.
"Moriviví", known by its scientific name as mimosa pudica, is a native plant in Puerto Rico that is sensitive to the touch, Flores said. "Moriviví" is going to be Flores' first published graphic novel and is slated to be published in summer 2023.
Flores said "Moriviví" was a way of processing what her family had gone through in Puerto Rico during Hurricane Maria and how the community, both on the island and the diaspora, had come together to help victims survive and thrive.
"I grew up fascinated by this little plant- considered a weed – that closes its leaves when touched. The word moriviví means 'I died, I lived' in Spanish," Flores said. "I identified with the notion of life after death in my own mental and spiritual journey and I recognized that pattern in the way the vegetation came back to life after Hurricane Maria had left the mountains bare, and in the way many Puerto Ricans strove to help each other survive and heal after such a traumatic event."
She said that the story continued to develop further when she added colorful the vejigantes that she loved to draw, learned more about about the connection we have with Arawak, Taino's today and incorporated elements of magic realism from childhood stories.
Flores said she wanted the story to explore what happens when everything feels lost, not only in one's environmental surroundings, but in one's own interpersonal relationships and connection to one's community.
"The sense of leaving everything behind – leaving a home and community behind – and how I remain connected to it is something I've felt throughout my life every time I've left Puerto Rico, either after spending a summer there or the years I've lived there," Flores said.
When Flores was at UCF, she said she connected with students who loved illustration and storytelling.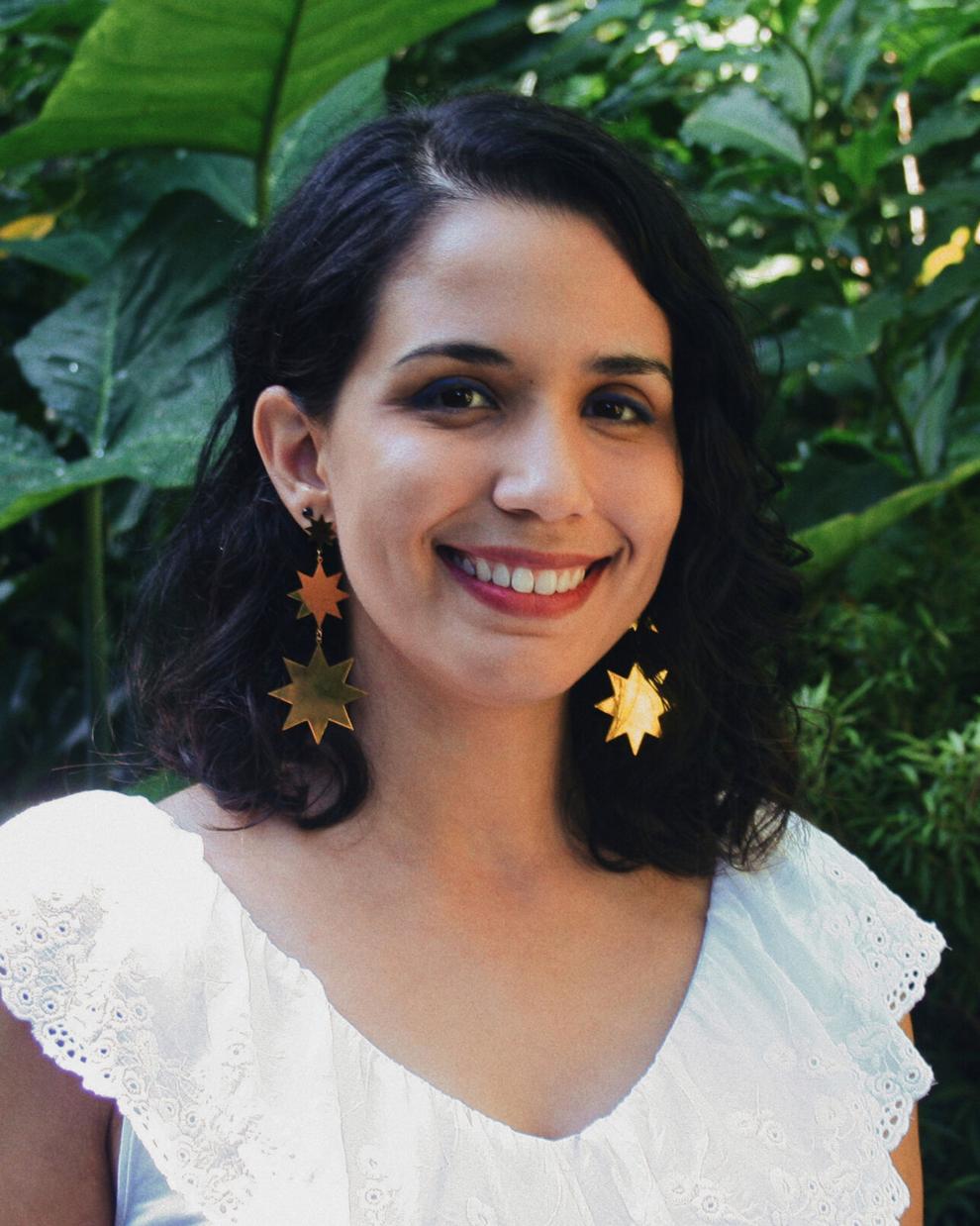 "UCF didn't have an illustration track at the time and I wasn't studying to become an author, but I made life-long friends who became my support and community after graduating. Post-graduation we provided resources for each other, valuable critique and support in our illustration and writing endeavors," Flores said.
Flores said her friend and children's book illustrator Gladys Jose, a UCF Alumna who graduated with a fine arts degree in 2012, helped her realize a career in children's book illustration was possible. 
"She introduced me to illustration courses, the Society of Children's Writers and Illustrators conferences," Flores said.
Flores also credits her agent, Christy Ewers, with having an impact on her career in children's book illustration.
"My agent, who is also Jose's agent, has been a constant source of encouragement when I have hit roadblocks in the past when pursuing this career," she said.
Jose said she and Flores did not have classes together, but were part of the same group of friends. Jose describes Flores as thoughtful, both on a personal and professional level. 
"Everything [Flores] creates has a deeper and thoughtful level of meaning behind it that always leaves me in awe," Jose said. "As a fellow Latina, I'm excited to see her inspire children that perhaps wouldn't have seen themselves in this career."
Jose said Flores is going to take us all on amazing adventures in her writing since Flores' ability to tell a story and captivate stands out from others.
"It's one thing to be able to draw, [Flores] takes her artwork and tells you stories. You get pulled into them and feel whatever the characters are experiencing," Jose said.  
UCF lecturer in the school of visual arts and design Ashley Taylor, who graduated from UCF with a BFA in graphic design in 2011, said she met Flores when they were in the same graphic design cohort at UCF and they were in the same group together. Taylor describes Flores as a multi-disciplined, multi-talented illustrator and designer.
"She is so talented. Her stories that I read are just fantastic," Taylor said. "They are just beautiful stories. She is just a really amazing, good person."
Taylor said Flores will impact the field of children's book illustration by allowing for more enriched stories to be told which will allow for more inclusivity and to hear more about stories that we don't hear that are happening right now.
"She just creates these worlds that feel genuine and wholesome," Taylor said. "Flores does a great job with inclusivity, capturing the personality of the people, describing the traditions, and describing the identity of these people and having each of these characters have an apparent identity and they feel so real; [the characters] are just so genuine."
Taylor said Flores' storytelling is next level and she cannot wait to read her future graphic novels. 
Flores said she sees herself in the future continuing to tell stories through her art and her words as a children's book author and illustrator by bringing kids and adults alike a sense of belonging and joy.
"I see myself creating and illustrating books about children of the diaspora falling in love, meeting ghosts, or discovering their passion," Flores said. "Ultimately, I want people to connect with my stories in a way that makes them feel less alone."