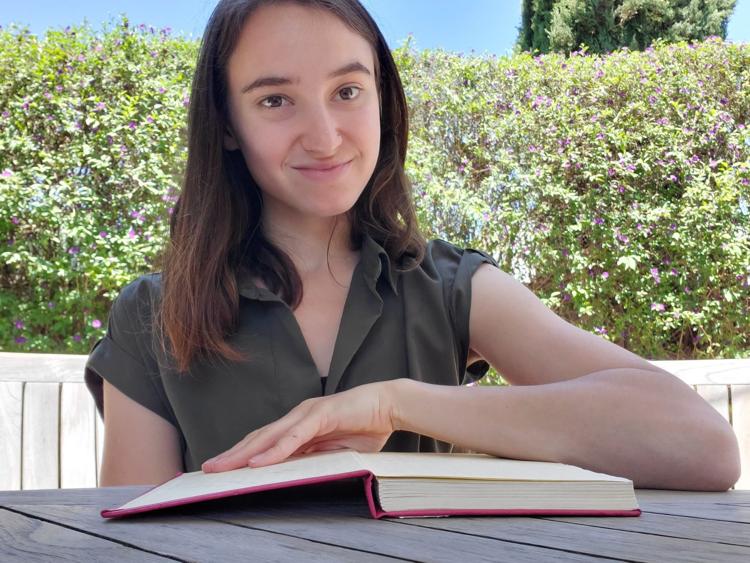 When UCF alumna Kristen Pizzo found herself quarantined in San Jose, California, she said she saw the opportunity to give back to the community through her writing.
According to the book description on the Barnes & Noble website, "A Reckless Love" is a short collection of poems written by Pizzo and illustrated by Grace Jicha about queer love, relationships and the vulnerability that comes with both.
Pizzo, who graduated with a bachelor's degree in rhetoric and composition in spring 2019, said that she was visiting her hometown for her birthday in March when the state's stay-at-home order took place. She said she decided to stay there until the situation improved.
Pizzo said that since the stay-at-home order took place, helping at the Sacred Heart Community Service, a local charity in San Jose dedicated to provide services such as clothing, food and housing to families and individuals in need, was getting harder.
Pizzo, who has been volunteering at the charity since she was 12 years old, said that between the pandemic and the regulations she saw how her mother and many others could not volunteer as often and decided to help out.
Pizzo said that it was then when she decided to compile and publish the poems she had written and donate the profits from the book to the beneficence.
The poems were originally a gift to Ren Watson, her partner of almost one year, who uses they/them pronouns and said that they always wanted to read Pizzo's poetry using Barnes & Noble Press, a self-publishing service offered by the bookstore.
"It was just beautiful," Watson said. "I could not imagine the fact that somebody had written that about another person, much less about me."
Watson, also a UCF grad with a bachelor's degree in theater studies, said that they met Pizzo when the latter performed in the 2019 student-led production of "The Vagina Monologues."
Watson said that they were helping Rachel Capo, their friend and director of the play, during rehearsal and decided to introduce themselves after being mesmerized by Pizzo. Watson said that they ended up going to watch the final performance and the couple started talking after that.
Pizzo said that she started writing on Medium, an online blogging and publishing platform, to start putting her work out there and feel more comfortable with her writing. She said the experience was freeing.
"I feel like some people that knew me before I came out don't really know me as well," Pizzo said. "Being able to share your writing rather than having them trying to relearn who I am is a lot easier."
Pizzo started writing some of the poems around April of last year, but she said that at the time her plan didn't include publishing them because she had always been shy about sharing and promoting her poetry, usually refraining from promoting the most personal posts.
"I had just come out as bisexual and it was a lot to process," Pizzo said. "So writing about it was really helpful for me to go through that transition in life and exploring my identity."
Pizzo said that she was encouraged by Watson and friends and decided to publish her poetry.
Pizzo resorted to Facebook Groups to find someone who could illustrate the poems for publication and said that she connected with Grace Jicha after seeing her comment on the post.
After reviewing Jicha's portfolio, Pizzo decided that her line art style matched the aesthetic she wanted for the book and Jicha said that, since the proceeds were destined for charity, both agreed on a discounted rate for her illustrations.
Pizzo said that she was lucky to be working with an illustrator because she was struggling with the formatting side of the book and having someone who already understood what needed to be done made it a lot easier for her.
Jicha, a wedding photographer and a senior journalism major at Southeastern University in Lakeland, said that she enjoyed illustrating the book because Pizzo gave her a lot of creative freedom that she usually doesn't get in other projects.
"If there was something that I was stuck on, we would kind of bounce ideas off of each other," Jicha said. "I was really able to interpret the poems how I saw them and bring that out on a visual form."
Jicha said that she is also excited about the book being published and her art reaching a different audience that can resonate with it.
Watson said that it was only fitting that Pizzo was releasing a poetry book to benefit a larger community as she is compassionate and a strong advocate for what she believes in. Watson said that they saw a shift between the person who was afraid to put her work out for the world to see and the person that is confident and willing to overcome those fears to give voice to those that don't have the same capability.
"It highlights the experience of your first queer relationship, of your first queer love," Watson said. "It's something so special that so many people aren't able to put into words, but Kristen has this incredible talent."
Watson said that their biggest fear when Pizzo decided to publish the book was that people wouldn't find it relatable and that it would only apply to their relationship. However, Watson said they got past that fear after Pizzo changed and integrated different pronouns so it could relate to different identities.
"I just [didn't] want it to be put out like this thing that's just an exclusive little thing between two people," Watson said. "I would rather for her to be able to share it with everybody and she did a great job of that."
Pizzo said that for her, it was important to reflect those different identities and have a variety of representation in her book and that she hopes people take away from it the importance of vulnerability and sensitivity in different relationships.
"I just hope they feel more comfortable with sexuality, in relationships, in being a sensitive person who is in love with people and that they feel okay with expressing that," Pizzo said.
"A Reckless Love" is available for pre-order and will be out through Barnes and Noble on Wednesday.