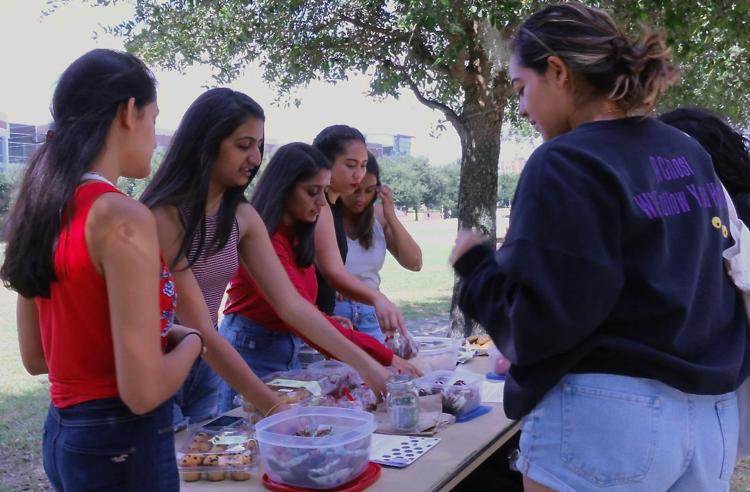 UCF is now a part of the menstrual movement with a new Florida chapter of PERIOD available for students to join.
PERIOD is an organization which has three pillars: to advocate, educate, and provide menstrual products to people in need, according to the organization's website. 
Esha Ghosalkar, sophomore biomedical sciences major, is the president and co-founder of the UCF chapter. She first learned about PERIOD by going to the American Medical Student Association's national convention held in Washington, D.C.  in spring.
"I didn't realize how much of a necessity there was for something like this," Ghosalkar said. "A girl just started talking about the PERIOD national organization and what they were doing and I didn't realize how many schools were already doing something about it, but UCF wasn't."
PERIOD was founded in 2014 by high school students Nadya Okamoto and Vincent Forand. 
Their mission is to help women in need, no matter what their income, run educational workshops and start conversations about menstrual cycles and period poverty. 
In her teens, Okamoto struggled with homelessness and discovered that periods were a real hassle. The nonprofit she founded offers people free products, and each chapter partners with different organizations to provide products for people in need, according to their website. 
The nonprofit's main mission is to end the stigma around periods. Ghosalkar had her own experience with period stigma while growing up in an Indian-American family who tip-toed around the topic of periods.
"Growing up [with] my parents and my grandparents, there was always a stigma around having your period," Ghosalkar said. You can't go to the temple. At my grandma's house, my cousins would have to sit separately and eat separately. I kind of grew up accepting the stigma, but I didn't realize how much of an effect it was having on me."
The vice president of PERIOD at UCF, sophomore Radhika Desai, a biomedical sciences major, heard about PERIOD from Ghosalkar but they both grew up differently when it came to how periods affected their life. 
"Growing up in an Indian-American household, we both had different experiences with our periods growing up. She had more of a hidden sort of experience," Desai said. "I was able to grow up in a family that allowed me to talk about my period and ask the questions that I had and not feel like it was something that was so taboo or that I should feel ashamed of." 
The organization's secretary Pinak Raodeo, a sophomore biomedical sciences major, has many events planned on how to help those in need of menstrual products locally, while spreading the message across campus. 
"Our main events are packing parties where we collect a bunch of tampons, pads, menstrual items and put them in these paper bags and donate them to places like the Orlando Union Rescue Mission in order to give these women what they need for their menstrual cycle," Raodeo said.
Women are not the only ones who struggle with periods, those who identify as non-binary and transgender also struggle with the period stigma and poverty on top of the discrimination many face today. 
"One of the biggest things I've learned is that not all 'menstruators' are women. Regardless of the political climate that we're in right now, it's really important for us to be able to be inclusive," Desai said. "It's important to realize that people who are already facing discrimination in society– it's difficult for them to talk about their period." 
Along with more than 450 chapters worldwide, UCF is now an official advocate for the menstrual movement. Desai said that it's crucial for students to touch on social issues, especially this movement.
PERIOD @ UCF will have a social called "Cocoa and Chat" on Thursday, from 7 p.m. to 8 p.m., to go over period stigma, controversy around "menstruators," period policy, engage in discussions and answer questions.
"I think that it is important that we have it on campus here, because I think in our age range we're at a very impressionable point in our lives," Desai said. "So I feel like we can make a really big change in both our campus and our community."