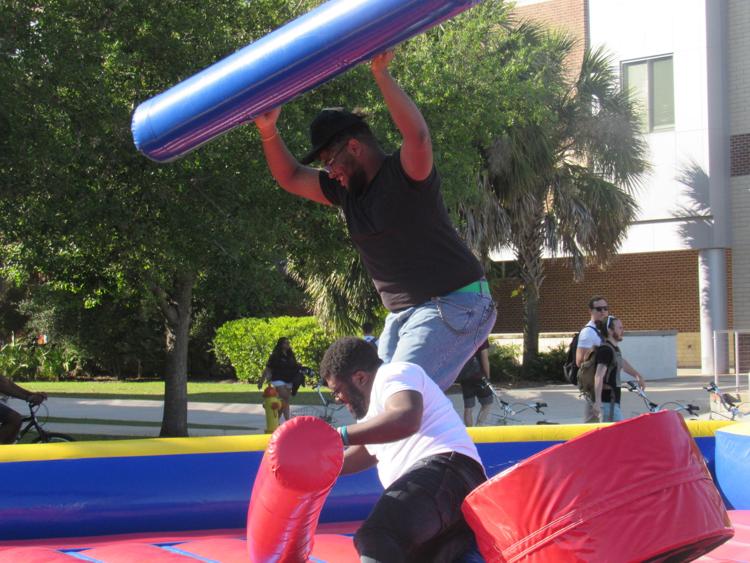 UCF advisory council Knights of the Round Table partnered with other on-campus organizations to host its first-ever Registered Student Organizations Spring Fest to help boost student recruitment for RSOs Friday.
Campaigned as the RSO Fall Fest, the first-ever RSO event took place in fall 2018 and was held at Lake Claire with limited choices for entertainment, said Aglaia Margaris. 
This time around, the council expanded the event with new attractions, including multiple inflatables, a dunk tank, a live DJ and outdoor games, along with pizza, snow cones and popcorn to enjoy.
Members of KoRT and over 500 students gathered on the lawn of Memory Mall for the event with the purpose of networking and enjoying some leisure time before the beginning of finals week.
RSO Spring Fest began at 5 p.m. with 68 organizations coming together. Some of the organizations in attendance were the Sigma Alpha Iota Honor Society, Women's Rugby Club, Design + Code, Society of Automotive Engineering, Pre-Professional Medical Society and more than 100 club representatives.
KoRT, an advisory council within the Office of Student Involvement, is created to support RSOs and help students register new clubs, said Aglaia Margaris, KoRT organization relations chair.
"This event today is specifically for recruitment purposes, so basically [KoRT is] trying to get students to meet Registered Student Organizations and to help with the process," Margaris said.
Margaris said KoRT's expansion of the event's entertainment since last semester's RSO Fall Fest was made possible with help from its sponsors like the Multicultural Student Center, Knights of the Connection, Sport Clubs Council and Late Knights.
Students at RSO Spring Fest said they cherished the council's endeavor to create a pleasant evening for the students. 
"The event is really well organized," said Raleigh Watkins, member of the UCF Women's Rugby Club. "I really like how they have a lot for everyone to participate in."
The council awarded RSO of the Month to the Society of Automotive Engineers, an engineering motorsports club.
Diego Vazquez, a member of Society of Automotive Engineers, said he hoped the award would generate greater student interest in recruitment for the organization.
"We're trying to get more people to join the club," Vazquez said. "It's important to reach out every year to get younger people in. Most of the people [in Society of Automotive Engineers] are seniors, including myself. So we're always just trying to get fresh new ideas from young engineers."
Moving forward, students can expect to see more resources to help with overall club engagement coming from KoRT, Margaris said.
"We were able to get funding for this event next year, so we will continue to expand and partner with organizations to help in improving recruitment," Margaris said.
Margaris said she was motivated to improve student involvement because she believes it will help students' better succeed in school.
"People who are not really involved on campus — those are the people we want to target," Margaris said. "The more involved they are, the better they will do."
Margaris said there are over 650 clubs and organizations at UCF, providing plenty of options for students with various interests to get involved on campus.
"If you want chocolate, they got a chocolate club," she said. "If you like street racing, we have that too. There's literally everything for everyone on campus."