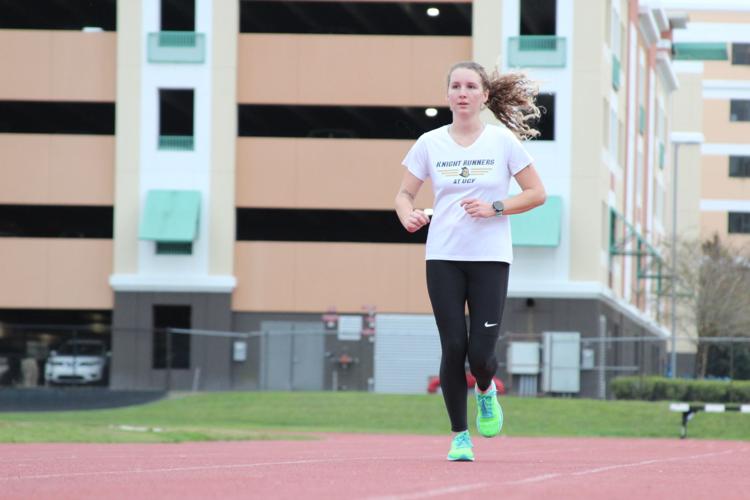 While two-hundred pairs of shoes may seem like a lot, one UCF student is searching for more.
Senior hospitality major Sydney McKenzie said she used to run for fun, but a simple hobby turned into the run of a lifetime. Now she is raising money for young adults battling cancer.
"I scheduled a call and the members of the Ulman Foundation were so excited for me," McKenzie said. "I got an interview, got accepted, and then I told my mom."
McKenzie said that the Ulman Foundation is an organization that raises money for young adults battling cancer by funding chemo-packages, fertility preservation, scholarships and more. 
Having dealt with cancer closely, McKenzie said she watched her grandmother fight through the same horrific illness.  She said she was ready to suit up and run for those who are fighting the same battle.
"I feel like everyone is affected by [cancer] nowadays," McKenzie said. "It's not a matter of if but when. And if I had cancer I would want those same resources."
The shoe drive is organized through the local Orlando charity Funds2Org. They collect shoes to donate to developing nations, such as Haiti, the Dominican Republic and other countries devastated by natural disasters.
In addition to collecting hundreds of shoes, McKenzie said she is fundraising and has received donations from sororities, clubs and local churches. So far she has raised $660 of her $4,500 goal.
Although McKenzie is the only UCF student racing in 4k for Cancer, the Ulman foundation is supporting 23 other college students nationwide to raise money for the cause.
Provided by the Ulman Foundation, Allyson Pelchat became McKenzie's coach to keep her on track and assist with training.
"Anytime we have a 4K-er join the team that is new to running, it's always inspiring," Pelchat said. "While running across the country is a large undertaking in itself, doing so as a relatively fresh runner is an added challenge."
With no previous athletic background, McKenzie said she has grown a love for the sport of running over the past couple of years.
"I picked up running completely out of the blue," McKenzie said. "I just do it for fun. I'm not the fastest, but I enjoy it." 
Runners will start the 4k for Cancer on June 21 in Newark, Delaware and complete their journey almost three-thousand miles away in San Francisco on August 2.
Each day will consist of running six to 16 miles, which will be broken up two miles at a time for a total of 49 days. 
Students and faculty interested in supporting McKenzie's journey can help by dropping off gently worn shoes of any style or size in the SGA office inside the student union or by donating to her online fundraising page.