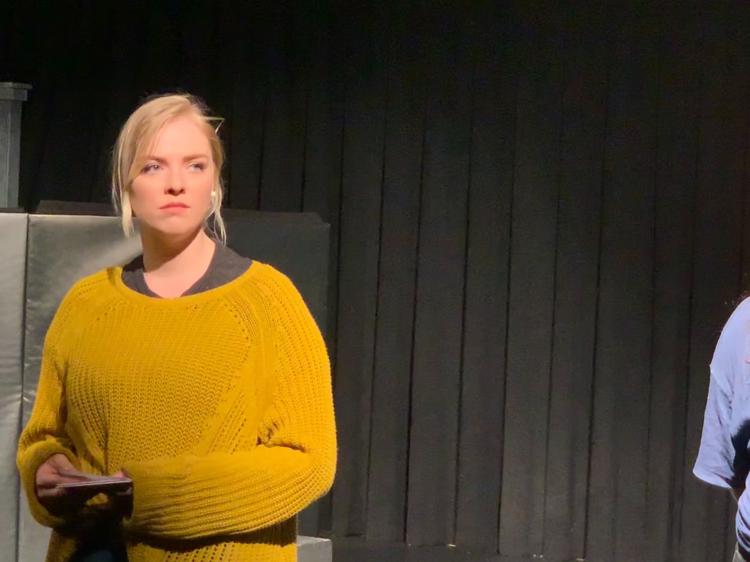 UCF theatre studies graduate student Elizabeth Fay said she started working on one of the most difficult pieces of theater she had ever written nine months ago.
While she writes and directs comedies, Fay said her graduate work focus has been on "theater for social change." 
Before this experience, she spent her senior year of undergraduate school directing "The Vagina Monologues," a play performed worldwide that celebrates female sexuality using humor and wit, in coordination with UCF Victim Services. She also interned with the advocacy group during her first year of graduate school.
"[Theater for social change] has been a topic that I have worked really closely with," Fay said. "It's really touched my heart in doing that work and so ... in doing that work was when I found ... a lot of victim's stories — especially with the #MeToo movement — were starting to really shine a spotlight on those and get those voices heard, so it was really important to me to create a piece that does that." 
This work has now culminated with the premiere of her play and graduate thesis titled "Time's Up" which is set to run April 12-14 at 7 p.m. on each day in Studio One of the UCF Performing Arts Center. 
"Time's Up" follows the cases, trials and personal stories of abuse from the victims of three well-known men charged with sexual assault: former Miramax co-founder and producer Harvey Weinstein, former collegiate swimmer Brock Turner and opera singer and professor David Daniels.
"'Time's Up' explores and challenges social and criminal justice perspectives of the rape culture that has impacted our education institutes, work places and even our entertainment industry, while attempting to build an understanding of the complexities of sexual assault, harassment and misconduct," according to the play's synopsis.
Fay said she plans to continue updating the play even after its first production.
"The script will see a dozen more updates even after this first production, as developments throughout the trial process for each case continues to break until final verdicts are given," Fay said. "Even then, defendants may still appeal those verdicts. The piece will be in development for a while."
The play's April premiere also coincides with Sexual Assault Awareness Month, a campaign that was officially proclaimed by former President Barack Obama in April 2009.
While Fay said the April premiere was chosen in part to fit the theater season's schedule, the significance of the month also contributed to the decision. 
While the "Time's Up" movement was founded in January 2018 "as revelations of widespread abuse and misbehavior at the hands of powerful men sparked a global reckoning," the #MeToo movement was founded in 2006 by civil rights activist Tarana Burke, who initially wanted to help survivors of sexual abuse — particularly black women and girls from low wealth communities, according to the movement's website.
The movement has now "expanded to reach a global community of survivors from all walks of life and helped to de-stigmatize the act of surviving by highlighting the breadth and impact of a sexual violence worldwide," the website states.
A 2018 study by Western Washington University said the movement went viral in 2017 on social media after actress Alyssa Milano encouraged survivors on Twitter to use the hashtag "#MeToo" and share their personal harassment or assault stories. 
As of October 2018, the hashtag had been used approximately 19 million times on Twitter since Milano's tweet, according to a Pew Research study.
UCF associate women's and gender studies instructor Leandra Preston said the #MeToo movement has had profound consequences. 
"It's a social movement that seeks to hold perpetrators accountable for sexual assault, sexual abuse [and] sexual harassment, but it's also a movement that brings women together around their survivorship," Preston said. "If we acknowledge how prevalent it is, we can't ignore it anymore."
Fay said she believes it's important to know all perspectives about the issue.
"No issue can be solved unless you know all perspectives involved because your logic as an individual is going to make sense to you, but if you put that logic against someone else's logic, it may not make sense," Fay said. "It may be contradictory. You don't know until you start discussing." 
Preston, a former English professor, said she taught her students that when discussing an argument, it's necessary to "anticipate" and "disarm the opposition."
"You gain more credibility when you're looking at multiple perspectives because people are inclined to do that anyway," Preston said. "I think it is important to address both sides, but I mean in a critical way." 
UCF alumnus Jean-Michel Rousseau, who plays a defense attorney in the play representing each trial, said preparing for his role has been very methodical.
"[My character] is pretty much the voice of reason for the opposite side, and to pretty much play that person who is literally backing up any sex offender that you have seen between the last like three to four years was a little bit tough to kind of put my shoes in," Rousseau said.  
Valencia College musical theatre major Becca Griffin, whose character is based off of Turner's victim who went under the alias of Emily Doe during court proceedings, said this experience has made her learn more about sexual assault. 
"There are way more cases that have been just kind of excused on like really bad bases of like, 'Oh, she was wearing a skirt, so that's why she was raped,' or, 'She was asking for it [because] she was drunk,' and that's what a lot of people said about Emily [Doe] — [they said] because she was drunk that's why she got sexually assaulted," Griffin said.  
Fay said the research she conducted while she wrote the show, especially on Doe's story, deeply impacted her.
"It was an 18-page personal statement she read in court and at times directed to Brock Turner," Fay wrote in a Facebook message. "It discussed in detail the trauma [she] had endured throughout the process. It was a reminder that she isn't just a victim of sexual violence and a casualty of rape culture — she is a survivor."  
Now entering the final phase of the rehearsal process, the production has moved from Rehearsal Room Three into Studio One where Fay and the cast will work on staging in the larger space while costumes, lighting, sound effects and other technical aspects are added to the show.
Fay said she is hopeful that "Time's Up" will work into the broader purpose of the #MeToo movement.
"It is not something that I am meaning for it to be the voice of the #MeToo movement," Fay said. "It is a voice to work alongside the #MeToo movement."