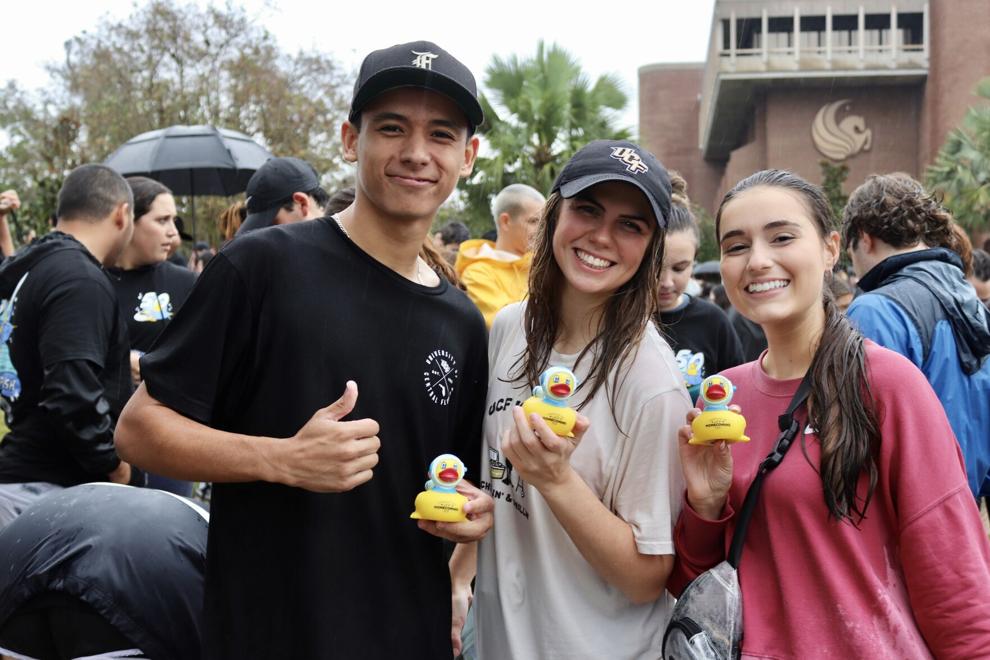 Knights got more of a splash than anticipated at this year's Spirit Splash when rain storms rolled over UCF Friday.
Spirit Splash is one of UCF's oldest annual Homecoming traditions, dating back to 1995, and was awarded Best Campus Tradition in 2011 by the National Association for Campus Activities. 
In February, the event returned to UCF for the first time since the COVID-19 pandemic hit. With strict restrictions in place, instead of splashing into the Reflecting Pond, students were sprayed with water guns in socially-distanced seating and handed rubber ducks.
This year, many of those restrictions were lifted, and the event looked very similar to its pre-pandemic form. Students were able to run into the pond and catch ducks being thrown.
Before the event, dozens of Knights lined up at each of the four t-shirt stations, many holding umbrellas and wearing ponchos. Students also gathered around the Reflecting Pond to listen to announcements and guest speakers until it was time to splash.
Speakers at the event included: Knights Head Coach Gus Malzahn and some of the football players, UCF President Alexander Cartwright and some members of the Homecoming Court.
After the 10-second countdown, Knights rushed to the back of the pond and waited for ducks to be thrown out to them. Once the event officially kicked off at noon, hundreds of students began gathering around the Reflecting Pond, eager to get their hands on a rubber duck.
For some students like Madison Walters, this was their first-ever Spirit Splash. Walters, an early childhood development and education major, stood by the edge of the pond with her friends and danced to the music. 
"It's our first time here, so we don't really know what to expect, but we're super excited," Walters said. "The rain doesn't bother us. We're here for a good time."
Members of the UCF Cheer Team and Marching Knights both performed, energizing and entertaining attendees throughout the event. Some even tossed out some ducks to the most energized Knights.
Student Body President Meg Hall said she was impressed by the amount of students that showed up and the spirit they showed, even though it was raining.
"I think that today was fantastic," said Hall, a legal studies major. "The turnout was great, and the students were very excited. Everyone had a fun and amazing time at this event: We made it through rain or shine."