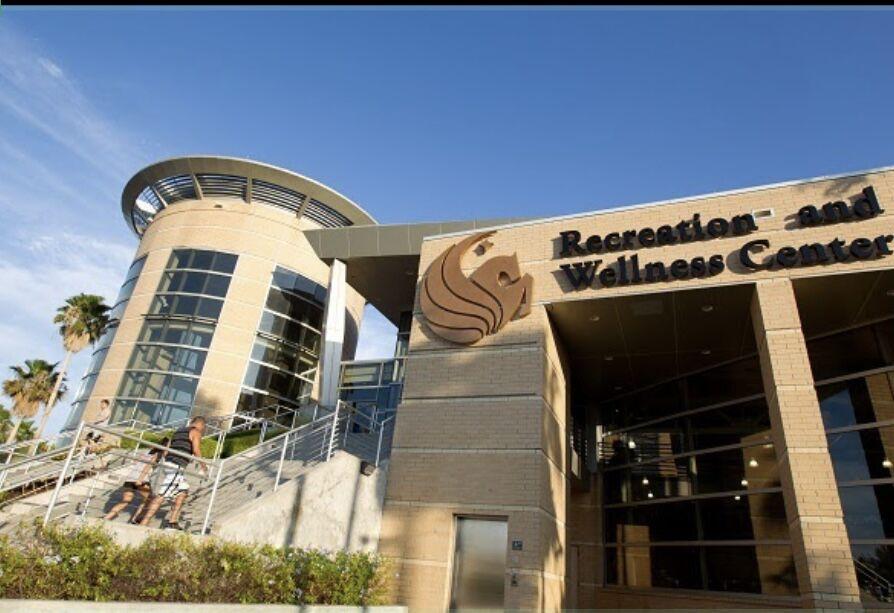 A UCF student's change.org petition calls for a revision in the athletic attire allowed in the Recreation and Wellness Center.
In the petition's tags, freshman emerging media major Macy Martelli has called out UCF entities such as the RWC, President Alexander Cartwright, Student Government and Athletics Compliance. 
The petition has been pushed throughout UCF's campus and has amassed over 470 signatures.
Martelli stated in her petition that she was recently kicked out of the gym "due to exposure of [her] abdomen." She said she was wearing a set that consisted of a sports bra and leggings. The petition focuses on the dress code at the RWC.
"The sports bra wasn't one of those small, revealing ones either," Martelli said in her petition claim. "It was still pretty long in terms of sports bras."
Gary Cahen, associate director of the RWC, said that a total of 190,200 students used the RWC during the 2020-21 academic school year.
UCF's appropriate attire policy covers how shirts and tanks must be worn at all times. These articles must cover the lower back, front and torso of the body. All shirts must not be manufactured or altered to expose the abdominal or ribcage regions. 
Some students, such as Martelli, see through this statement and demand change. UCF students who support the petition claim the RWC's dress code completely contrasts other colleges such as Florida Gulf Coast University and University of South Florida.
According to the FGCU policy, workout attire that promotes the safety, integrity, and professionalism of the facility and equipment is recommended.
USF policy states that athletic attire is required. The only exceptions are jeans, jean shorts, khakis, clothing with metal pieces and accessories, and open-toed or slip-on shoes.
Sophomore philosophy major Nathalie Burgos said that when comparing these codes with UCF's code and its the loose terms of what constitutes length of articles of clothing, there was a lot more restrictions.
Burgos runs the "@ucfgirlbosses" Instagram page, an account dedicated to highlighting hot button issues and women empowerment, and Burgos said the restrictions are too harsh. 
"A lot of the restrictions include a lot of normal workout clothes," Burgos said. "Students should be allowed to choose their clothes without considering if they're going to get kicked out. It is simply a gym."
Martelli's original petition states that the dress code is specifically targeted at women. Martelli said in her petition that students wear more revealing clothes around the campus than ones allowed at the RWC due to the hot weather.
"The gym is a place where we all sweat," Martelli said in her petition. "Having to wear full length clothing is just not ideal."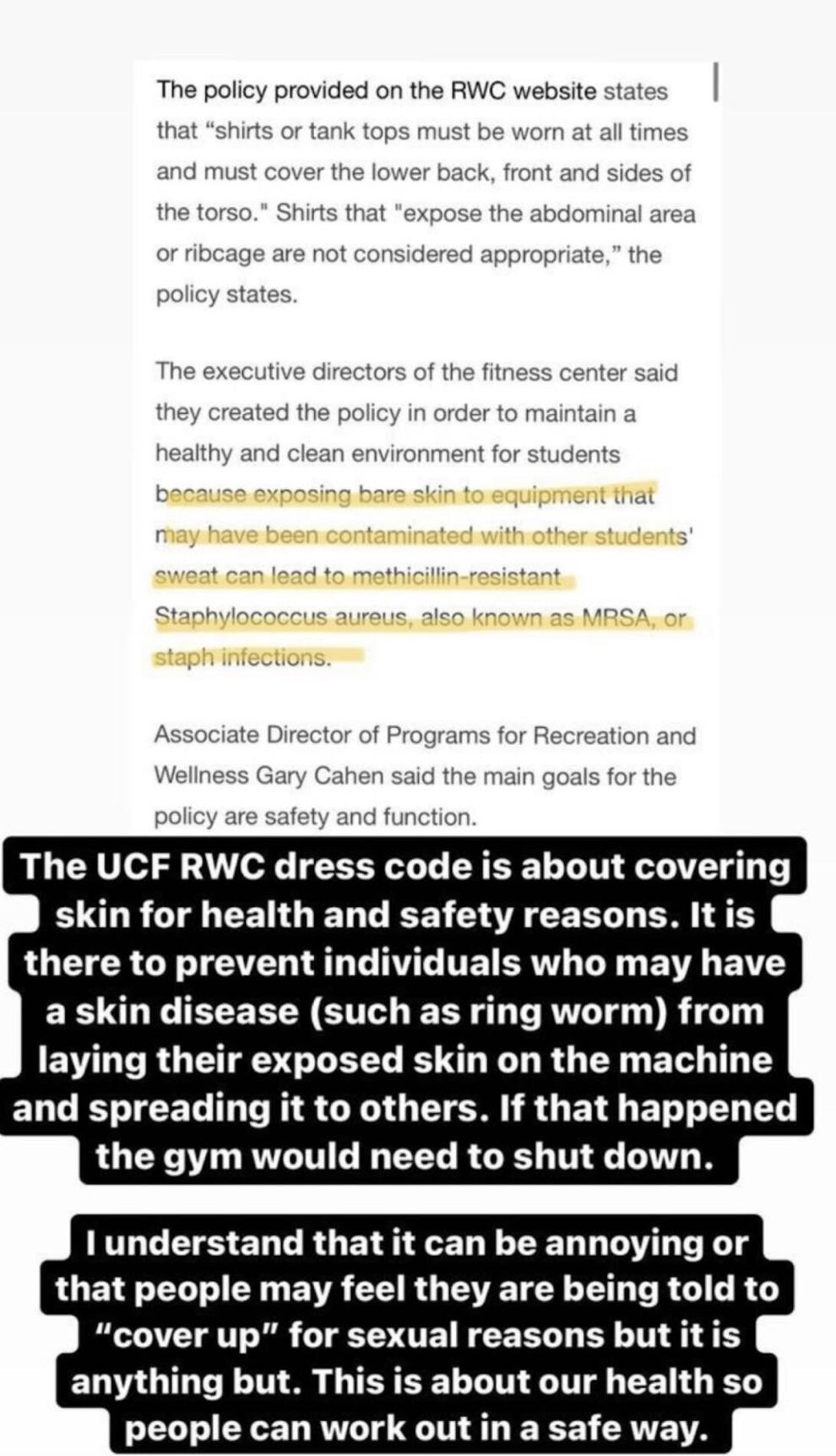 Cahen said he sees this dress code petition as an opportunity to educate students. He said many types of petitions have come across his desk hundreds of times, but he said he does not put too much stock in it. 
"Risk management is our job," Cahen said.
Cahen said the main instigator for the RWC's appropriate athletic attire policy is the MRSA, or methicillin-resistant staphylococcus aureus, outbreak of about seven to eight years ago. 
MRSA is bacteria that is usually transmitted through contact. This can be from sharing personal items, such as razors and towels. The bacteria can lead to a severe infection to the area affected.
"We've taught staff to teach cleanliness and are looking at new ideas to clean facilities," Cahen said.
Junior entertainment management major Donovan Butler is one of the petition signers. Butler said he thinks the dress code should be changed so that students and future students know their bodies in any form are accepted, protected and respected.
"I was genuinely floored to hear that a public university that has one of the largest and most diverse and socially mobile communities is using policies like these to make women feel uncomfortable in a place where they should feel welcomed, celebrated and encouraged to improve themselves to be the best versions they can be," Butler said.
Cahen said he acknowledges that the dress code is very vague. Cahen said that along with Student Government, the plan is to redefine the language but not in the middle of the semester.
"Speak up about it, understanding that advocation goes through student government," Cahen said, encouraging students to continue and promote change on campus.
As far as change, Cahen said the RWC is planning to improve and provide clarity to the code, targeting to address it the end of the semester.