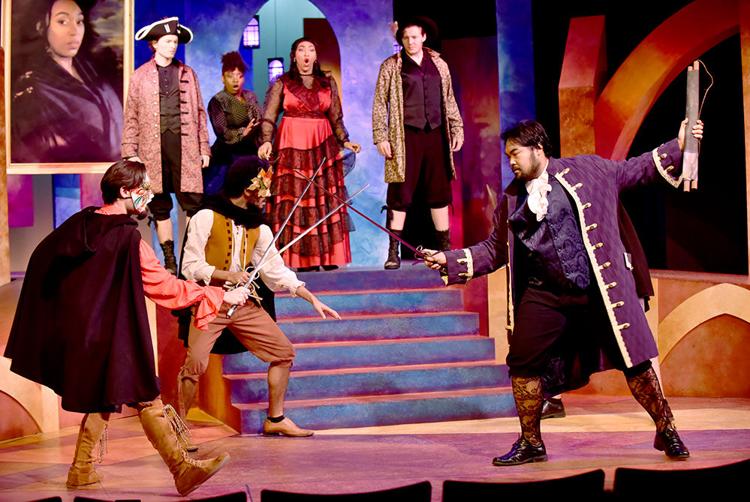 Whimsical carnival colors, futuristic art and signatures from the restoration period come together in the set design for "The Rover."
It's a result of UCF's modernistic twist on the restoration classic. Unlike most restoration plays, this rendition will have no set time; it'll be taken out of the original period.
Theatre UCF will present "The Rover," written by Aphra Behn, from Jan 23. until Feb 2. It will be performed on the main stage of UCF Theatre and tickets are $20 standard and $10 for UCF students.
Behn is considered the first female playwright and "The Rover" is one of her most popular plays. The play is about a band of English Cavaliers who arrive to Naples during Carnival in search of love and a good time. 
The director of "The Rover," Christopher Niess, is an associate professor for acting, stage movement and dance. He and his design team wanted to do something different for this production, he said.
Niess said he wanted viewers to see how men and women work together without setting a time and place. He said the setting is in a place like Naples, Italy in the 17th century, but not specifically.
He also said that a lack of time and place would allow audience members to detach themselves from the way things were done during a specific time period. For that reason, the play has a mix of antiquated and contemporary elements, he said.
"What the designers have wound up with is an Italian, modern sort of design," Niess said. "The colors are very vibrant and yet there is a sense of age about them."
To achieve that look, set designer Corina Cottin, a senior theatre studies and film double major, had to find a way to creatively combine different time elements.
Cottin said she began by researching Italian streets during the restoration period. She then looked into the Italian futurism art movement, allowing her to bring in the modern feel without leaving the Italian realm.
She said the design had it's challenges.
"Since this is a very abstract sort of world that I created, it was hard to find concrete sort of images," Cottin said. "I couldn't look at anything that was real. I kinda had to go from the images in my head." 
Once on paper, she said she had to see whether or not it made sense within the context of the show. Her inspiration photos were shapes and colors, which she turned into a whole set, she said.
"The Rover," however, had another challenge to tackle. This production is being held in the slot known as the bridge show, stage manager Lauren Koval said.
Junior stage management major Koval is the point of contact for director Christopher Niess and runs various parts of the production.
The bridge show requires rehearsals to start before winter break. A month later they come back for a week of rehearsals, and then dive into tech, said Koval.
"This show has heightened language, multiple dialects, sword fighting, unarmed combat and it's a lengthy play," said Koval. "It was very challenging for everyone to get everything together."
Niess also said that bridge is the toughest time to tackle the play. They had to work hard before the break in order to hit the ground running once they were back, he said.
Cottin said that dealing with the design was more complicated than the building of the set, despite the break.
"The challenges came more from the design aspect rather than the building part," said Cottin."Because you kinda try and figure out all of the problems before you actually build it."
Neiss said that, after almost a year of work, the play is ready to go.
"I would expect to laugh a lot, it's very lively," Koval said. "You'll have fun. It's a masquerade, it's a really big carnival."