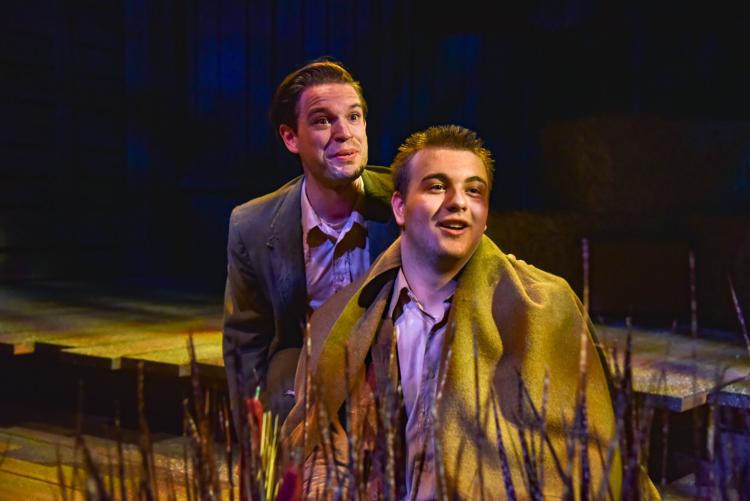 UCF student Jeffrey Allen Sneed said he could have been anything but decided to be an actor.
"When you're born in America we have this belief instilled in us that we can do anything," said Sneed, who is a UCF theatre acting track graduate student. "I still think that even to this day Americans have that idea deep inside of them. It is a guiding principle to us, really."
Sneed portrays the lead role of George Milton in Theatre UCF's production of John Steinbeck's "Of Mice and Men," a play that centers on the pursuit of the American dream by two displaced farm workers in 1930s America. George and his longtime friend Lennie, who is portrayed by senior theatre studies major Scott Haupt, move to California in search of new job opportunities.
Opening Thursday at Theatre UCF's Black Box stage, the production will run until Nov. 18. Two additional matinees, or daytime performances, were added to the schedule for Saturday and Nov. 17 to allow the show's second cast, made up of understudies, to perform the play.
UCF's rendition of "Of Mice and Men" uses a unique casting system, director Mark Brotherton said.
All understudies from the play have been put into their own cast and were given guaranteed show days where they would play as the lead for their respective roles. Generally, understudies check-in at the start of each performance and stay in the area on standby.
"They were all cast for this show," Brotherton said. "They're all students, they're doing the work."
While this is not possible to do in most productions, the costumes in "Of Mice and Men" are simple enough to where multiple actors can fit the same clothing, Brotherton said.
One actor performing as a lead in the matinee showings is sophomore theatre studies major Steve Angulo. Angulo is the understudy to Sneed for the role of George and also plays the role of Curly, the show's antagonist.
"I have big shoes to fill," Angulo said. "I won't want to copy him, but just make sure we're giving that same character the justice it deserves."
Angulo said he and his parents agree that he embodies the American dream. Angulo, a first-generation Colombian-American and the first in his family to go to college, said he feels fulfilled to play the role.
"My parents wanted me to have the American dream," Angulo said. "They wanted me to go to school and thrive, which I have been able to do."
The play "Of Mice and Men" has been around since 1937 and has had a few on and off-Broadway runs. The play is adapted from John Steinbeck's novel of the same name and was originally written to be adapted for theater.
Stage Manager Claire Fogle said that because this production is an American classic, its notoriety and relatability separate it from Theatre UCF's other productions this semester. 
Initially written as a three-act play, Brotherton said they changed it to a two-act play so the audience would not have to sit through two intermissions. A scene that takes place on the porch of the play's bunkhouse was also added.
Brotherton said the challenges for the cast laid in the length of the play's lines.
"We talk in such short phrases now, and these are much longer lines," Brotherton said.
Brotherton said he would often tell his students to breathe more, which he joked seemed like an obvious solution.
The set is home to many moving parts and levels. Sliding doors house bunk beds that come out of them, which the show's actors heavily interact with.
"It is not a hugely complex set, but there are a lot of intricate, cool things about it," Fogle said.
Students can see the tale of George and Lennie for $10 with their UCF ID. Tickets are $20 for non-students. Tickets can be purchased on the Theatre UCF website, over the phone or by visiting the box office located in the Performing Arts Center on UCF's main campus.
"I think this play is a barebones critique of [the American dream] at its heart," Sneed said. "It neither says it is a bad thing, but it certainly doesn't say it is a good thing and shows all the shades that exist in that dream."
Correction: This article incorrectly stated the day for the first matinee showing. The article now reflects the first matinee showing on Saturday.