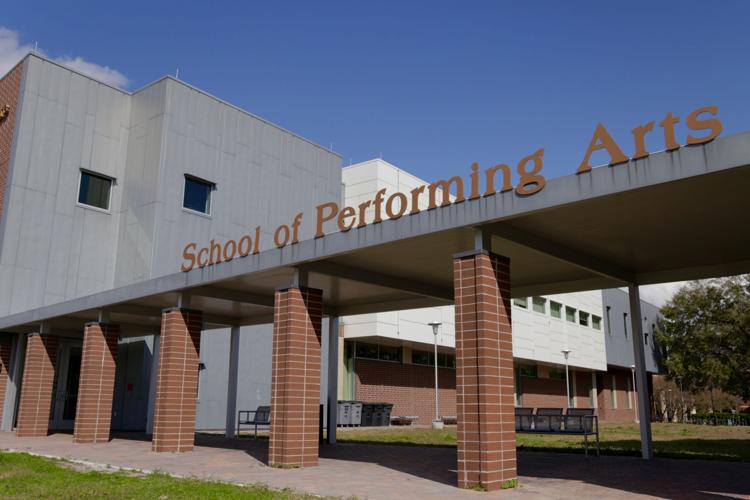 Theatre UCF's production of "Hot Mikado" has sparked controversy after being called "racist" by some members of the UCF theater community.
"Hot Mikado," a musical comedy set in 1940s Japan, follows The Mikado's son, Nanki-Poo, as he finds a way to be with his love Yum-Yum while avoiding execution. "Hot Mikado " is based on an opera titled "The Mikado" and a Broadway show called "The Hot Mikado." 
The UCF production combines Japanese design — along with Japanese influences of anime, manga and cosplay — with popular American song and dance, according to Theatre UCF's website. 
Theatre UCF has been performing "Hot Mikado" since Oct. 11, and the last show is Sunday.
Terence Lee, a third-year graduate student at UCF who is pursuing a Master of Fine Arts degree in acting, said he spoke with the theater administration in protest of UCF putting on the production.
"As a minority group in the theatre department we just want acknowledgment that this production was indeed racist," Lee said.
Earl Weaver, an associate professor for the School of Performing Arts and director of "Hot Mikado," declined to comment and directed all questions about the play to the marketing department.
The marketing director for UCF's School of Performing Arts, Steven Risko, sent an email on Thursday with a statement from Theatre UCF Artistic Director Julia Listengarten.
"It is always a priority for us to have an open and productive dialogue with our students to ensure all sides of the issue are heard and respected," Listengarten said in the statement.
One concern of Lee's centers on the costumes and makeup used in the play. The Mikado's costume was described by Lee as resembling Fu Manchu, who is an Asian villain from novels written by British author Sax Rohmer.
The Mikado, portrayed by UCF student Chase Cashion, sports a robe and a long, pointed mustache and beard.
"Everything that encapsulates yellowface without the color yellow," Lee said. "So he came out he had this all this makeup on, and the Fu Manchu beard with the really wide forehead, with accentuated features of the eyes and really the [expletive] that you would see if it was yellowface."
Lee attended the play but left at intermission. He said he saw the display of what he referred to as yellowface from a production photo.
Yellowface, a controversial makeup practice, is the act of white actors changing their appearance with makeup in order to play East Asian characters in films, plays and other entertainment mediums, according to the Cambridge Dictionary.
Amanda Dayton, a third-year UCF graduate student who is working toward a Master of Fine Arts degree in acting, said she is also upset by the production.
"There are actors in the show who are terrified that their pictures from this show could be seen by potential future employers, and it might prevent them from getting jobs," Dayton said in a Wednesday email.
Some undergraduate students, including some who worked on the show, were unwilling to give their opinions on the play.
Students who are in the Theatre UCF program are required to audition for plays and accept the roles they are assigned. Failure to adhere to audition and casting policy or production assignment policy will result in immediate removal from the program unless standards for permission to be excluded are met, according to the School of Performing Arts Student Handbook.
Ana Zambrana, a UCF sophomore pursuing a bachelor's degree in acting, saw the play Thursday night. She said she heard about controversy surrounding the play, but wasn't sure what to expect.
Zambrana said she was surprised to see anime costumes on some white actors.
Zambrana said she "definitely" does not agree with the play, adding that as a minority, she is proud to state her opinion. 
However, Zambrana said the theater program in general is very inclusive and that she loves the program.
Sophomore computer sciences major Hannah Main saw the play for her Theatre Survey class. Main said she discovered some people were upset by the play through conversations in her Theatre Survey class, which was held just a few hours before she went to see the play.
Despite Lee's feelings toward "Hot Mikado," he said Theatre UCF is very supportive of minorities. Lee has said he believes the department may have been trying to celebrate Asian culture but went about doing it the wrong way.
"I really don't think the department itself is racist or has any racist tendencies," Lee said. "Like they're really not. They're all great people and everything about them is wonderful. It is just this production that came out of a well-intentioned artistic choice that just went wrong."
Correction: This article incorrectly quoted a source describing a character as having a "white forehead," but has been corrected to say "wide forehead."