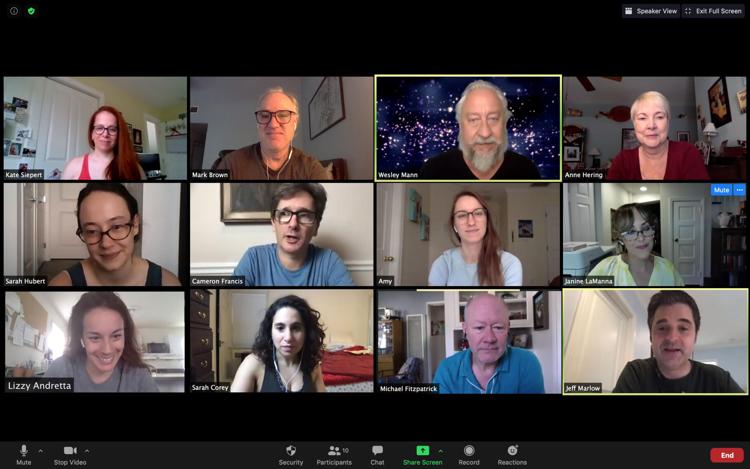 A UCF master student, alongside other actors, is continuing to perform in plays via Zoom, thanks to a new theater company named Quarantine Rep, which was formed in March in response to the closure of theaters due to the pandemic. 
Mark Brown, the founder of Quarantine Rep and a famous playwright for his multi-award winning plays, contacted Sarah Hubert, an acting master student, and other actors to help him translate the play "Monsieur Chasse" by Georges Feydeau to "A Hunting We Will Go!" 
Hubert said since then, the group started meeting on Saturday afternoons to do readings of plays by Brown and other playwrights to practice their art.
"It was sort of a way to get art in our lives and have some connection with people who are far away," Hubert said. "The industry is essentially dead right now, so we had to create meaning for ourselves."
One of the company's top accomplishments was the translation and submission of "A Haunting We Will Go!" in PlayFest by Orlando Shakes this year that led them to become a finalist.
The company has also done readings of an adaptation by Brown of "The Little Prince," a play by John Scoullar in which Amy Livingston, a UCF Master of Fine Arts student, got the opportunity to read the stage directions.
"I really enjoyed seeing everyone's interpretations of the characters," Livingston said.
Livingston's favorite aspect of the play was that one of the actors played multiple characters.
"It was nice for me, somebody who is studying acting, to be able to watch these very seasoned professional actors perform even if it's in a group of friends," Livingston said.
The company, made of about eight actors, has worked on several plays written by Brown, such as the version with no intermission of "Around the World in 80 Days," as well as the creation of "It Happened on Mulholland Drive," a play written for a radio show for the Coeurage Theatre Company of Los Angeles.
The last project the company worked on was "I'm Still Here," a one-woman play they hope to stream in the future.
"I really think one-person plays are going to be popular, or two-person plays. With theaters opening, you are going to want social distancing," Brown said.
Brown wants to stream public readings and plays produced at Q Rep and is finding a way for the theatre unions to let him do it.
"I am looking at platforms where we can stream and how we can do something, especially with Broadway being closed, nobody is really working, nobody can do anything," Brown said. "We are seeing where it's going to go, we have to navigate the union waters."
In December, students can attend a play by Brown produced by Orlando Shakes called "The Trial of Ebenezer Scrooge," where Hubert will also be performing. 
Hubert said it is comforting to remember live theatre has been around for centuries and will continue to survive. 
"Once the crisis has passed, we will absolutely be back, it might look a little bit different," Hubert said. "It might be a challenging transition, but it will be back, and I think that it would be growth that comes from this experience."
Correction: A previous version of this article incorrectly identified the play, "A Hunting We Will Go!" as "A Haunting We Will Go!"