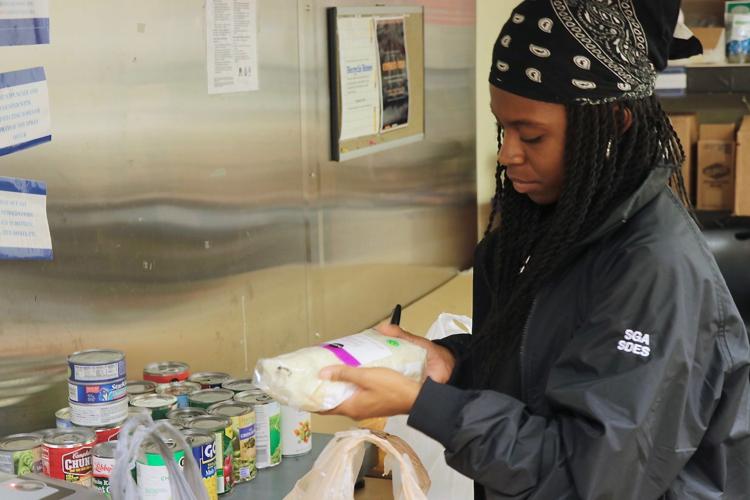 Thanksgiving. The holiday celebrated every year where family and friends come together to eat home cooked meals, give thanks, reminisce on old memories and build new ones. 
Many UCF students come from all over the country, and even all over the world, so Thanksgiving can be quite different for each student.
According to the United States Department of Transportation's Bureau of Transportation Statistics, on average 2.03 million passengers per day traveled by air over the 12-day Thanksgiving holiday period from Nov. 16 through Nov. 27, 2018. 
Morgann Betterly, junior health services administration major, is an out of state student from Michigan.
"Unfortunately, I can't afford to go home for Thanksgiving and then Christmas, so I had to choose," Betterly said.
She describes her Thanksgiving as time with her emotional support animal and an opportunity to take a break before finals.
Some students unable to travel back home for the holiday have come to rely on friends and resources UCF offers for students to get into the turkey day spirit.
"The out of state program gave me a goody bag of stuff, and my roommates invited me to their family's house. It is hard, but it is okay," Betterly said.
Knights Pantry teamed up with junior psychology major Saarah Sherifi to conduct a Thanksgiving food drive for students celebrating the holiday at UCF, and provide them with food for their own festivities.
"We collected well balanced meals and hit the most wanted items," Sherifi said. 
The donations consisted of canned pineapples, corn, greens, beef, tomatoes, stuffing and instant sides.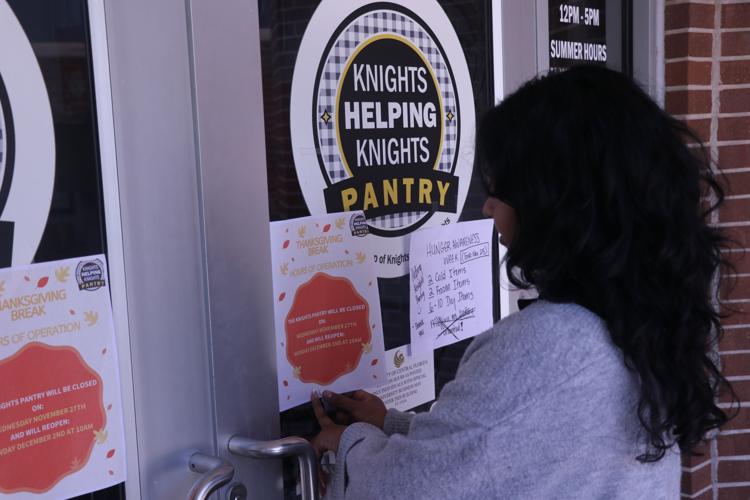 Darrion Smith, freshman human communication major, is an out of state student from Texas and visits the Knight's Pantry regularly.
"I have learned a lot more about the open resources we have on campus and then share them with students," Smith said.
Smith will be celebrating his Thanksgiving with his friends, referring to the holiday as "Friendsgiving."
While students become involved in their academics at UCF, they are introduced to many people throughout their journey. 
Faishal Wahiduddin, freshman computer science major, is from Indonesia and has never celebrated Thanksgiving. This year will be the first Thanksgiving he celebrates and it will be with friends he met at UCF.
"Back home they don't celebrate Thanksgiving, but it's a new experience for me and it is a good thing," Wahiduddin said.
Tara Koon-Munoz, junior actuarial science major, expressed her feelings toward the holiday itself.
"To be quite honest my dad died in the beginning of this month, and honestly I don't know…I am just here," Koon-Munoz said. "I am just focusing on school, that is what I am going to do and remain positive."
UCF has a variety of support programs to help students feel comfortable such as Knight's Pantry, Student Care Services, Counseling Services, UCF Global, Out of State Mentoring Program and First Time in College. 
"If you have the ability to help people, if you have the resources and connections you should," Sherifi said.
Students can enjoy the holiday season at Light up UCF in front of the Addition Financial Arena, from Nov. 22 through Jan. 5, 2020.
Sometimes you need to experience things on your own," Smith said. "It makes you stronger and having friends around is a holiday itself."