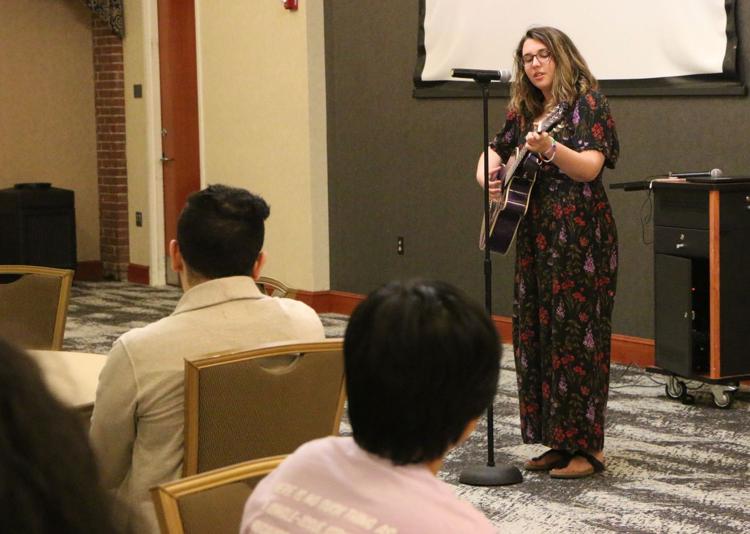 A white tablecloth covered in handprints left behind by survivors of sexual violence or loved ones of victims greeted guests in the Live Oak Ballroom Tuesday.
Each student who approached the table was invited to add their colorful contribution to the cloth. Over a dozen purple, pink and black handprints represented the sheer magnitude of sexual assault and abuse in society.
The art project fit into the National Organization for Women at UCF's Take Back the Night event, a peaceful demonstration against all forms of sexual violence. Take Back the Night was established in the 1970s at "the first worldwide effort to combat sexual violence and violence against women," according to the foundation's website.
NOW at UCF President Maeve Cosgrove said the club has hosted Take Back the Night since 2009 and brought it back three years ago after a hiatus. Cosgrove, who has helped coordinate the event for the past two years and acted as this year's lead organizer, said her goal was to make Take Back the Night 2019 "a really warm, welcoming and peaceful environment."
While the club's past two iterations of Take Back the Night included open mics for audience members to participate in, Cosgrove said the organizers decided to switch up the format this year because they found it had been "more triggering for people than it was helpful."
"That's kind of been our biggest struggle with the event, trying to make it a safe space," Cosgrove, senior political science major, said. "In the past, there has been a lot of people leaving the room because they've been uncomfortable, and that's the opposite of what we wanted to do this year."
The event, which is traditionally hosted during Women's History Month in March, began with a presentation by Cosgrove about the history of Take Back the Night. Three members of NOW at UCF, all survivors of sexual violence, performed emotional original and cover songs before the audience.
Attendees then participated in an interactive art project that encouraged them to "paint what healing looks like to them" on pieces of paper.
UCF's chapters of Planned Parenthood Generation Action and She's the First, an organization promoting girls' education, set up tables at the event with information about resources for victims of sexual violence and their families.
Emily Martinez, She's the First global ambassador director, said it was her first time attending Take Back the Night and described the atmosphere as "very open and accepting."
Martinez, sophomore early childhood development and education major, said she felt the combined efforts of UCF's chapters of NOW, PPGA and She's the First strengthened the event and its message.
"It's really great that all of these different clubs come together because we're stronger together," Martinez said. "If it was just one club here, I just don't believe it would be as powerful. To see all these great clubs come together with all these great causes makes the whole thing so much more powerful."
As an intersectional feminist organization that tackles all forms of inequality, NOW at UCF addresses campus sexual violence as an issue that affects a significant amount of young women in college, Cosgrove said.
"On a college campus, one of the biggest factors of inequality is sexual violence and sexual assault," she said. "It's definitely something that threatens women disproportionately, and so I think as a college-based club, combating sexual violence should be one of our top priorities."
According to the Rape, Abuse & Incest National Network, or RAINN, among undergraduate students, 23.1% of females experience rape or sexual assault through physical force, violence, or incapacitation. RAINN also reports that 5.4% of males experience some form of sexual assault during college.
Dialogue about sexual violence on college campuses has been readdressed in the age of Me Too, a movement founded by activist Tarana Burke in 2006 to provide resources and a platform to survivors of sexual violence. The viral #MeToo took off after actress Alyssa Milano sent a tweet in 2017 encouraging victims of sexual assault and harassment to tweet the phrase to show solidarity with one another.
Cosgrove said although she does believe there's been a shift in the treatment of sexual violence in the age of Me Too, she said some cases, such as the confirmation of Supreme Court Justice Brett Kavanaugh, who was accused of sexual assault by Palo Alto University Professor Christine Blasey Ford, can feel like "two steps forward and one step back" in the fight against sexual assault and abuse.
"We watched [Ford] give such an in-depth personal testimony about what she had experienced, and it was just disregarded and made no difference to the decision of the Senate Judiciary Committee, but I think there is a shift — I hope that there is," Cosgrove said. 
Martinez said she believes the Me Too movement has been successful in pushing colleges to handle and address allegations of sexual violence by students, faculty and staff, but acknowledged post-secondary institutions still need to do a better job of supporting alleged victims.
"I definitely feel that [colleges] do feel more pressure because of the Me Too movement and all the traction it's gained," Martinez said. "They're improving and working on it, but I definitely think there could be more done, and that will happen with change and time."
Cosgrove said she can see a noticeable difference in UCF's approach to handling sexual violence since she was a freshman and believes incoming students now have a strong network of support they can turn to.
"From when I came to UCF as a freshman four years ago, I think [treatment of sexual violence] is different now," she said. "The Me Too movement wasn't as mainstream and it wasn't getting the attention that it has now, and I think that's awesome. I think if I had come as a freshman now, I would've felt more empowered, and I would've felt like there was a network that would've listened to me."
Cosgrove said she hoped Take Back the Night created a safe space for survivors of sexual violence and their allies to stand strong in the face of adversity rather than focus solely on past trauma.
"For survivors, I hope they realize that there is a community of people who have experienced things very similar to what they have experienced," she said. "I hope they realize that there's also a community of people working tirelessly to prevent this issue from continuing."