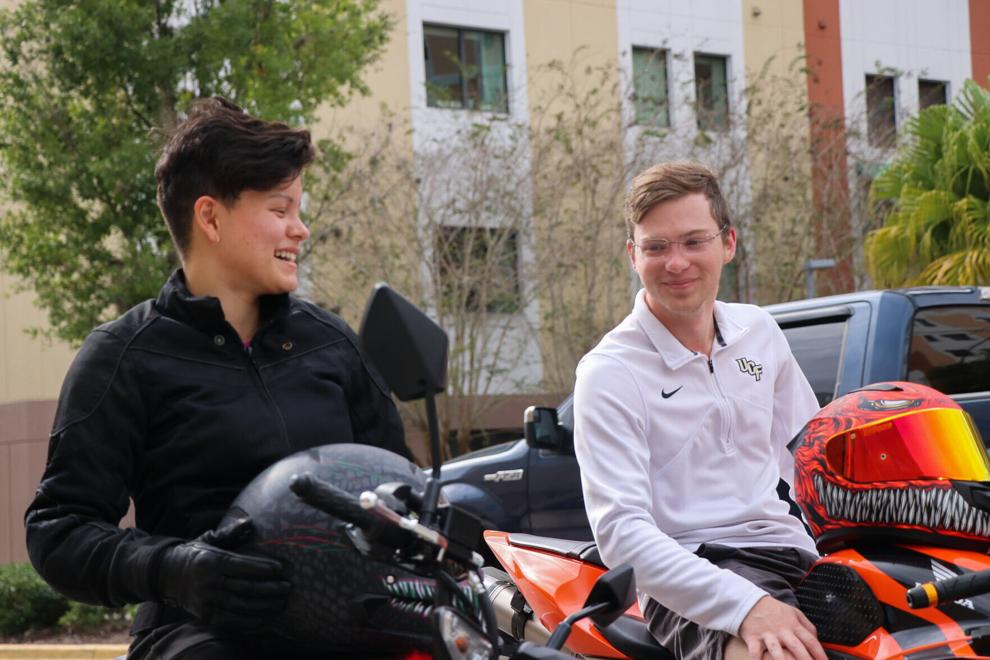 When Isabella Mendoza asked the UCF subreddit for a motorcycle ride in June, she didn't expect many responses.
The zoology and pre-veterinarian science sophomore said the response was not overwhelmingly positive. She said many users accused her of trying to scam students or steal their motorcycles.
"I completely understood where they came from," Mendoza said. "I wasn't sure whether to leave the post up or down."
What Mendoza didn't know was that this Reddit post would become the unlikely beginning to a lifelong bond with fellow UCF student Chris Spurgeon, a photonic science and engineering senior. After meeting, the two began a relationship that was quickly tested when Mendoza suffered a crash on the very motorcycle that brought them together. Struggles aside, Mendoza and Spurgeon would ride it out together. 
Although moderators did eventually remove the post, Mendoza received two offers for a motorcycle ride. The first fell through, but she said the second user agreed to meet on campus.
That student was Spurgeon. A fellow motorcycle enthusiast, Spurgeon said he's been riding since he was 16 and was happy to share the experience with someone looking to get a bike of their own. 
"It's funny, but when I first saw the post, I initially thought it was a guy," Spurgeon said. "I wasn't expecting it to be a girl who'd want to go on the back of my motorcycle. But I saw the post, and I figured I'd see where this goes."
Spurgeon said the two met at Tower I on June 10 along with another rider, his longtime high school friend, Christopher Syfrett. The three cruised around campus and Oviedo for about an hour. 
"When they went to get off the bike together, I noticed how much each of them were smiling," Syfrett said. "A motorcycle only has two wheels, but I had to be the third. I could already see them building a connection with one another."
Mendoza said Spurgeon's first impression was a lasting one.
"I remember he was very confident which made me more at ease," Mendoza said.
About two weeks later, the pair found something neither said they thought would result from an innocent, brief Reddit post: romance. The two began dating, with Spurgeon helping Mendoza practice riding for hours in UCF parking lots.
He said he even helped Mendoza pick out a motorcycle of her own in July, a black and red Honda CBR300R.
"They work so well together," Syfrett said. "It's such a weird meeting when you hear how they met, but you can see they mesh really well."
The couple said their relationship was pretty typical until Aug. 17, when Mendoza crashed. 
"I was at home when it happened," Spurgeon said. "I personally did not want her riding by herself at the time until she had more experience, but she rode by herself, anyway."
Mendoza said she was riding down Gemini Boulevard when a driver turned left onto West Plaza Drive and didn't see her. She swerved, trying her best to avoid hitting the car or crashing into the Recreation and Wellness Center, but she said she was still hit and crashed to the ground. The driver of the other vehicle rushed to her aid along with other bystanders, Mendoza said.
Mendoza was taken to the Orlando Health Orlando Regional Medical Center. At the time, she said she could not recall where she'd been taken, but Spurgeon did. 
"I got the call saying she was in an accident and got to UCF as fast as I could," Spurgeon said. "She was being loaded into the ambulance. I went to the hospital and waited four or five hours before I got denied visiting because of COVID protocols."
Mendoza's left leg ended up taking most of the damage, with a rod attached to her left tibia, screws in her knee and ankle, and staples to close the wound.
Mendoza said her recovery period lasted two months. 
"There were lots of ups and downs," Mendoza said. "It was very difficult, but it's like when you exercise. You just do a little bit at a time and you get there eventually." 
After Mendoza was discharged and allowed to recover at home, the couple spent nearly every day together. She said she knew they were going to be an item for a very long time.  
Spurgeon said he was with her all the way through to the end of her recovery. 
"I would help her walk around the top floor of the Towers building," Spurgeon said. "She went from using a walker and wheelchair to coming into the garage when I was washing the car and being like, 'I can walk.' It was like a miracle." 
By October, Mendoza was well enough to begin riding again and purchased a Kawasaki Z125 PRO, a less powerful model than the one she'd crashed.
Under Spurgeon's guidance, she said she learned once more how to ride. 
"We both have an extreme amount of trust in each other after everything that happened," Mendoza said. 
From her fateful Reddit post to their eventual relationship, Mendoza and Spurgeon's love story is far from over.
During a visit to Black Hammock Trail on Nov. 2, Spurgeon proposed to Mendoza — and she accepted.
"I thought about it for two weeks," Spurgeon said. "I was very nervous. I knew that she would say yes because we did talk about it beforehand, but I was nervous."
Mendoza said the wedding will be held Dec. 12 in South Padre Island, Texas. 
"I was very happy it was finally happening," she said. "I get to be with the guy who saved me throughout this whole process for the rest of my life."
The couple said, despite the quick engagement, their friends and families have expressed their support and wish them all the best.
"It's been a fast-paced experience, but I don't regret anything," Mendoza said.
Mendoza later returned to the UCF subreddit to offer a final update on their story. Addressing the users who once doubted the sincerity of her first post, she shared the details of the couple's journey before revealing their current engagement.
The end of Mendoza's post, however, was for Spurgeon. 
"We both took a big risk when we messaged each other on the UCF Reddit, but I just wanted to show that there's still a bit of good in the world," Mendoza said. "I can't wait to marry you."