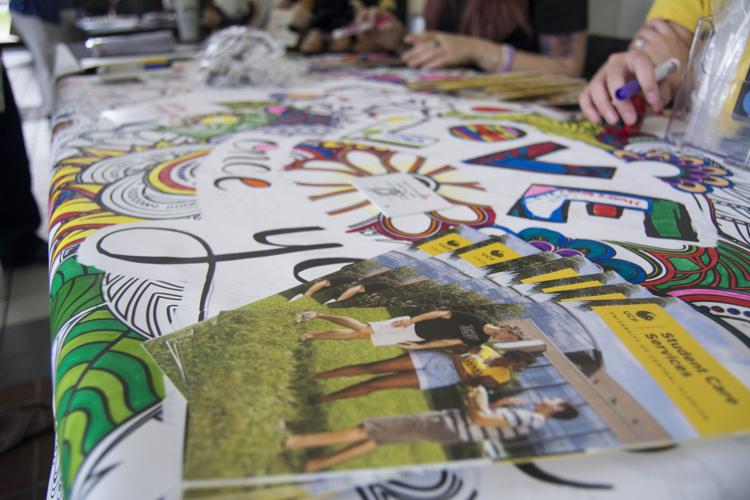 Without qualifying for scholarships or grants, freshman public relations major Marisa Devino said she worked 30 hours a week and took out loans to pay for school.
Due to business closures and stay-at-home orders put in place to combat the COVID-19 outbreak, UCF students like Devino find themselves in financial crisis all over the country.
Since the start of her freshman year of college last summer, Devino said she has been working at Brio Tuscan Grille, an Italian restaurant in Winter Park, just 11 miles away from UCF's main campus. She said she was a hostess making $12 an hour, plus tips.
As the local, state and federal governments made decisions to help keep the public safe, she said Brio would update the staff via the HotSchedules app.
"All of the sudden, the next message says, 'Thank you for your time here at Brio, we appreciate all that you've done for us, but corporate has had to take drastic measures in this situation and unfortunately our location is permanently closed,'" Devino said.
Because she is now out of work and back at home in West Palm Beach, Devino said her checking account is running dry.
"I'm just disappointed honestly. As far as what I actually have available to spend, it's probably like $60," Devino said.
When life eventually goes back to normal, she will be one of the many students fighting for jobs to get through school.  
For students who don't have money set aside for rainy days, UCF has programs like UCF Cares and Knights Helping Knights Pantry to help students who find themselves in tough situations, like not having enough food in their pantry or needing an emergency hospital visit.
With a sudden new reality among students, they were told by UCF Housing that they would need to leave their on-campus housing and return to their permanent residences.
Associate Director of UCF Student Cares Services Anne Marie Palmer said many of them turned to UCF Cares to help them sort out on-campus living situations.
"A population we didn't anticipate, we screen over 200 students who were seeking housing exemptions because they were having to leave their on-campus housing but maybe they didn't have somewhere else to go," Palmer said.
She said some are international students who can't travel back to their home country, homeless students or students who's at-home living situation is less than ideal.
Palmer said UCF Cares also connects students to other UCF programs who will better fit their needs. They partner with programs such as UCF Counseling and Psychological Services and Knights Helping Knights Pantry.
"We are experts in a little bit of everything, making sure that we know about all the resources and services that are available on campus, all different types of procedures as well to help students navigate the large-scale programs and services that exist," Palmer said.  
UCF Cares has always worked closely with the Knights Helping Knights Pantry to provide students with clothes, toiletries and food, Student Union Associate Director Jeannie Kiriwas said.
"We very firmly believe that food insecurities did not reduce during this period," Kiriwas said. "Food insecurity never reduces during a period of crisis, however, students' abilities to make it to our facilities could have been in question."
Known as the "Knights Pantry" to students, this organization is made up of more than 70 volunteers and six paid student employees, Kiriwas said. According to the CDC guidelines, the Knights Pantry is considered to be an essential service and has taken measures to ensure the health and safety of its workers, volunteers and the students that partake in the service.
They have relieved their volunteers of duty and are now working with what they call a "skeleton crew," Kiriwas said. This skeleton crew allows for the pantry to effectively practice social distancing and has the employees working in groups of three rather than the usual five to eight staff members, Kiriwas said.
Although Knights Pantry prefers monetary donations because they can buy items at Second Harvest for less money, they gladly accept all donations, Kiriwas said.
"If someone donated $1 to me, I could go buy, say, one jar of peanut butter at Publix, but at Second Harvest, for the same cost I could buy three," Kiriwas said.
Knights Pantry has donation bins set around campus for students to donate, according to their website. Students can find the location of these donation bins via the UCF Mobile app, according to the website.
Freshman criminal justice major Katie Winchester said she has seen the donation bins and has thought about donating, but never got around to doing it.
She said she has worked as a counselor at Odyssey Middle School in Orlando since February. Winchester said she is continuing to work remotely through the pandemic and she said as time goes on, her hours keep getting cut.
Like Devino, Winchester said she got a job to pay for her day-to-day life while at UCF.
Her tuition was paid by Florida Prepaid, a state-run college fund designed for Florida residents and Florida schools, she said. Her parents took over her on-campus housing costs, Winchester said. 
"I was feeling overwhelmed when I asked my parents [for money] because I know that they're financially struggling," Winchester said.
She had a job in high school, which she said allowed her to grow accustomed to providing the daily necessities for herself like food and medications.
Before spring break, Winchester said she had nearly $100 in her checking account at a time. Now it sits at about $38, and she said she may have to dip into her savings account if that amount keeps dropping. 
After spring break, Winchester said she found herself without pay for more than three weeks while her job figured out how to make the switch to remote work. She said she was lucky enough to have her family and boyfriend to support her financially during that time.
"To go from being able to support myself all the time verses not being able to, I know I needed to step up a little bit to take some of that [pressure] off of them because they're struggling also," Winchester said.  
Trying to balance a national financial crisis and remote learning is not what students anticipated at the start of the semester, but it's their new reality, even if they only have $38 dollars in their checking accounts. 
For students who need assistance, visit the UCF Cares website.