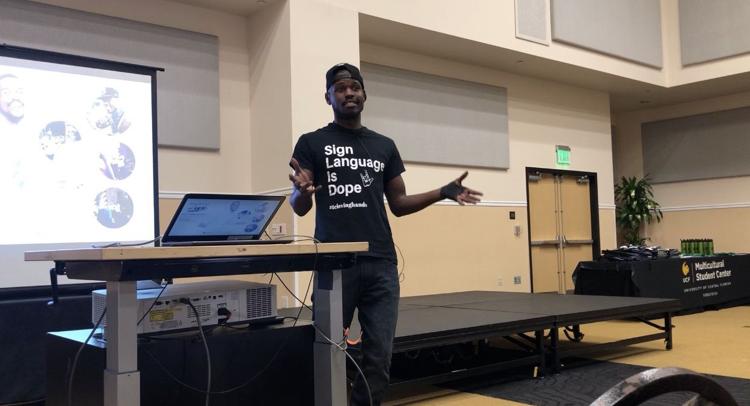 UCF students and faculty signed to the beat of hip hop music in the Cape Florida Ballroom on Wednesday.
The Multicultural Student Center hosted an American Sign Language hip hop session with Matthew Maxey, founder of DEAFinitely Dope.
DEAFinitely Dope is an organization whose mission is to merge the deaf and hearing communities through the power of music.
Maxey taught the students and faculty how to sign to songs like "Circles" by Post Malone and "I'm Blessed" by Charles Wilson. Maxey said his goal of coming to UCF was to bring awareness to the deaf community on campus and bring students together through ASL. 
"A lot of college kids are willing to make that leap to be able to [say] 'Hey, we want to make a change and make it now and this is how we are going to do it' and I love that," Maxey said. 
This ASL hip hop session is part of the Accessibility Awareness series, a series where students can learn about various disabilities that can present a challenge for them or their peers in their everyday lives.
Savon Crumity, the accessibility director for the Multicultural Student Center, said his goal in putting on this event was to educate the UCF community, not only about deafness but also on a wide range of disabilities. 
"Being able to just provide that access and that knowledge for students is very valuable because we have the Student Accessibility Services and they do so much for campus," Crumity said. 
Among college students, only 18% of deaf students have received a bachelor's degree compared to the 33% of hearing students according to the National Deaf Center. 
Crumity hopes having more events like these will educate students on disability awareness and make UCF a more inclusive university.