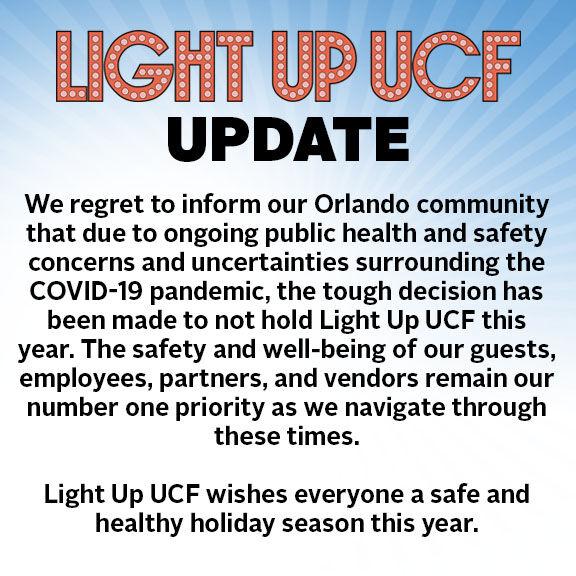 UCF's annual holiday carnival event, Light Up UCF, was canceled due to ongoing health and safety concerns surrounding COVID-19.
Organizers behind the event announced its cancellation in a statement on Light Up UCF's official Facebook page Thursday morning.
While organizers said it was a tough decision to make, the cancellation is an effort to prioritize the health and safety of potential attendees.
"The safety and well-being of our guests, employees, partners and vendors remain our number one priority as we navigate through these times," according to the statement. 
Roommates Mallie Philipps and Ella Staneszewski, who are both senior communication sciences and disorders majors, interacted with each other on Light Up UCF's Facebook post to express their disappointment about the event's cancellation.
"It's just a little sad because it's something we've always looked forward to, especially living in Florida," Philipps said. "It's an ice skating rink we can enjoy and it's something free we can do to have fun during the holiday season."
Staneszewski, who attended the event for the first time just last year, echoed her roommate's sentiment. She said that she was excited to go back and that it is sad to miss out on the last year of their holiday tradition.
"I was excited to go back with my friends," Staneszewski said. "I was actually having friends come from other colleges to stay with me and enjoy the ice skating rink right on campus."
Light Up UCF is an annual event at UCF's Addition Financial Arena that consists of carnival rides, an ice skating rink and synchronized holiday lights and decorations. This would have been the 13th year that Light Up UCF rings in the holiday season on campus.