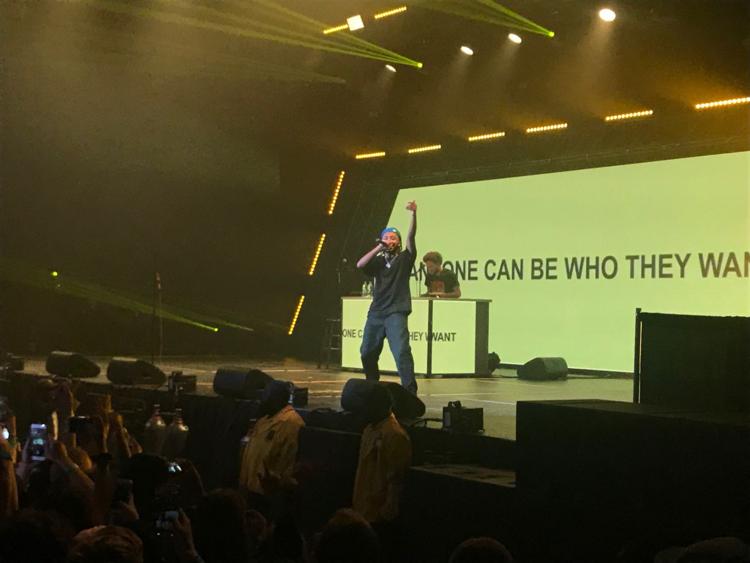 Hundreds of students clustered into CFE Arena for Campus Activities Board's second annual UCFestival concert on Thursday.
The concert, which was free for UCF students, featured performances by opener Kailee Morgue, Joyner Lucas and headliner Aminé. The show came one night after CAB's UCFestival comedy show, which featured opener Emma Willmann and headliner Amanda Seales.
CAB Concert Director Autumn Crouch said CAB gave away more than 4,500 tickets for the 9 p.m. concert.
The line for the general admission floor went all the way to Gemini Boulevard and wrapped around past the box office on East Plaza Drive. 
Artist Aminé rose to popularity after his single "Caroline" quickly climbed and maintained its spot on the Billboard Hot 100 chart in 2016 and 2017. The song was later certified three times platinum by the Recording Industry Association of America.
"He's like an up-and-coming artist," said Eboni Chisolm, sophomore business management major. "He hasn't really made it completely yet. So, he's still fairly new and he hasn't had any scandals, so he's pretty squeaky clean so it makes sense to have him here."
While many students who attended were fans of Aminé, some said they came just for openers Lucas and Morgue.
"[Morgue] definitely has dedicated fans," Crouch said. "They're already inside on the floor. They've been here since 4 o'clock."
During the opening performances, the crowd cheered and passionately interacted with the artists during their short sets. Lucas even brought a student on stage to perform his song "I Love" alongside him.
"Right now we see a lot of trap [music]," Crouch said. "We see a lot of hip-hop artists at the top of that Billboard Hot 100. So, I figured, two hip-hop artists — that's going to bring out the crowds."
The inspiration for UCFestival came from trending festival culture, which is incredibly popular among teenagers and young adults, Crouch said.
This year's concert follows last year's show featuring opener COIN and headliner Jesse McCartney. Despite this year's show marking only the second UCFestival, CAB plans on continuing the tradition, Crouch said.