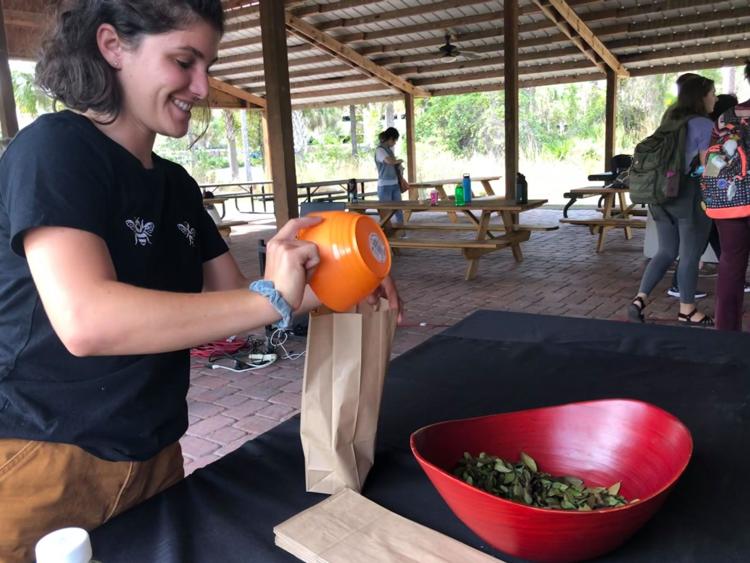 Yaupon Brothers American Tea Co., visited the Arboretum's nature pavilion Wednesday afternoon to inform attendees about the benefits and history of Yaupon Holly, a Florida native plant that has been popularized in tea blends.
The event was a part of the Everyday Herbalism series, workshops meant to demonstrate how you can incorporate natural products and ingredients into everyday life.
Historically the Yaupon Holly plant was used by the Timucua people, a Native American tribe who settled in central and northeastern Florida. It was commonly consumed for ceremonial purposes as well as an everyday beverage.
"They believed that it purified the drinker from within. It got rid of all their anger, falsehoods and impurities," Yaupon Brothers Co-founder Bryon White said.
While many attendees entered the event with limited knowledge of tea, many expressed interest in the health properties Yaupon tea provided.
During the presentation it was discussed how compared to the average tea, Yaupon contains about four times more antioxidants and has a caffeine level comparable to black tea, making it a good alternative for beverages like coffee.
"A lot of students or just like workers in general constantly need that energy that they don't have," said Sandeep Singh, senior information technology major.
Retired social studies teacher Kathy Littlefield was most attracted to the fact that it was a locally sourced product. Having only lived in Florida for three years she said she enjoyed learning about a product unique to her community.
"It's an old product with kind of a new life," Littlefield said. "People have been consuming tea for thousands of years globally but now we have something we can be proud of in Central Florida and support, so I think people like that."