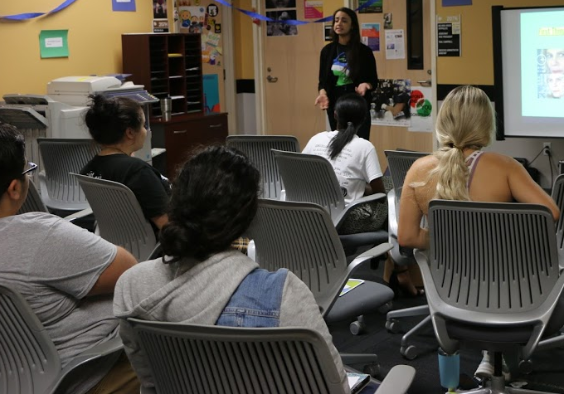 Students learned about local mental health organizations at Mental Health Awareness Knight Wednesday.
The event, hosted by UCF Active Minds, was part of a series of events celebrating Mental Health Awareness Week, which spans from Oct. 6-12. It featured presentations from Peer Support Space, UCF Counseling and Psychological Services and more.
"A lot of people are just unaware or they're just so wound up with the stigmas concerning mental health that they can't fully understand when it's a breaking point for them or for their loved ones," said Jessica Kinsey, senior psychology major and social media director for UCF Active Minds.
Active Minds is an organization dedicated to spreading mental health awareness, education and advocacy in schools and college campuses. There are over 400 chapters across the U.S.
Kinsey said she overcame anorexia and PTSD years before coming to UCF. When she saw UCF Active Minds handing out green ribbons at last year's Homecoming Week, she said she knew she wanted to get involved.
"Coming from a family that never wanted to talk about mental health, it's something we need to talk about," Kinsey said. "And it's something that's just happening all too often."
The main point that UCF Active Minds wanted to stress through this event was that there are resources available to students who are struggling with mental illness, such as CAPS, NAMI GO, Peer Support Space and more.
"[Through UCF Active Minds] I finally have somebody to talk to that I can be open about my experiences," Kinsey said. "And I can actually talk with people about what they've been through and let them know that recovery is possible and that you can get to a point where you're healthy, you're happy and you love every part of your life."
Eric Welch, executive director for the National Alliance on Mental Illness in Greater Orlando, gave a presentation on different mental illnesses and their warning signs. One in five Americans have experienced some sort of mental health issue, he said.
Studies show that mental illnesses are on the rise for college students, with NAMI reporting that 40% of students fail to seek help.
"Today's college student faces challenges that no other generation has seen before it," Welch said. "And they're responding to that through anxiety, depression, even suicide."
Welch said the biggest challenge this generation has had to deal with, that no other generation before it had, is social media and the pressure to make it look like their lives are perfect.
"Everyone on social media is having a better time than you," Welch said. "It's all isolating, non-connecting behavior, which leads to anxiety and depression. And we're not wired for that. We're wired to have open conversation."
Although she has no personal experience with mental illness, junior psychology and neuroscience major D'Andrea Hardy believes it is important to educate others on mental health, especially with suicide being the second leading cause of death for people aged 15-29.
"There's a lot of people with mental illnesses who don't get help or they're too scared to go get help," Hardy said. "So I think that's why it's important [to talk about mental health]."