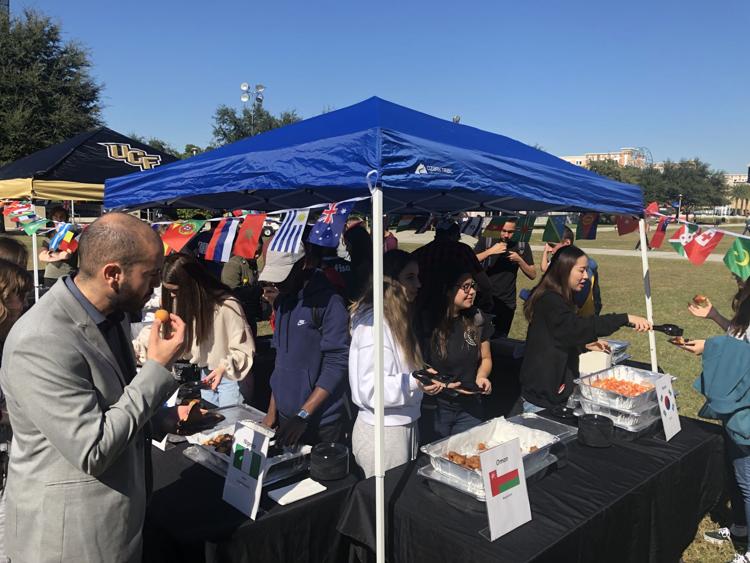 Students flocked to Memory Mall Wednesday to grub on samples of international food like savory fried plantains and sweet cherry perogies, provided by Global UCF for International Education Week.
Global UCF sponsored the "A Taste of Our Culture" event in collaboration with Aramark, the food distributor operating UCF Dining Services. Coordinators of the event chose to represent countries where students might have a hard time gaining access to the United States, such as Pakistan, Russia and the Ukraine, said the director of student services at Global UCF Darald Stubbs.
All volunteers serving the food were international students who are a part of Global UCF, a program that helps them progress through graduate and undergraduate studies and gain proficiency in English.
One student who showed up to represent her country's culture was Simin Budhwani, an international student from Pakistan.
Budhwani, freshman computer sciences major, said she decided to volunteer because she really wanted to get more involved with Global UCF. So far, she said she has been enjoying her time at UCF and takes comfort in the strong sense of community on campus.
"Everybody loves each other, everybody encourages," she said. "There's no racial or other discriminations here. Everybody welcomes each other."
Another international student who chose to volunteer at the event was Daria Nikulina, who is originally from Russia. A freshman business management major, she said she chose to attend UCF because she liked the idea of having a program like Global UCF that supports students like her through the first few semesters of college.
"This university provides a lot of opportunities for my future," she said. "That is why I'm here."
Anthony Massey, one of the coordinators of the event and a Global UCF student adviser, said the turnout of both volunteers and attendees was more than he expected. With so many students showing up to eat and mingle, food ran out halfway through the event.
Despite not having anything else to serve, the volunteers stuck around anyway to meet new people and students and faculty still stopped by to learn about the different cultures.
"Our students are awesome," Massey said. "We had a lot of volunteers come out. It was a very good turnout and it brought in a lot of students who were not only international, but domestic as well."