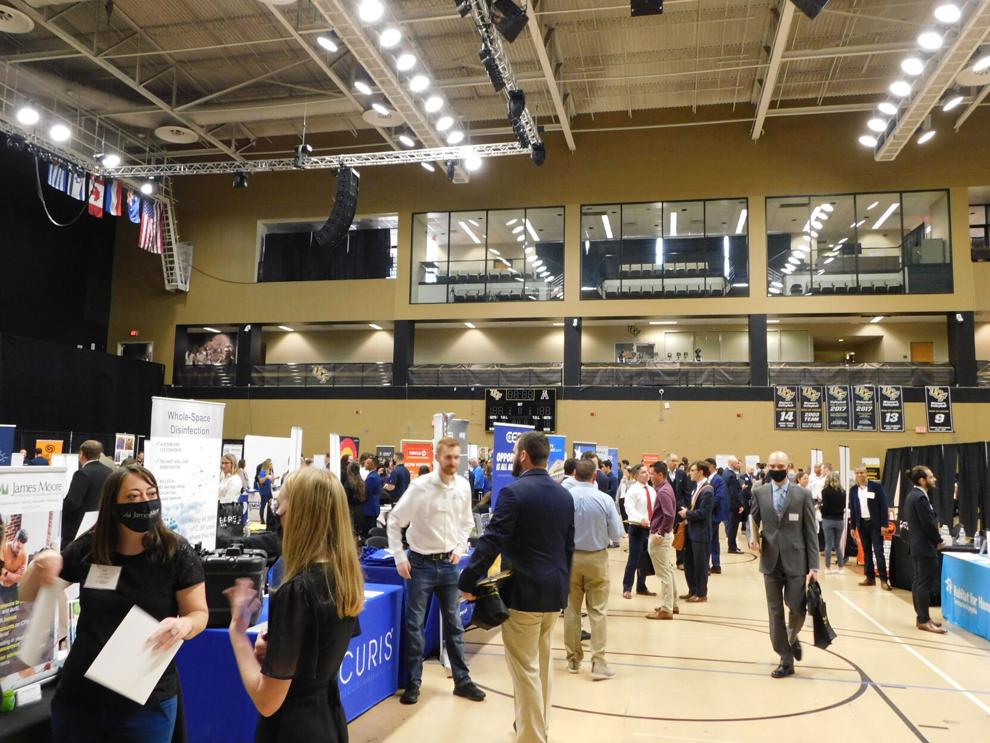 Gianna Wegman, student ambassador of the UCF College of Business, held her résumé with confidence, as she secured an interview for an internship with Holiday Inn Club Vacations.
Wegman said she always waits until the end of the conversation before giving out her résumé to switch the power dynamics. This way, she said, companies sell to her, rather than she pitch to them. Wegman said this is how she stands above the rest of her peers when applying for internships.
Wegman said what made her different than the rest of her competitors is her personable nature.
"I try not to bombard them with my elevator pitch," Wegman said. "I try to relate to them and see what convinced them to work there and see if I would like to be there too."
Denise McFadden, associate director of student success and employer outreach for the Office of Professional Development, said 700 students like Wegman — dressed in business attire, well-researched and with résumés in hand — surrounded the booths at The Venue when attending The Invitational internship event Thursday, all looking for the same opportunity with different companies at the event.
The Invitational, organized by the Office of Professional Development at the College of Business, is an event for internships, externships and job opportunities for students. The event gathered businesses seeking to take on business students who are willing to apply themselves for their career path.
"I have never been to an Invitational before," Wegman said. "This is the first time I have attended in person, and it has blown my expectations away. It just makes getting a job or an interview so much less intimidating: It's a lot more personable this way."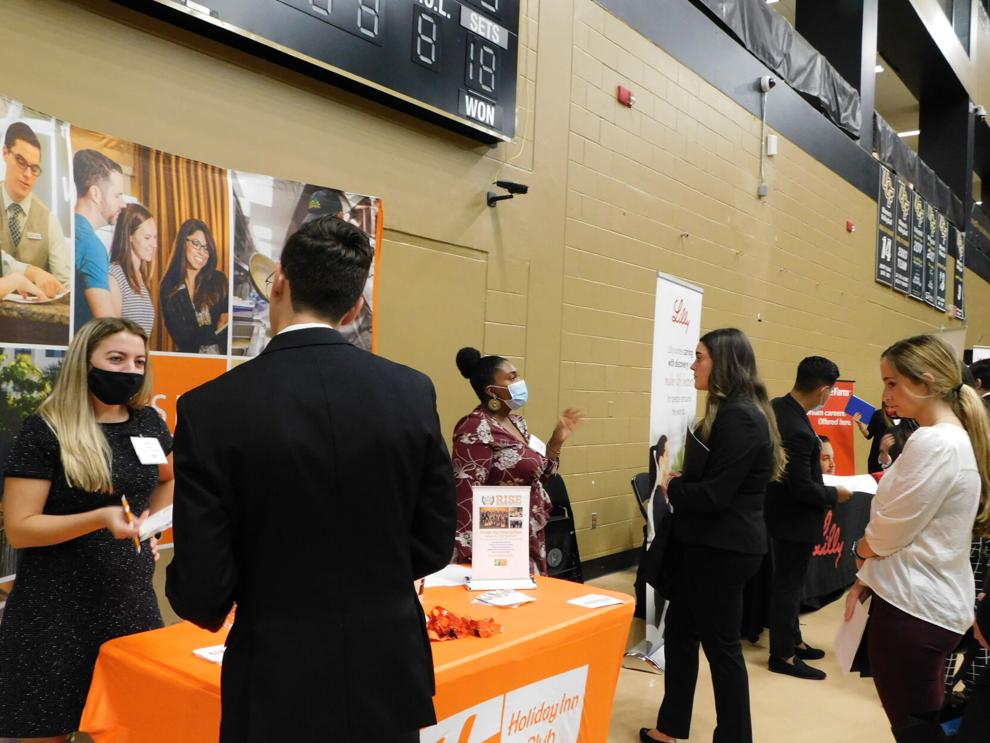 The College of Business has held this event since the spring of 2017, McFadden said, eventually becoming a biannual event hosted every fall and spring semester, with the exception of a virtual meeting held during the coronavirus pandemic.
Though McFadden said there was worry whether the event would be held this year because of businesses reluctant to travel during the pandemic, the turnout for the event was the largest ever seen.
"We had to deny some businesses because we were already booked up," McFadden said. "Many of them were calling last minute to see if there were any spots left, in which we had to refuse."
McFadden said 58 businesses, such as Fairwinds, Keller Williams and Marriott, were assigned different sections within the building. She said the companies had to have open positions, as well as sign up through Knightline, the College of Business job board, in order to be a part of the event.
McFadden also said that students who wanted to attend had to research the companies they were interested in and qualify after applying for a position. High-achieving students who were exempted from this requirement were given a "golden ticket," McFadden said, which included a recommendation from a faculty member.
The Invitational gives students opportunities to discuss their career interests with businesses that want to hire them. McFadden said through networking, students are given the chance to explore within their major, test their skills within a professional setting and prepare themselves for the real world.
Though students were required to research the businesses they were interested in, the event left room for students to explore more options. Cassidy Gilleland, a senior integrated business major, carried around a list of companies and people she wanted to talk to, but she said her game plan was to talk to everyone so that she could expand her horizons.
"I have a list," Gilleland said. "I plan on just going up to people and hoping for the best."
McFadden said student ambassadors from the College of Business were responsible for setting up tables, directing companies to their assigned areas and disassembling when the event was over.
Each business has its own set of requirements and expectations when taking on a new employee, McFadden said. She said one of the companies, State Farm, has a close relationship with UCF and often holds its own events and mentorship programs to encourage students to network. Justin Bauknight, a State Farm insurance agent, said he looks for an individual who represents themselves genuinely and doesn't fake their professional status to him.
"I'm used to knowing that students are unfinished products," Bauknight said. "So, if a student comes up to me thinking they can tackle the world, that's not for me. Because I want someone I feel like I can help build and challenge them appropriately."
Bauknight said if he could give one piece of advice to students who apply to businesses, it is that they should always list off their strengths first, as many students try to sell themselves as a good person and read off their résumés.
As the event drew to a close, McFadden said one out of five students will walk out of The Invitational signed with a company, whether it is an interview or a potential job opportunity.
Wegman is one of those students walking out with an opportunity. She said she was initially worried about not finding an internship at this event, especially with her current one drawing to a close this semester. After securing an interview with Holiday Inn Club Vacations, Wegman said she feels much more confident.
"Your only competition is with yourself, and there is room at the table for everyone," Wegman said. "Once I noticed that, I became more confident in finding the best version of me."
A previous version of this story incorrectly said Wegman interviewed with Holiday Inn. The story has been edited to reflect the correct company, Holiday Inn Club Vacations.