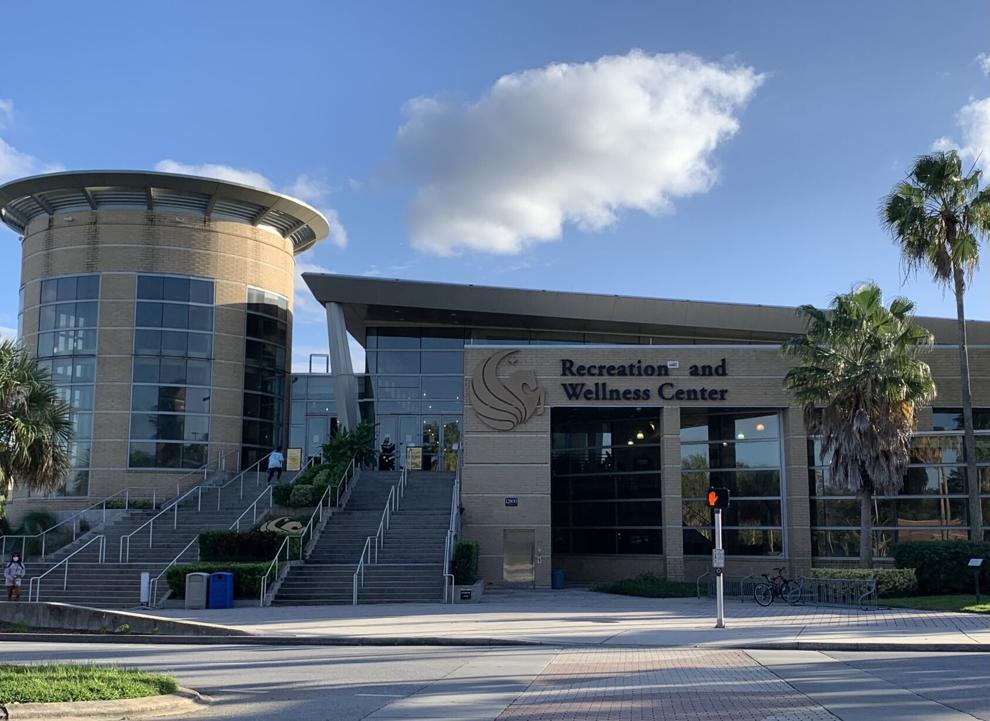 Several students have complained about the Recreation and Wellness Center's reservation system, which only allows students to book a slot 24-hours in advance.
"It's smart what they're doing and it makes sense," said Hector Cumba, senior political science major. "But it sucks when the reservations are filled and I can't workout that day." 
Cumba said that he understands that the RWC is trying to limit the amount of people that use the facility, but it is frustrating that the system only allows for students to make reservations 24-hours in advance. However, Cumba said that he feels safe inside of the RWC due to the enforcement of COVID-19 protocols.  
The RWC's capacity at UCF's main facility is currently 120 people per hour and there are 40 reservations available for students and members every half hour, said Michelle Fitzgerald, RWC assistant director of facilities. However, there is a two hour stoppage in the center so that the facility can be cleaned. That's one hour less of cleaning compared to last semester, but it gives students an extra hour for facility usage, said Scott Mauro, RWC marketing and communications manager.
"I just think it's a little inconvenient how you have to make a reservation exactly 24 hours the day before, because then some days you miss out if you forget to make a reservation or it filled too quickly," Cumba said.
In addition to the inconvenience of having to make a reservation for the gym 24-hours beforehand, Cumba said that he has experienced multiple issues with the RWC website.
"Sometimes the website has issues and it's really annoying, and I think it could be because the website's down, but it's definitely happened more than once and the page is just not loading," Cumba said. "It messes with the scheduling with the time you're trying to go, but it's just their website having issues because there's so many people trying to log on at certain times to get a time slot."
The current reservation system maximizes the amount of students and members who can use the facility. The RWC staff chose this system in order to not limit the amount of people who use the center. If another method was used, such as one that allowed for members to make reservations days or weeks in advance, it is likely that people would reserve multiple days at a time and the amount of people who could enter the gym would be limited, Fitzgerald said.
Gabie Owens said she struggled to get a reservation for the RWC when they first began to reopen. However, Owens said that she advises other students to set an alarm one to two minutes before the time that they want to reserve a spot in order to secure it. 
"I see where they're coming from because they can only have a certain amount of people," the sophomore kinesiology major said. "But it is a little frustrating when you have a set routine and you don't get it or you were actually planning on going and you don't know if someone canceled."
Owens said that she has multiple friends who have decided to not attend the UCF gym this semester because the process is such a "hassle." However, Owens said she doesn't mind if she misses a day at the gym and will exercise outside instead. 
"I see both sides to it and I'm indifferent to it because I go to the gym early, so I don't really struggle with this as much because I usually get a spot," Owens said.  
According to the Recreation and Wellness Center website, the RWC is in Phase 2.1 of their reopening plan. This allows for more facilities like the lap pool, the climbing tower, RWC at Knights Plaza, and RWC at Downtown to be open. When the RWC will move forward with reopening plans depends on the university's approval, Mauro said. 
"Each plan we've rolled out has increased opportunity for students," Mauro said. "In the end that's really the goal, to start getting us back to whatever our new normal will be or whatever normal was pre-COVID."
Mauro pointed out that the 24-hour reservation system isn't a new process to the Recreation and Wellness Center, emphasizing that students had to make reservations in order to attend group exercises in previous semesters. When it comes to gym reservations, Fitzgerald said that they fill up five to six hours after they're posted. 
Lily Riggs, a sophomore in the marketing major, said that she finds that it's easier to make reservations to attend the RWC this semester compared to last fall, but her and her friends still have some difficulties going to the facility at the same time. Riggs said that there are times when she wants to go to the gym with her boyfriend or roommate, but there aren't enough reservations for them to go together.
"The other thing is that people don't cancel their reservation because it's actually really difficult to go on there and cancel it and the website is kind of slow," Riggs said. "And then when you go the gym is actually kind of empty."
When Riggs is unable to get a reservation at the RWC, she said she goes to LA Fitness since she has a membership there as well.
In order for everyone to have the opportunity to use the RWC, the facility has a tutorial on their website that allows students to cancel their reservations without being penalized. This can also be done using the RWC application, Mauro said.
"We're doing everything we can to get more programs open and more facilities open," Mauro said. "We're even doing more outdoor group classes to allow more in-person experiences because we understand doing things online has become a fatigue things for students."